Jeremy Renner And Ewan McGregor In Talks For James McTeigue's Raven; Renner Might Also Star In Peter Berg's Battleship

Ewan McGregor (Trainspotting, Big Fish) and Jeremy Renner (The Hurt Locker) are both in talks to co-star in Ninja Assassin and V For Vendetta director James McTeigue's upcoming period thriller The Raven. Renner is also in talks with Universal Pictures for Peter Berg's big screen adaptation of the board game Battleship. But The New York Times says that Renner has had "no fewer than five meetings to star in another project, which he declines to reveal" and that both Battleship and this mystery project are both planned for a Summer shoot, which means the actor must make a choice. Movieline suggests that the mystery role might be to co-star alongside Philip Seymour Hoffman in Paul Thomas Anderson's scientology movie The Master.
Previously:
The Raven is a fictionalized account of the final five "mysterious" days of Edgar Allan Poe's life. Apparently the famous writer joins the hunt for a serial killer whose murders are inspired by his stories.
McTeigue describes it "like the poem, The Raven, itself, crossed with Se7en."
The screenplay is written by Hannah Shakespeare (who wrote the 2005 drama

Loverboy

, and was a story editor on Bionic Woman and Ghost Whisperer) and Ben Livingston.
Machinist/Session 9 director Brad Anderson had been previously developing the project.
The real death of Poe was also mysterious. The writer was discovered on the streets of Baltimore in great distress and in need of "immediate assistance." He was wearing someone

else's

clothes and repeating the name "Reynolds". He died shortly after in hospital, never able to explain what had happened.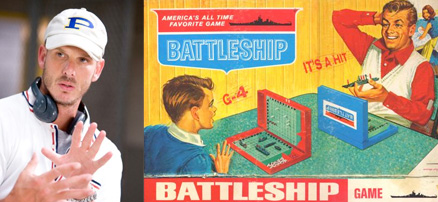 Previously:
Written by the brother writing team Jon and Erich Hoeber, who gave us Whiteout.
Battleship "will unfold as a massive Naval adventure across the seas, in the skies and over land as our planet fights for survival against a superior force."
The superior force are aliens from another planet known as The Regents. They come from a world similar to ours, and aren't actually looking to take over humanity or the planet Earth. Instead, they're on a mission to build a power source in the ocean, which is where they come in contact with a navy fleet. The film will also show us both sides of the story—from the aliens' perspective, as well as the humans.
The alien ships do fly to Earth, as well as through the atmosphere, but they lose that capability once they land. They're also not busting out any lasers or fantastical alien weaponry—their weapons will be ballistics-based just like ours.
The main character is the Commanding Officer of a destroyer. He has a team of five trusted shipmates which include the XO and a Scotty-like chief engineer.
Battleship will now hit theaters on Memorial Day weekend — May 25th 2012
via: FirstShowing