Mike Newell To Direct The Terminal Spy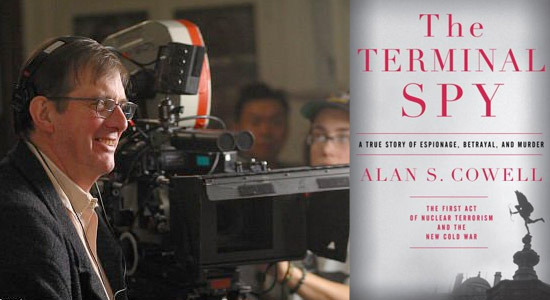 We may receive a commission on purchases made from links.
Mike Newell (Prince of Persia, Harry Potter and the Goblet of Fire, Donnie Brasco) has signed on the write and direct a yet-to-be-officially-titled feature film based on the book The Terminal Spy by Alan Cowell, the New York Times' London bureau chief when the events narrated in this book reached their climax.. The 448-page book is about the mysterious death of ex-Russian KGB spy Alexander Litvinenko, who was poisoned in 2006 and while laying in his London hospital bed, personally accused then-Russian President Vladimir Putin of being behind his murder.No cast has been attached to the project, which is said to be in "an advanced stage of development" over at Warner Bros.
You can read the official plot synopsis from the book, below:
In a page-turning narrative that reads like a thriller, an award-winning journalist exposes the troubling truth behind the world's first act of nuclear terrorism. On November 1, 2006, Alexander Litvinenko sipped tea in London's Millennium Hotel. Hours later the Russian émigré and former intelligence officer, who was sharply critical of Russian president Vladimir Putin, fell ill and within days was rushed to the hospital. Fatally poisoned by a rare radioactive isotope slipped into his drink, Litvinenko issued a dramatic deathbed statement accusing Putin himself of engineering his murder. Alan S. Cowell, then London Bureau Chief of the New York Times, who covered the story from its inception, has written the definitive story of this assassination and of the profound international implications of this first act of nuclear terrorism.
Who was Alexander Litvinenko? What had happened in Russia since the end of the cold war to make his life there untenable and in severe jeopardy even in England, the country that had granted him asylum? And how did he really die? The life of Alexander Litvinenko provides a riveting narrative in its own right, culminating in an event that rang alarm bells among western governments at the ease with which radioactive materials were deployed in a major Western capital to commit a unique crime. But it also evokes a wide range of other issues: Russia's lurch to authoritarianism, the return of the KGB to the Kremlin, the perils of a new cold war driven by Russia's oil riches and Vladimir Putin's thirst for power.
Cowell provides a remarkable and detailed reconstruction both of how Litvinenko died and of the issues surrounding his murder. Drawing on exclusive reporting from Britain, Russia, Italy, France, Germany, Austria, Switzerland, and the United States, he traces in unprecedented detail the polonium trail leading from Russia's closed nuclear cities through Moscow and Hamburg to the Millenium Hotel in central London. He provides the most detailed step-by-step explanation of how and where polonium was found; how the assassins tried on several occasions to kill Litvinenko; and how they bungled a conspiracy that may have had more targets than Litvinenko himself.
With a colorful cast that includes the tycoons, spies, and killers who surrounded Litvinenko in the roller-coaster Russia of the 1990s, as well as the émigrés who flocked to London in such numbers that the British capital earned the sobriquet "Londongrad," this book lays out the events that allowed an accused killer to escape prosecution in a delicate diplomatic minuet that helped save face for the authorities in London and Moscow. A masterful work of investigative reporting, The Terminal Spy offers unprecedented insight into one of the most chilling true stories of our time.
The book is available on Amazon for around $21.56.
source: Variety