Exclusive Poster Premiere: Vincere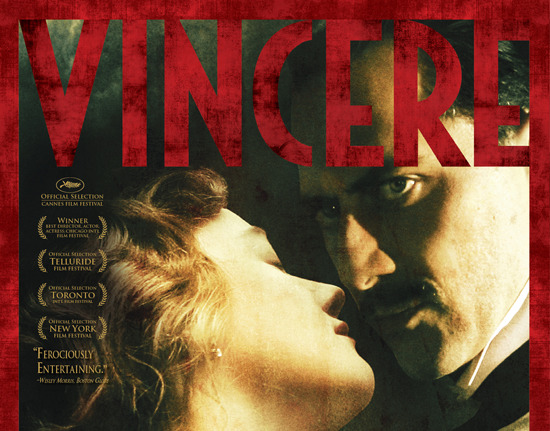 Today we're happy to debut the excellent poster for Marco Bellocchio's Vincere, which premiered in Competition at Cannes last year before hitting Telluride, TIFF and the NYFF. IFC opens the film in the States next month.
Vincere is the story of Ida Dalser (Giovanna Mezzogiorno), who was reportedly the first wife of Benito Mussolini and the mother of his first son. As Il Duce's career progressed he married another woman and Dalser was marginalized, estranged and, eventually, forcibly institutionalized.
Why do you care? Because Mike D'Angelo, a critic that is pretty damn hard to please, wrote in his AV Club Cannes coverage that Vincere "unleashed an aural and visual assault so dizzying and unrelenting that it more or less recapitulates the birth of Fascism in cinematic form." Time Out London is less forceful but equally impressed. "What distinguishes 'Vincere' is the flair with which the tale is related...more impressive is Bellocchio's virtuosity in combining drama, archive footage, and music to create a highly cinematic oratorio of enormous rhetorical force." Both outlets and many others praise the lead performances. D'Angelo said, "As Mussolini, Filippo Timi evinces the fearless bravado of the young Nicolas Cage, which makes it startling to see him repeatedly upstaged by Giovanna Mezzogiorno's astonishingly feral work as Ida Dalser."
You can see an Italian trailer here, and IFC will release a North American trailer next week. The film opens on March 19.
Check out the full poster after the jump; click the image for a high-res version.