Weekend Weirdness Review: Police, Adjective (A Superb Dark Comedy About The Absurdity Of A Pot Bust)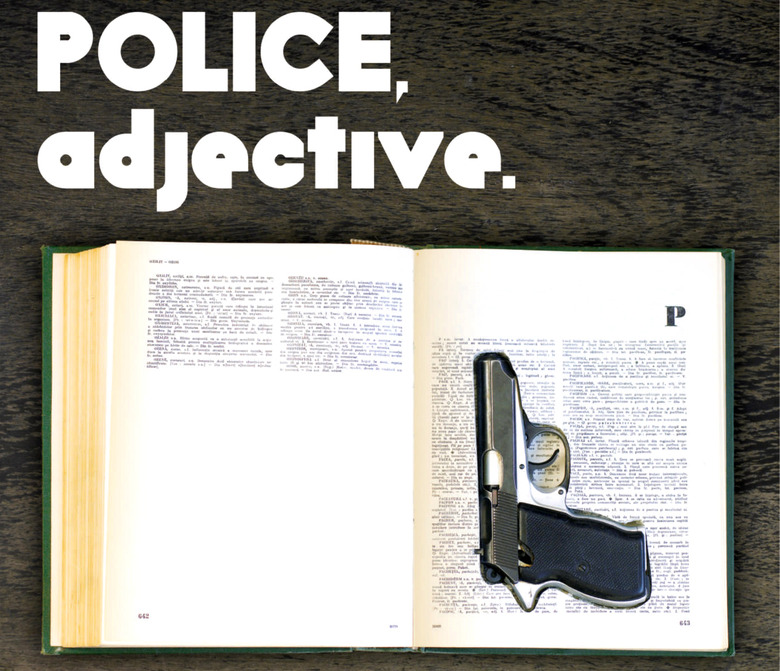 It's a crazy, mixed up world and we are thankful for movies, excluding Valentine's Day starring every safe, boring white actor ever, that offer proof. /Film's Weekend Weirdness examines such flicks, whether in the form of a new trailer for a provocative indie, a mini review or an interview.
The first half-hour of Police, Adjective features several long takes following an expressionless young detective as he walks and walks Romanian streets in silence, occasionally bending to pick up and examine a roach of hashish recently discarded by high schoolers. Watching the scenes, I began to think about the resilience of the never-ending yet naive affair between indie films and patience, or boredom, that plays out in front of modern audiences. Weeks before seeing this much-praised import, I had estimated, however cynically, that the mere inclusion of Adjective in its title had daisy-cut its potential audience stateside; add in all of this walking and creeping—and we're talking more than in Ti West's The House of the Devil—and my imagined demographic for the film outside of the indie faithful became commercially bleak.
But I also sensed in these long takes that writer/director Corneliu Porumboiu was consciously going against-the-grain, staging mundanity in real-time with jestful purpose. I decided to trust the instincts and stay with it. It turned out to be one of the best and more profound films I've seen in 2010 thus far.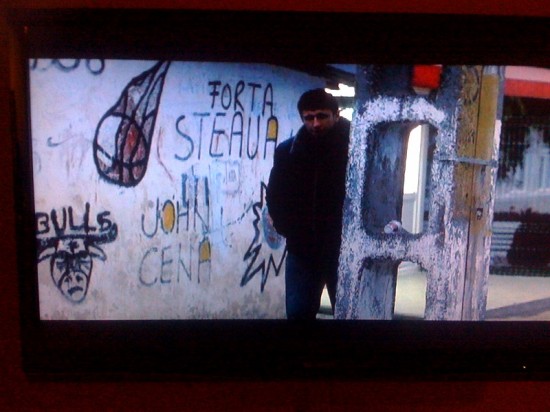 (Above is a screenshot I took of the film's young detective,  played by Dragos Bucur, in an aforementioned bout of walking. At first, I found the crude Chicago Bulls and John Cena graffiti to be awesomely random, but after the film was over I considered how the universality of these symbols and brands contrasts with the exhaustive complexity of drug laws across countries and continents.)
Bucur's detective is named Cristi, and his current assignment is surface- simple: Gather a fair but not aggressive amount of physical and observational evidence from casual stake-outs to confirm that a high school teen is "supplying" weed by way of joints to two other high school students, and apprehend him. But in Cristi's district—the director's native city of Vaslui—this common misdemeanor for hashish/marijuana could land the kid in question behind bars for seven plus years. As we watch Cristi file antiquated, handwritten reports, eat meals alone, and banter in sport with elder colleagues, reservedly but clearly dwelling on the punishment, the penalty and the case's minutiae hang over him. It's a subtle display of youth-burning frustration and confusion at reality's Kafka-esque absurdity.
But Porumboiu doesn't desire to have us side with a handsome, rebellious idealist, a heroic cavalier, or a trendy anti-hero. Cristi's dissonance with the case and with the law is belied by a seemingly unremarkable education and disinterest in cultural discourse and local news. Recently married to a cute and intelligent wife, much of his attitude seems informed by their recent vacation to the more liberated Prague, mirroring the questionable arrogance of so many American 20somethings after returning from overseas for the first time. As Cristi, Bucur has droopy but amused eyes that seem immersed in dark triangles of self-absorption, and his face is not dissimilar in this way to James Franco's. One of the best scenes is not directly related to the case. Cristi returns home tipsy to a lonely kitchen dinner, his wife blasting a drippy ballad on YouTube from another room that equates love's permanency with the sea. Framed in the kitchen's door way with sympathetic privacy, Cristi doesn't say a word as the sappiness seems to push him gently to the brink. Any guy can forced to listen to terrible, empty pop music can relate.
I expected Cristi to break down or act out, but instead he joins his wife and drunkly objects to her because the singer's meaning is not direct or precise—amusing foreshadowing—leaving her to admit she never examined the lyrics. The lyrics mean well and comfort her, and that's enough. Mildly romantic and surprisingly funny, the scene darkly hints at the years when self-centered ambiguity and ignorant bliss either steps away from, or steps directly on, the toes of precision- and time-obsessed adulthood. When the latter happens, it's rarely pretty, and Cristi's exchanges at police headquarters are no different...
Cristi:  That's why I brought up the Czech Republic. They smoke weed in the street and it's no big deal. I'm sure that soon the law will change here too. Nowhere in Europe are you arrested for smoking a joint...
Superior: Christi, listen to this old guy: Maybe attitudes will change a bit but the law won't. [The alleged pot supplier and smoker] is out in three-and-a-half, or less. His father's an accountant, he's well off...
After continuing to delay the arrest, Cristi is forced to explain to his supervisor why his "conscience" is allowed to supersede "the law"—and then he's urged to explain why his definitions for "law" and "conscience" fail to align with the definition and well-defined duties of a police officer. As the no-nonsense head of the department, actor Vlad Ivanov (best known for his performance in the Romanian abortion drama 4 Months, 3 weeks, and 2 Days) corners Cristi left-and-right with "dialetic" prowess like a disgruntled boxer. With just a few minutes of screentime, Ivanov's character symbolizes the stubborn, familiar refusal of an elder generations to entertain a better system, no matter the precedent elsewhere. For one man, two joints do not justify ruining a young man's life, for another, they do not undermine the letters of law. Cristi, not realizing the book is being figuratively thrown at him before its too late, must decide to get in single file and roll with the punches or file for unemployment and roll a joint. Porumboiu succeeds with memorable gusto at putting the viewer right on the spot alongside him, one city's law representing much of society's madness.
/Film Rating: 8.5/10
For info on Police, Adjective, here. For previous installments of Weekend Weirdness, here.
Hunter Stephenson can be reached on Twitter. If you'd like to send him a screener, or an NYC screening invitation, email him at h.attila/gmail.