SXSW Movie Trailer And Preview: The Ride (An Exclusive Look At VICE Films' Take On The Modern American Cowboy)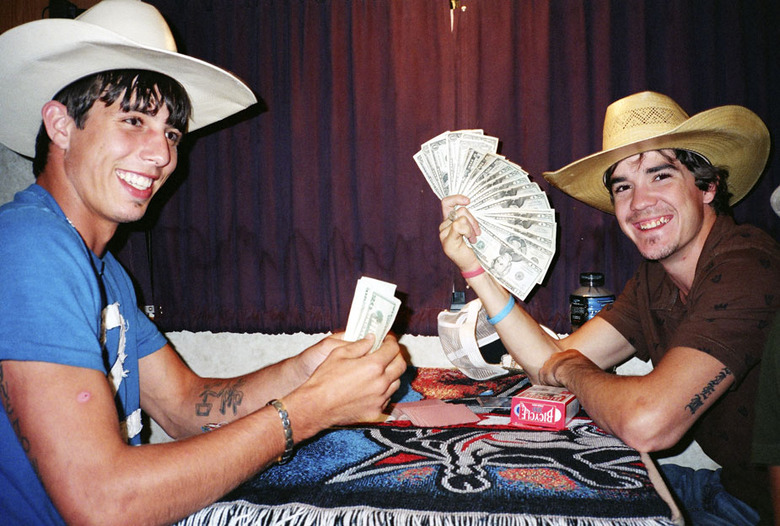 Premiering at next month's SXSW Film Festival in the movie mecca of Austin, Texas is The Ride, a thorough and serenely choreographed doc on young professional bull riders, rodeo entertainers, and the lucrative, tradition-heavy subculture that supports them. To some, the flick will appear an unlikely release from VICE Films, part of the media-and-culture empire that has expanded out of flannel-crowded Brooklyn to 15 countries. But their film offshoot, which boasts no less than Spike Jonze as its creative director, has taken a shining of late to the heartland; a heady Virginian outlaw feature from the company entitled White Lightnin' is also on deck for oh-ten.
Paced with the bucolic ease of downing beers on a front porch at sunset (the acronym of the Professional Bull Riding circuit is conveniently PBR), the film is interspersed with shit-kicker action and road-life but follows many riders on through candid disappointment, injury, and even tragedy (one rider died during production). After the jump, we have the official trailer for The Ride, images, and thoughts from /Film's exclusive screening...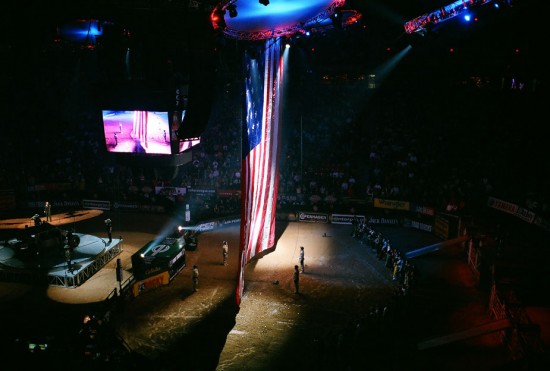 From a "future of film distribution" angle, The Ride exemplifies how VICE is smartly fostering documentary talent by hiring them to create segments for their online video network, VBS, and later tapping this bench for feature films—which are eventually segmentalized for the site or streamed in full. In the case of The Ride, its director Meredith Danluck and DP Jake Burghart both previously worked on the network's fucked-enviro showcase entitled Toxic Garbage Island.
What's interesting about The Ride is how the PBR circuit seems to have cultivated a self-sustaining culture and business that—perhaps not dissimilarly to VICE—empowers and endorses an image- and ideal-conscious lifestyle. Yet the PBR lifestyle and business cannily and protectively harkens back to a rural, romanticized past. One of the doc's more memorable scenes is when a stretch-limo customized with lambo-doors and blacked out lights chugs into a dirt-clomped arena and cocksure riders, competing for millions of dollars, exit in cowboy hats to fanfare. What might read like a scene of condescending Americana for some reason plays lighter and less irritating than, say, a comparably flamboyant entrance involving skateboarders on ESPN.
A good portion of the focus is on a highly successful, perma-grinning rider from Morrisville, North Carolina named James Mauney, but numerous circuit personalities, including a rodeo clown—shown below—who is dos bummed by the mass-acceptance of "rodeo clown" to describe his job, and Leann Hart, a fledgling country-western singer from Oklahoma, project life stories with sincerity that aligns with the filmmakers'. The Ride does not lift or aspire  to create an existential underbelly for a sport e.g. a meditation like Consider the Bull. The intention I interpreted was to place cameras on a niche sport/culture that was damn fine on its own, but now belongs to a future where outsider paranoia has fallen into the cracks of sociological and geographic gaps fast-closing thanks to technology and a new explorative generation. VICE Films and VBS are positioned to be at the forefront, and even at feature length, The Ride feels part of something much bigger.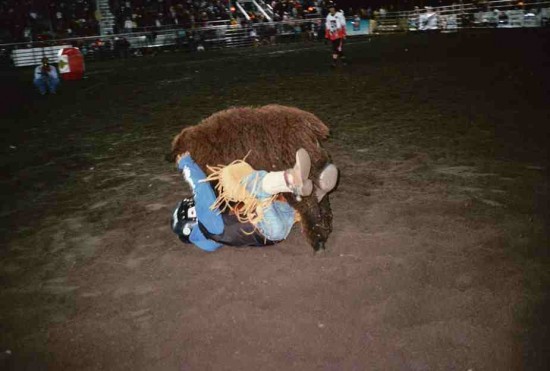 SLANG ALERT: "Mutton busting" is the act of initiation above involving small children (as discussed in the film...)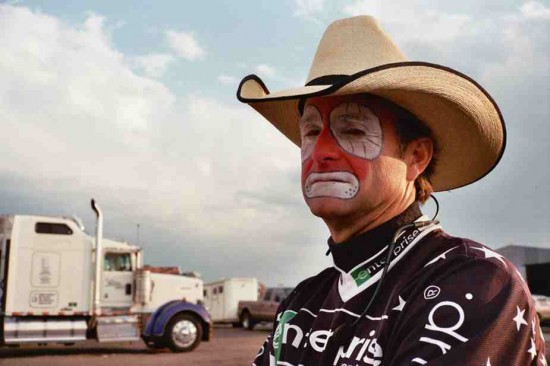 The Ride is one of the official "Spotlight Premieres" at the 2010 SXSW Film Festival. For screening info, here.