Casting Notes: Rachel Weisz In Dream House; Cate Blanchett In Hanna; Katherine Heigl In One For The Money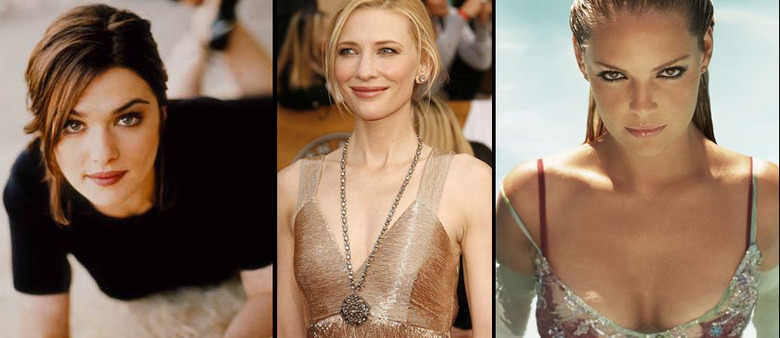 The cast for Jim Sheridan's new film Dream House has shaped up to be pretty impressive. We've had Daniel Craig and Naomi Watts so far; now Rachel Weisz has entered the fray. She'll play Craig's wife. He's "a successful publisher who quits his Gotham job and relocates his wife and two daughters to a quaint New England town, only to discover that their perfect new home was the murder scene of a mother and her two children."
There's a bit more to the script than that, but I'm shying away from posting all the spoilery stuff here. Suffice to say that I'm curious about what Sheridan will do with the picture. [Variety]
After the break, Cate Blanchett joins Joe Wright's assassin film Hanna and Katherine Heigl enables an adaptation of a long-running series of thriller novels.
Also sounding fantastic from a cast perspective is Joe Wright's Hanna, which already has Eric Bana and Saoirse Ronan starring. Ronan is a 14-year old raised to be a killer, who goes on a quest to find her missing father, taking out quite a few human roadblocks along the way. Now Cate Blanchett is on board as well. A must-see? Sounding like it. [Deadline Hollywood]
Finally, Katherine Heigl will be in One for the Money, a Columbia film based on the Janet Evanovich novel of the same name. The script is by Karen McCullah Lutz and Kirsten Smith, with no director attached.
Heigl will be Stephanie Plum, "an unemployed lingerie buyer who becomes a bounty hunter to make ends meet." Wait, what? Uh, did this just become more interesting? Maybe so. Evanovich has a 15-book series of novels starring Plum, with a 16th on the way. I knew about the book series, but not the subject matter...shows what I get for ignoring the paperback racks while I'm in the grocery check-out line. [Variety]