This Week In DVD & Blu-Ray: A Serious Man, Couples Retreat, Bronson, And More
We may receive a commission on purchases made from links.
This Week in DVD & Blu-ray is a column that compiles all the latest info regarding new DVD and Blu-ray releases, sales, and exclusive deals from stores including Target, Best Buy and Fry's.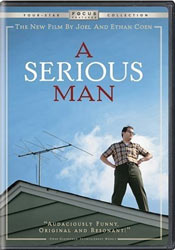 A SERIOUS MAN
Some films rely on your willingness to invest a great deal of time and energy to analyze their themes and explore what they're trying to say in order to appreciate them. Better films allow you the privilege of having no idea what the point is without detracting from the overall enjoyment of the experience. A Serious Man is the latter. Between the thematic mirroring of the otherwise unrelated opening Yiddish folktale, the lingering question of a greater power, and the endless perplexing mysteries that plague the character's lives, it's a movie with a lot going on under the surface, and one that interested parties will find themselves greatly rewarded by if they decide to dissect it further. Casual viewers, meanwhile, will find just as much to love, with the Coens yet again injecting in every scene their wonderful idiosyncratic touches (see: dialogue, visual style, character mannerisms, etc.), transforming what easily could've been a simplistic, ponderous story and turning it into one that's at once compelling, puzzling and hilarious.
Available on Blu-ray? Yes.
Notable Extras: DVD & Blu-ray – 3 featurettes ("Becoming Serious", "Creating 1967", "Hebrew and Yiddish for Goys").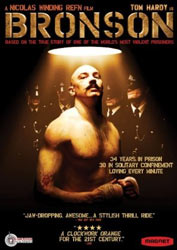 BRONSON
Bronson passes the ultimate "based on a true story" test: real or not, the tale engages regardless. Knowing that the titular Bronson is an actual person ("the most violent prisoner in Britain ") enhances the material, absolutely, but that information is not essential to appreciating this stylish and ruthlessly entertaining portrayal of the antics of a violence-obsessed mad man. It's less a traditional narrative than it is a 90-minute session of in-your-face lunacy, as presented from the perspective of Bronson. Tom Hardy is at once captivating, savage and strangely comical in the role, and his performance ensures that the film is never less than gripping. The odds of becoming emotionally attached to the character are minimal though, given that the character is treated more like a caricature than an actual person. This approach may make the movie more entertaining, but it also prevents it from becoming something more substantial.
Available on Blu-ray? Yes.
Notable Extras: DVD & Blu-ray – Charles Bronson Monologues, a making-of documentary, "Training Tom Hardy" featurette, interviews with writer/director Nicolas Winding Refn and actors Tom Hardy and Matt King, and behind-the-scenes footage.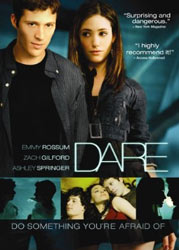 DARE
Trumpeted by many an angst-ridden teenager when their character is called into question, the exhausted "You don't know me!" retort still evinces a lot of truth. It may seem like it's easy to categorize high school students based on a few pronounced traits and affectations, but probe beneath the surface, and you're guaranteed to find an individual as uniquely fucked up as yourself. This is what Dare seeks to examine, and it does so by presenting its linear storyline through three separates POVs. Each of the film's confused adolescents appear at first to be one-note stereotypes, but the more time we watch them struggle with issues of identity and sexuality, the more it becomes clear that we misjudged them. Not everything in the film is effective—a few of the scenarios come across as contrived, and the themes aren't handled in a particularly subtle way—but on the whole, the actors are strong enough to make these characters feel fully realized and deserving of your time.
Available on Blu-ray? Yes.
Notable Extras: DVD & Blu-ray – Commentary with director Adam Salky and writer David Brind, the original "Dare" short film, deleted scenes, and Emmy Rossum's audition.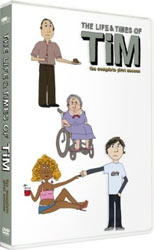 THE LIFE & TIMES OF TIM (SEASON 1)
Consider this HBO's counter-balance to Curb Your Enthusiasm. Both shows feature protagonists who find themselves in increasingly distressing & ridiculous scenarios, and though to some extent these conflicts are self-inflicted, the characters are also largely victims of circumstance—or perhaps more accurately, victims of cruel writers. Where the shows differ is the personalities of the main characters. Unlike Larry David, Tim isn't an asshole. He's soft-spoken, mild-mannered and entirely respectful to others. There is no reason this affable guy should suffer to the degree that he does, and moreover, there's no reason it should as entertaining to watch as it is. But due to Tim's calm, candid reflections on the situation at hand, the show thrives. His responses are delivered without so much as even a change in inflection, always acknowledging the absurdity of his circumstances and the unfortunate reality that has come as a result. I laughed harder at some of Tim's quiet observations than I did during the entirety of most of the past year's biggest comedic set pieces. While some may balk at the crude animation—hardly the selling point of the series—those who give the show a chance and come to appreciate it may find that the mostly motionless, scribbled art style adds to its rudimentary charm.
Available on Blu-ray? No.
Notable Extras: Deleted scenes.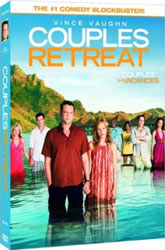 COUPLES RETREAT
Couples Retreat isn't the worst movie I saw last year. With the exception of an appalling sequence that's virtually a 3-minute Guitar Hero commercial, and a climax that drones on endlessly in a weak attempt to elicit an emotional response, I found the experience to be mostly painless. Note that I didn't use the words "funny", "enjoyable" or "worth recommending in any capacity".
Available on Blu-ray? Yes.
Notable Extras: DVD & Blu-ray – Commentary with director Peter Billingsley and star Vince Vaughn, a gag reel, Therapy's Greatest Hits, an alternate ending, extended & deleted scenes, and two featurettes ("Paradise Found: Filming in Bora Bora", "Behind the Yoga").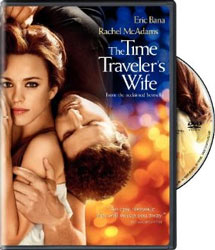 THE TIME TRAVELER'S WIFE
A romance with elements of science fiction? Hmm, that sounds strangely like something that might appeal to both men and women. Alas, this notion was quickly dissolved with the release of the film's trailer. The focus here is obviously more on the romance than anything else, and as such, the odds of me being able to watch the film without nitpicking the assured time travel inconsistencies are nil. Looks like critics felt the same.
Available on Blu-ray? Yes.
Notable Extras: DVD – A "Love Beyond Words" featurette. Blu-ray – Includes everything on the DVD, as well as an "Unconventional Love Story" featurette, and a digital copy of the film.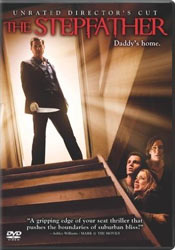 THE STEPFATHER
I'm going to save myself some time and assume you have as little interest in this critically reviled horror remake as I do. If I'm mistaken, allow me to save you some time and direct you to this 2 minute and 30 second summary of it.
Available on Blu-ray? Yes.
Notable Extras: DVD & Blu-ray – Commentary with Penn Badgley, Dylan Walsh and director Nelson McCormick, featurettes ("Open House: Making the Film", "Visualizing the Stunts", "Too Friendly"), and a gag reel.
Other noteworthy DVD (and Blu-ray) releases this week...
Dante's Inferno: An Animated Epic [DVD / Blu-ray] – The Song of Sparrows – Endgame – Peter and Vandy – Serious Moonlight [DVD / Blu-ray] – I Hate Valentine's Day [DVD / Blu-ray]
Noteworthy Blu-ray-specific releases this week...

NOTES: Some deals may be in-store only. All deals are for DVDs unless otherwise noted.

$4.99 – Minority Report, Mr. and Mrs. Smith, Talladega Nights, Traitor, Righteous Kill, The Princess Bride (20th Anniversary Edition), The Pursuit of Happyness, The Devil Wears Prada, The Break-Up, Last Chance Harvey, and more...