Tim Robbins Cast In Green Lantern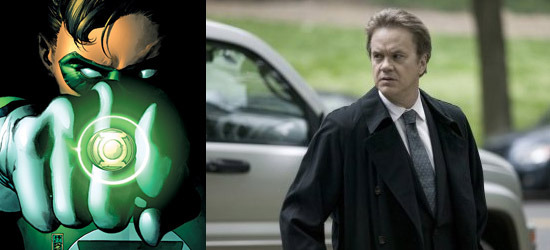 Tim Robbins (The Shawshank Redemption, Mystic River, The Player) has been cast in Martin Campbell's big screen adaptation of the DC Comics superhero Green Lantern.
According to Heat Vision, Robbins will play Senator Hammond, a former astronaut and the disapproving father of the movie's villain, Dr. Hector Hammond (played by Peter Sarsgaard). The doctor comes in contact with a meteor and becomes infused with psychic powers, genius level intellect, and telekinetic abilities. As far as I can tell, Robbins' character was not featured in the comic series, and is a creation for the film adaptation (and from what I understand, nbot a large role in the movie). I'm sure one of our comic experts will weigh in. At very least, the character was not a sizable role in the mythology.
The rest of the announced cast thus far includes Ryan Reynolds as the title character, Green Lantern, and Blake Lively as his love interest, Carol Ferris. Green Lantern is set to begin shooting in New Orleans this March, with the film scheduled to hi theaters on June 17th 2011.