First Look: Mickey Rourke And Megan Fox In Passion Play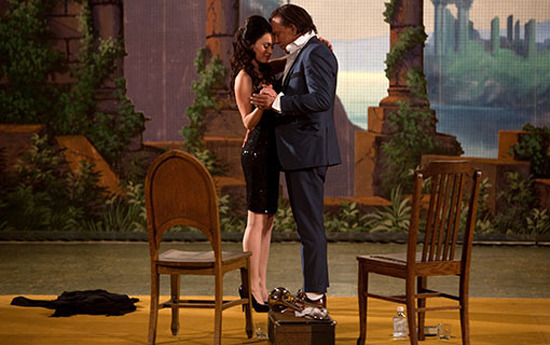 We haven't done much coverage on the film Passion Play, which stars Mickey Rourke and Megan Fox. The first big piece we ran on the film was prompted by Toby Kebbell dropping out and Bill Murray stepping into his role. Now we've got the first image from the movie, above, and a few quotes from Rourke about the production.
In true Rourke fashion, some of his comments are sure to piss a few people off. When an actor has worked with some of the people he has teamed with, saying that Megan Fox is "probably the best young actress I've ever worked with" is sure to get attention. Read on after the jump.
EW talked to the actor and ran the image you see above. Before I get to Rourke's comments about Megan Fox, let's cover what the film is about. We originally ran the following logline:
An angel under the thumb of a ruthless gangster is saved by a trumpet player down on his luck.
Fox is the angel, Rourke is the trumpet player and Murray is the gangster. I'm curious to what extent Fox's character really is an angel. EW describes the film as being a "romance about a troubled trumpet player and a winged beauty who rescue each other from dire circumstances." Rourke says, "she has wings, so she was sort of an oddity trapped in a carnival act. She's been a prisoner her whole life, and she has no understanding of trust. She's very vulnerable and delicate."
The film is written and directed by Mitch Glazer, who wrote Scrooged and The Recruit. Rourke and Glazer went to high school together, and the director told Rourke about this story idea over a decade ago. So this one is a long time coming. Based on the description, I'm wildly curious to see the final product. EW says the film has just wrapped, so it's possible we'll see it this year if a buyer steps up.
So, about the more gossipy quotes from Rourke...basically he seems to dismiss the chops of Evan Rachel Wood and Marisa Tomei. I'm sure Darren Aronofsky would have something to say about the following quote. But maybe it's just Rourke being Rourke. We love him because he's nuts...right? As he says of his big comeback movie, "Well, The Wrestler was quite tough. There wasn't much chemistry there. Uh, that's a whole other conversation. With Megan and I, there's a lot of chemistry and a lot of respect."