Pixar's Up Wins Best Feature At The 37th Annual Annie Awards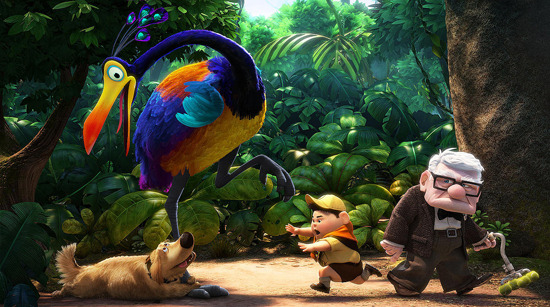 The 37th Annual Annie Awards were held tonight and Pixar's Up ended up walking away with the Best Animated Feature Film award. The Annie for best animated feature has matched the eventual Oscar winner almost every year, except twice, since the Academy Awards first created the category in 2002. You can find a listing of all the winners, in the official press release, posted after the jump.
LOS ANGELES, Calif. (February 6, 2010) — Pixar Animation Studio's Up wins the Best Animated Feature honor at the 37th Annual Annie Awards held at UCLA's Royce Hall tonight. Walt Disney Animation Studios won 6 Annies overall including 3 for its feature The Princess and the Frog and 3 for its television production Prep and Landing. DreamWorks Animation won 5 Annies including Best Television Production for Children and Directing/TV for The Penguins of Madagascar, Character Animation/TV and Storyboarding/Feature for Monsters vs. Aliens and Storyboarding/TV for Merry Madagascar.
Best Home Entertainment Production went to 20th Century Fox's Futurama: Into the Wild Green Yonder; Best Animated Short Subject went to ShadowMachine's Robot Chicken: Star Wars 2.5; Acme Filmworks won Best Animated Television Commercial for Spanish Lottery 'Deportees'; Best Animated Television Production went to Disney's Prep and Landing; and Best Animated Television Production for Children went to DreamWorks' The Penguins of Madagascar.
The Winsor McCay award was given to three industry leaders — Tim Burton, Jeffrey Katzenberg and Bruce Timm. Named in honor of the prolific animator, Winsor McCay, this award stands as one of the highest honors given to an individual in the animation industry in recognition for career contributions to the art of animation. Tim Burton accepted his Winsor via video. A special tribute to the late Roy Disney was introduced by Don Hahn.
Often a predictor of the annual Academy Award for Best Animated Feature, the Annie Awards recognize the year's best animated features, television productions, commercials, short subjects and outstanding individual achievements in the field of animation. Entries submitted for consideration were from productions that originally aired, were exhibited in an animation festival or commercially released between January 1, 2009 and December 31, 2009.