Casting Notes: Eric Bana Joins Joe Wright's Hanna, Ed Helms Joins Will Ferrell's Daddy's Home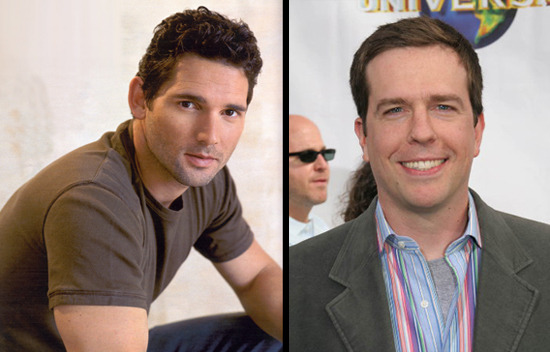 Atonement director Joe Wright is assembling the key cast for his teen assassin film Hanna, which already has Saoirse Ronan as the female lead. Now the movie that Brendon called "a kind of Nikita-meets-Leon, Kick-Ass-meets-Bourne mash-up" has a male lead: Eric Bana will play (I'm assuming) Hanna's father, who has spent most of the girl's fourteen years training her to be a killer.
The film shoots in March with Wright directing from a script by Seth Lochhead. [Variety]
After the break, Ed Helms finds yet another comedy; this time, it's the directorial debut of writer Etan Cohen.
Daddy's Home will be Cohen's chance to step up as director after writing Madagascar 2, Tropic Thunder and the still in development Men in Black 3. (He also wrote the proposed Sacha Baron Cohen and Will Ferrell Sherlock Holmes movie, which we're now probably quite unlikely to see.)
Cohen has got a solid acting duo lined up to headline the film: Will Ferrell and Ed Helms are the current names for this comedy about "a woman [who] marries a wild guy (Ferrell), but tires of his man-child ways after they have kids, divorces him, and marries a bland but stable spouse (Helms). When Ferrell comes back into her life to bond with their kids, he turns the new household upside down." On the surface, sounds like shades of Old School and half of Ferrell's other crazy manchild roles. Curious to see what Cohen can do with him as an actor, especially with Helms as the other half of the equation.
Cohen didn't write Daddy's Home, however; Brian Burns wrote the story, from which Adam McKay and Chris Henchy built a script. [Deadline Hollywood]