Danny McBride To Star In Jody Hill's L.A.P.I.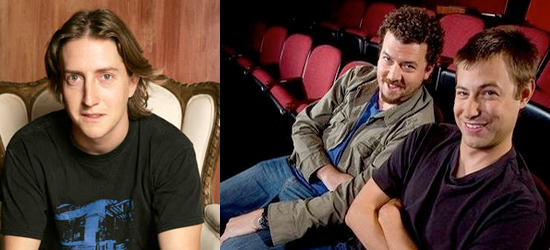 Now that Danny McBride and Jody Hill ostensibly have the keys to the kingdom by way of their new production company, Rough House Pictures, the world of comedy better watch its stagnant ass. Hill is attached to direct, and McBride to star as a "beaten down, hardboiled private investigator," in a new action-comedy called L.A.P.I. Their pal and fellow North Carolina School of the Arts alum, David Gordon Green, who co-founded the company with them last year, will co-produce.
What's intriguing is that unlike their previous collaborations The Foot Fist Way, HBO's Eastbound & Down, and Observe & Report, the idea and pitch for L.A.P.I. originates outside the crew's creative circle, from screenwriter team Michael Diliberti and Matthew Sullivan. The duo have two other buzzing projects in development: a comedy entitled Comic Con (one of two scripts by these guys on the 2009 Black List) and a remake of Brewster's Millions. McBride and Hill are pretty damn selective about material, so I can't wait to hear more and see what appealed to them. Read the official press release and additional /Film thoughts after the jump. Or just go celebrate in your backyard by waving around a machete and leaving uncool magical trails...
ROUGH HOUSE ENLISTS 'L.A. P.I.'
Michael Diliberti & Matthew Sullivan To Write Original Action-Comedy
Principals Jody Hill Attached To Direct & Danny McBride Attached To Star
Los Angeles (February 4, 2010) –  Rough House Pictures head of production Matt Reilly announced today that the company has acquired 'L.A.P.I.', an action-comedy pitch from writers Michael Diliberti and Matthew Sullivan (BREWSTER'S MILLIONS), through Rough House's deal with Mandate Pictures.  Rough House principal Jody Hill (OBSERVE AND REPORT) is attached to direct and principal Danny McBride (UP IN THE AIR, TROPIC THUNDER) is attached to star.  Principal David Gordon Green (PINEAPPLE EXPRESS), Hill, McBride and Reilly will produce.  Mandate President Nathan Kahane will executive produce. Details of the plot are being kept under wraps, apart fromMcBride starring as a beaten down, hard boiled P.I. in the action-comedy.
L.A.P.I. is the first project to be developed under the new label formed by David Gordon Green, Jody Hill and Danny McBride.  The co-venture seeks to produce high concept comedies with their brand of humor.  Combining their creative filmmaking with Mandate Pictures' financing and producing expertise, the company seeks to establish itself as a hub for exciting and bold comedic voices.
Michael Diliberti and Matthew Sullivan, who had two scripts on the 2009 unofficial Black List, are co-writing BREWSTER'S MILLIONS, the latest take on the George Barr McCutcheon novel, which is set up at Warner Bros. The duo got the job coming off the buzz generated by their spec COMIC CON, an action-comedy about a group of friends who plan and execute a daring heist at Comic-Con in San Diego. The scribes met while attending the Johns Hopkins University. Sullivan segued into stand-up comedy, while Diliberti worked as an assistant, first to Scott Rudin and then to John Lesher. He acted as an associate producer on the Rudin-produced STOP-LOSS, and was a creative executive at Paramount.
I've wanted to see McBride in a role like this for a while—his face and 'stache lend themselves to a don't-bullshit-a-bullshitter skepticism perfect for untangling a weird mystery and dressing down goons; in fact, a few months ago I was obsessed with a totally imaginary flick that would have him star as Thomas Magnum in a big screen reboot of Magnum P.I. Might L.A.P.I. similarly see McBride playing a less delusional, selfish, short-bus character than Fred Simmons, Kenny Powers and his stoned prince in October's Your Highness ? I've heard talk that he's interested in branching out into more dramatic waters a la Up in the Air; obviously, Hill is game too, with Observe & Report positing Seth Rogen in a more serious, not to mention disturbing, role than usual.
More details as we get them. As far as the unspecified window of production for the film, note that Hill and McBride are scheduled to begin filming the second season of Eastbound in early summer.
Related: Click here and here for the Exclusive /Film Interview with Jody Hill; click here for the Exclusive /Film Set Visit to Eastbound & Down.
What are your expectations for Rough House Pictures?