Screenwriters Hired For Disney's Enchanted Sequel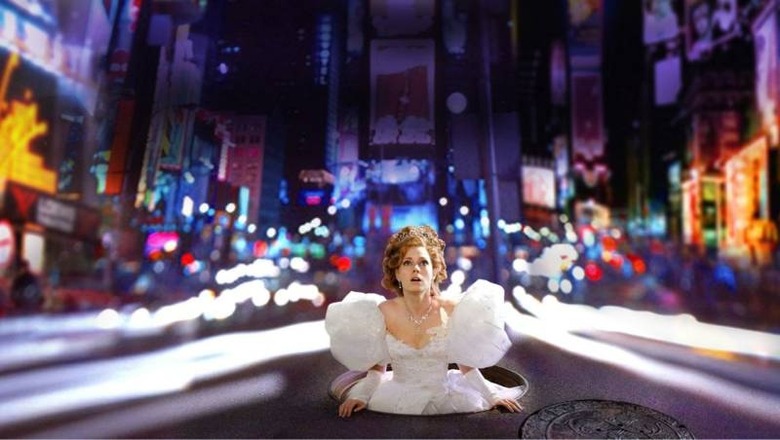 It has been seven years since Disney released the 2007 live-action film Enchanted. Even before it was released, execs were calling it the first film of a potential franchise. It took a while but in FebruaryDisney  hired Jessie Nelson (Stepmom, The Story of Us, I Am Sam, Because I Said So) to pen a screenplay, with Anne Fletcher attached to direct. It doesn't look like Disney is willing to give up just yet. Dateline has learned that Disney has hired Shrek 2 and The Smurfs writers J. David Stem and David N. Weiss to pen the sequel and Fletcher is still on board to direct.
Fletcher is a choreographer-turned-director whose credits include Step Up, 27 Dresses and The Proposal. None of the principle creative team behind the first film are returning for the follow-up, neither screenwriter Bill Kelly (Blast from the Past) or director Kevin Lima (Tarzan). Fletcher's former career as a choreographer should help with the film's mix of musical numbers. Stem and Weis also wrote Are We There Yet? and Daddy Day Camp for Sony. None of the films stars have yet signed on for the follow-up, although it is expected that they will.
In the original film, Amy Adams stars as Giselle, as a Disney princess who becomes banished from her animated fantasyland by an evil queen, and is left to fend for herself in live-action modern day Manhattan. Here is the official plot synopsis for the original Enchanted:
Enchanted begins in the animated fairytale land of Andalasia where the charming and perky Giselle (Amy Adams) instantly captures the heart of the dashing Prince Edward (James Marsden). Desperate to keep the young lovers apart in order to preserve her control of the throne, the prince's evil mother Queen Narissa (Susan Sarandon) transports Giselle from her whimsical homeland to the worst place she can think of—Times Square. Suddenly transformed from animated beauty into flesh and blood girl, the comely lass twirls her way through the urban jungle, blissfully unaware that dreams don't always come true. Rescued from the streets by divorce lawyer Robert (Patrick Dempsey), who suspects she'd be better off in Bellevue, and pursued by Edward, who finds that a sword is useless against a modern day dragon—er, make that city bus—the eternally optimistic Giselle starts to wonder if "happily ever after" is what she really wants.
No storyline has been released for the sequel, but it is expected that it will once again involve Giselle in the real world. It also seems like an obvious decision to film the movie in 3D, although that has not yet been decided.