Casting Notes: Zooey Deschanel Plays Famed Groupie Pamela Des Barres; New Films For Christina Ricci And Danny Glover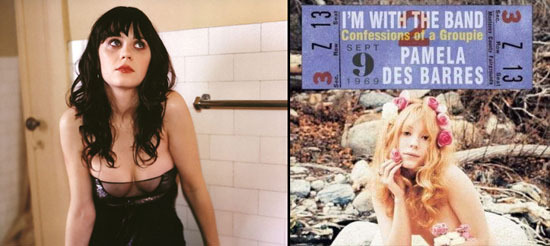 Though the territory was already covered to some extent in Almost Famous, Zooey Deschanel will star in a half-hour dramedy pilot for HBO based on I'm With the Band: Confessions of a Groupie, the memoir by famous band-aide Pamela Des Barres.
Famous for sleeping her way through a succession of rock and screen stars in the late '60s and early '70s, Des Barres chronicles her exploits and the frequent depression that followed when her interludes with famous dudes didn't turn into anything meaningful. Almost Famous fictionalized the story, and it sounds like this will be based in reality. Which means, if the series is picked up, we could potentially enjoy a parade of 'stars of the week' playing famous rockers and actors. Which would be amusing, if nothing else. [DHD]
After the break, Danny Glover fights dragons (finally!) and Christina Ricci joins Robert Pattinson.
It feels as if Danny Glover hasn't been seen on screen much since his appearance in the first Saw, but if you look at his resume you'll see that he's been fairly busy. Add one more film to the pile, as Glover will appear with Vinnie Jones in Dragon Fire, a "live action fantasy thriller" directed by Ryan Little. It's loosely based on Moby Dick (so, kinda like Reign of Fire?) and starts production this week in Utah. The budget is small at $5m, so I'm curious to see what the crew can pull together. [THR]
Finally Christina Ricci has joined Bel Ami, the film starring Robert Pattinson and Uma Thurman. The film is based on Guy de Maupassant's novel of the same name, and revolves around "a young man played by Pattinson in 1890s Paris who seduces his way to wealth and fame from a poor beginning."
The supporting cast is strong: Kristin Scott Thomas, Holly Grainger, Philip Glenister and Colm Meaney. The film starts shooting this week, and will film at locations in London and Budapest. [THR]