20 High Resolution Photos From Martin Scorsese's Shutter Island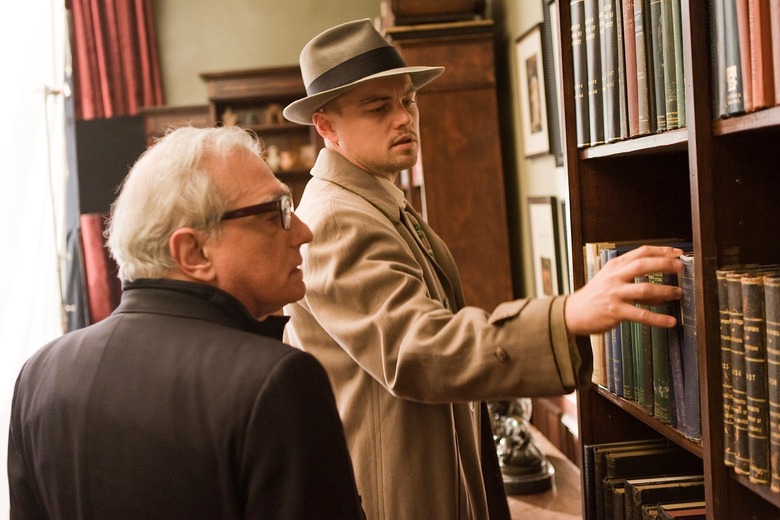 Paramount Pictures has released 20 high resolution photos from Martin Scorsese's Shutter Island, which I've included after the jump.
Plot Synopsis:
"Between the idea
And the reality
Between the motion
And the act
Falls the Shadow"
– T.S. Eliot, "The Hollow Men"
From Oscar®-winning director Martin Scorsese, and based on the best-selling thriller by Dennis Lehane, comes Shutter Island, a tale of haunting mystery and psychological suspense that unfolds entirely on a fortress-like island housing a hospital for the criminally insane.
The year is 1954, at the height of the Cold War, when U.S. Marshal Teddy Daniels (three-time Academy Award® nominee Leonardo DiCaprio) and his new partner Chuck Aule (Mark Ruffalo) are summoned to Shutter Island to investigate the implausible disappearance of a brilliant multiple murderess from a locked room within the impenetrable Ashecliffe Hospital. Surrounded by probing psychiatrists and dangerously psychopathic patients on the remote, windswept isle, they arrive into an eerie, volatile atmosphere that suggests nothing is quite what it seems.
With a hurricane bearing down on them, the investigation moves rapidly. Yet, as the storm escalates, the suspicions and mysteries multiply each more thrilling and terrifying than the next. There are hints and rumors of dark conspiracies, sordid medical experiments, repressive mind control, secret wards, perhaps even a hint of the supernatural, but elusive proof. Moving in the shadows of a hospital haunted by the terrible deeds of its slippery inhabitants and the unknown agendas of its equally ingenious doctors, Teddy begins to sense that the deeper he pursues the investigation the more he will be forced to confront some of his most profound and devastating fears. And he realizes that he may never leave the island alive.
Paramount Pictures Presents A Phoenix Pictures Production in Association with Sikelia Productions and Appian Way, A Martin Scorsese Picture, Shutter Island, starring Leonardo DiCaprio, Mark Ruffalo, Ben Kingsley, Michelle Williams, Emily Mortimer, Patricia Clarkson and Max von Sydow. The film is directed by Martin Scorsese from a screenplay by Laeta Kalogridis based on the novel by Dennis Lehane. The producers are Mike Medavoy, Arnold W. Messer, Bradley J. Fischer and Martin Scorsese. The executive producers are Chris Brigham, Laeta Kalogridis, Dennis Lehane, Gianni Nunnari and Louis Phillips. The director of photography is Robert Richardson, ASC. The production designer is Dante Ferretti. The film is edited by Thelma Schoonmaker, A.C.E. The costume designer is Sandy Powell. The visual effects supervisor is Rob Legato. The co-producers are Joseph Reidy, Emma Tillinger and Amy Herman. The music supervisor is Robbie Robertson. This film has been rated R for disturbing violent content, language and some nudity.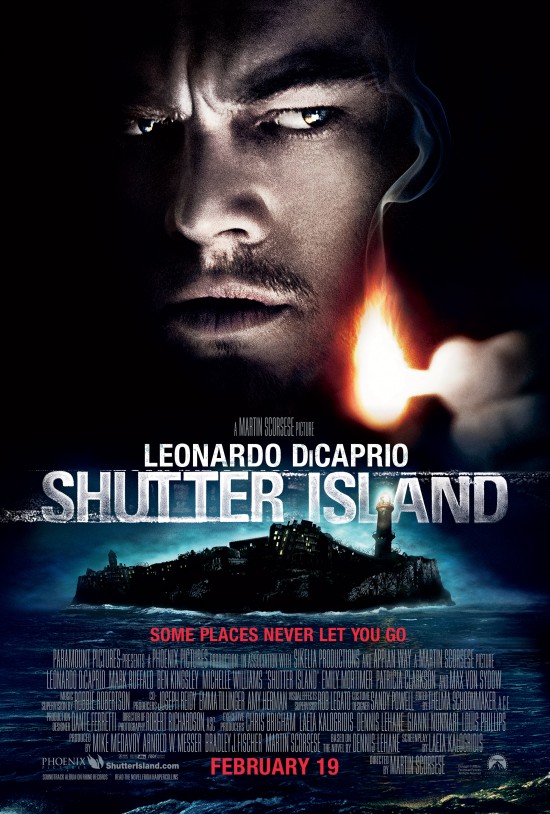 Production Notes:
Journey to Shutter Island: From Lehane to Scorsese
Shortly after completing his novel Mystic River, which would go on to become an Academy Award®-winning film directed by Clint Eastwood, writer Dennis Lehane radically shifted gears. Moving away from the gritty, blue-collar, Boston settings for which he was best known, Lehane fashioned an intensely atmospheric, terror-filled psychological shocker set at the height of 1950s Cold War paranoia, and at the crossroads where the lines between sanity and madness, truth and delusion begin to blur beyond recognition.
This was Shutter Island, which merged elements of Gothic mystery, pulp fiction, conspiracy thrillers and turn-of the-screws, Edgar Allan Poe-style horror to create a riveting and unsettling effect that took his readers by surprise. Unfolding over just four searing days at the island-based Ashecliffe Hospital for the Criminally Insane, in the midst of a raging Category 5 hurricane, the book presented a most unusual criminal investigation, one that was completely cut off from the outside world and in which the vise keeps tightening on the two lone investigators, ultimately forcing U.S. Marshal Teddy Daniels to come face-to-face with a realm in which the human psyche has run dangerously amok, as well as harrowing secrets, frightening memories and deeply buried truths.
The book hinged on the riddle of a murderess' inconceivable, mystifying disappearance from the high-security facility, but within its labyrinth of eerie twists and turns it touched on such topics as the lingering trauma of World War II, the 20th century's potential for vast conspiracies, the debate over invasive psychiatric treatments and, most of all, on the extraordinary power of the human psyche, in spite of all scientific and legal efforts, to elude even the best efforts to bring it under control.
Writing in The New York Times, Janet Maslin called the book "startlingly original" and "instantly cinematic" and it went on to become one of the best-sellers of 2003. Producer Bradley J. Fischer, a partner at Phoenix Pictures who was then producing David Fincher's thriller about a real-life serial murderer, Zodiac, picked the book off an airport kiosk and found himself so transported by its anxiety-soaked atmosphere and web of contemporary themes, he immediately wanted to bring it to the screen.
"I'd been a big fan of Dennis Lehane, yet I wasn't prepared for this novel," recalls Fischer. "It's a thriller and a Gothic mystery, but there is also much more to it because it has so much depth and deals with serious moral issues. The dense, atmospheric plot features a series of twists and turns that leaves you reeling and is quite mind-blowing."
As soon as he could acquire the rights, Fischer jumped into action, along with company head Mike Medavoy. Also coming on board as a producer was Phoenix Pictures executive Arnold W. Messer.
Fischer approached Laeta Kalogridis, a screenwriter known for her strong affinity to suspense, adventure and depth of character. Having previously worked with Kalogridis on the Viking-era action thriller Pathfinder, the producers at Phoenix knew she had the creative potential to realize this challenging material. "We felt Laeta would be able to take Dennis Lehane's brilliant words and make them come to life in a truly cinematic way," says Fischer.
Kalogridis, who is also one of the executive producers on Shutter Island (along with Chris Brigham, Lehane, Gianni Nunnari and Louis Phillips), was thrilled by the challenge of working with the richly woven fabric of Lehane's story, which sinuously weaves its way through flashbacks, hallucinations and fantasies, playing with chronological time and the elusive nature of moment-to-moment reality. She immersed herself in the project, exploring the broad range of unsettling topics that Lehane raises, from the horror-filled past of insane asylums, to the dark science behind prefrontal-lobe lobotomies, to such historical terrors as Nazi concentration camps and Cold War-era mind control experiments.
"Laeta was as stunned as I was by the story," comments Fischer. "She saw that the narrative has all these different threads and layers that needed to be balanced – not an easy adaptation – but she carefully explored different directions for the characters and ways to bring in the flashbacks. We soon had a screenplay that Mike Medavoy and I were very happy with."
Even more so than Lehane's novel, which the author has said was inspired in part by his love of B movies, the screenplay brought to mind a pantheon of classic Hollywood movies, including Otto Preminger's identity-shifting mystery Laura and Sam Fuller's mental asylum exposé Shock Corridor. It was clear that doing it justice would require a director of particularly deep cinematic knowledge and an abiding love of psychological interplay.
The first name that came to Fischer's mind was Academy Award®-winning director Martin Scorsese. It was on a wing and a prayer that the Phoenix executives approached the prolific, almost-always engaged director because they assumed that, fresh off his Best Director Oscar® win for the electrifying crime thriller The Departed, he would be a long shot.
But their timing couldn't have been better. Scorsese was not only available but passionate about the style and themes of Shutter Island. When Phoenix sent him the script, he was in the thick of narrating the documentary Val Lewton: The Man in the Shadows, a documentary about the distinctive creative force behind such hugely influential and wondrously ominous 1940s RKO horror films as Cat People and I Walked with a Zombie. Scorsese was in the mood for a modern take on existentially-complicated terror. "Marty was attracted to the idea of taking on a Gothic horror tale that's shrouded in shadow and mystery," Fischer explains. "He jumped on the idea and his excitement was enormous from the get-go. When I got the call from Marty's agent saying he wanted to direct Shutter Island, he told me, 'Marty says it reminds him of this old German movie called....called...' While he tried to recall the title, I happened to be staring across my office at a framed poster of the very film, one of my favorites, a classic silent from the Expressionist era of German cinema. 'He said it reminded him of The Cabinet of Dr. Caligari,' I suggested. 'Yes,' the agent shouted. 'That's it!'"
Fischer continues: "Learning that the script evoked for Marty thoughts of the same old Weimar-period horror film that it did for me was overwhelming. Yet, I wasn't surprised. The Cabinet of Dr. Caligari is a film that always bore some similarities in my mind to Shutter Island. It's a film that Marty admires and one of many he would reference throughout shooting. From this point, things started moving very quickly. The things Marty saw in the story and all the levels he found in the material made the project so much richer than any of us had ever imagined."
Scorsese says it was his first read of the Shutter Island script that hooked him. "I didn't know anything about the story and I started reading it at about 10:30 at night and I needed to go to bed because I had to get up early the next day, but I found I could not put the script down and was constantly surprised by the different levels of the story," he recalls.
He felt an instant link to the story's mix of classic thriller genres, from shadowy noir to boldface horror. "This is the type of picture I like to watch, the kind of story I like to read," Scorsese explains. "Over the years, I think I've stayed away from certain kinds of pictures that emulate the style that I find nurturing in a way, but these are the kinds of films I go back to and view repeatedly. I've always been drawn to this sort of story. What's interesting to me is how the story keeps changing, and the reality of what's happening keeps changing, and how up until the very final scene, it's all about how the truth is perceived."
He continues: "But more than the way the story is told or the setting, for me, it's really about what happens to the character of Teddy, which I found to be very moving. That was the emotional connection."
Scorsese's approach utilized the noir-like surfaces of Kalogridis' adaptation to get at the deeper micro-dynamics and psychological machinations of the characters, fusing richly cinematic visuals with underlying emotions to lure the audience out on a thrillingly fragile edge along with Teddy Daniels. Right from the start of production, the director inspired cast and crew with a series of nighttime screenings of films, both legendary and obscure, that touched upon the themes and styles woven through Shutter Island.
Among Scorsese's choices were Preminger's Laura; Jacques Tourneur's 1947 dark noir tale of double-crosses, Out of the Past; Edward Dmytryk's 1947 thriller Crossfire, about the murder of a Jewish soldier after WWII; Nicholas Ray's 1952 police drama On Dangerous Ground; Karl Malden's 1957 directorial debut, Time Limit, an intensely psychological courtroom drama about an American soldier facing a court martial; Orson Welles' 1963 The Trial, the screen adaptation of Franz Kafka's surreal tale of a man inexplicably detained for an unknown crime; John Huston's wartime documentaries San Pietro and Let There Be Light, the latter about returning soldiers suffering from what was then dubbed "shell shock"; influential horror films including Robert Wise's The Haunting and Jack Clayton's The Innocents; and several of the Val Lewton films so essential to Scorsese's appreciation of the horror thriller genre, including the shadowy The Seventh Victim, about a woman searching for her missing sister amidst a Satanic cult.
An essential documentary was also included in the lineup: Frederick Wiseman's controversial and, at one time, banned 1967 movie exploring the treatment of inmates at a hospital for the criminally insane called Titicut Follies, which gave the cast and crew a harrowing insight into what asylums were really like in the '50s and '60s, before modern reforms improved conditions and made patients' rights a priority. Set inside the Massachusetts Correctional Institute for the Criminally Insane at Bridgewater, the film unflinchingly depicted a treatment facility in which patients were stripped naked, chained to their cell walls, force-fed and deprived of basic human dignity. The film would have a major impact. Soon after its release, public outrage was so widespread that a class-action suit was brought against Bridgewater, which in turn led to permanent changes in the way state institutions were run across the country.
"Watching Titicut Follies allowed the cast and crew to see firsthand the kind of world the film would be portraying," notes Fischer. "It was a very powerful experience for all of us."
Exposing Shutter Island: The Characters
At the heart of Shutter Island's suspense and mounting fear is the shattering experience of Teddy Daniels, the hard-bitten war veteran and savvy U.S. Marshal who arrives at the island hospital to investigate the disappearance of a killer, only to slide deeper and deeper into an abyss of dizzying riddles, haunted memories and unrelenting fear. As his investigation runs into one obstacle after another, Teddy has reason to believe he is being manipulated, watched, perhaps drugged, and pushed to the dark, indistinct edges of his own sanity. Perhaps he is being warned away from getting at the larger truth of Shutter Island, or drawn into a horrific experiment, but there is clearly a hidden agenda tying Teddy to this impenetrable place.
To play a character so tightly wound, yet about to unravel in just a few days' time, the filmmakers had one actor in mind from the start: three-time Academy Award® nominee Leonardo DiCaprio, who has grown up on the screen to become one of today's most distinctive leading men. "When we approached Marty we instantly began thinking about Leo as well, first because he was so right for the part, but also because of his incredibly successful collaboration with Scorsese," Fischer says.
Scorsese wholeheartedly backed the choice. "Having worked with Leo on Gangs of New York, The Aviator and The Departed, I thought immediately that he should do this," he says. "We have a way of working together now and I had faith and trust in him as an artist to achieve the many psychological and emotional states that Teddy has to reach, and to transform throughout. Have I seen him do this before? Not to this level, I think. As he gets older, he goes deeper and deeper."
DiCaprio was convinced as soon as he read the script. "A lot of things about this character appealed to me," he explains. "Teddy comes to Shutter Island devoted to solving a mystery and to uncover what is really going on, but he has his own innermost agenda and secrets. He's in a situation where there's a lot more to his journey than there at first appears to be. One of the great things about the story is that it's constantly jarring you. It works on so many different levels; it's like a giant layer cake."
He continues: "I fell in love with the complexity of Teddy, with his search for the truth, which triggers something in him, and also triggered something in me. I was profoundly moved at the end."
He was also drawn to reuniting with Scorsese. "The one thing I don't think people understand about Scorsese is how much he believes in the actors he hires and how much he depends on them doing their homework before they show up on the set," DiCaprio comments. "He's a master filmmaker and he knows how to navigate the human mind and portray things about the human condition, but he lets the actors really dictate what he puts up on the screen."
Once he took on the role, DiCaprio was inspired to undertake his own personal research. He delved into the specialized training of a real 1950s U.S. Marshal, explored the experiences of World War II vets and learned about the psychiatric techniques used in mental institutions during the period. He also read and re-read Lehane's novel. "When you have someone like Dennis Lehane, who creates such rich characters, it gives you a lot of ammunition and reference points," he says.
The core of his preparation, though, was a series of long, explorative talks with Scorsese. "Marty loves to discuss everything at great length," notes DiCaprio, "which helps you become even more specific about who your character is and more believable on the screen. We would discuss the scenes almost like forensic detectives, going through the details with a fine-tooth comb, and that's one of the most interesting, challenging, scary and fun parts of making his movies because, by the time you're on set, you're really committed to something."
In the case of this particular character, those conversations were particularly important. "With Teddy, there were certain fine lines we couldn't cross and that was very challenging," DiCaprio explains. "I really needed Scorsese's guidance on how far things could be pushed. There are a lot of extra subtleties you might notice on a second viewing."
Further inspiring DiCaprio was the cast that surrounded him. "There are some remarkable performances, so rich in character detail that they just come alive," he says. "The casting was tremendous and you believe these people you meet on Shutter Island are all real and tangible."
DiCaprio was especially excited to work with Mark Ruffalo, who plays Chuck Aule, Teddy's new partner who will also be swept up in the mysteries and conspiracies on the rocky isle. "Mark is an actor I've wanted to work with for a long time. He's given so many fantastic, ultra-realistic performances," he says. "His character, Chuck, has an interesting relationship with Teddy. They are starting to build trust, but are suspicious about each other's intentions. Mark really brought something to this film that needed to be there and grounded my character in a profound way."
Ruffalo has emerged as one of today's most diverse and intriguing leading men, with roles in such films as Kenneth Lonergan's You Can Count on Me, Michel Gondry's Eternal Sunshine of the Spotless Mind and Michael Mann's Collateral. Says Scorsese: "I have wanted to work with Mark since I saw him in You Can Count on Me, which I executive-produced. What you have with Mark is a strong emotional connection. He is believable on every level while playing a multi-faceted character."
Ruffalo was drawn by the lure of working with Scorsese and DiCaprio, but it was the screenplay's unforeseen wallop that really got to him. "At first, you think it's just an interesting noir detective story but, as you go along, all these surprise events and layers emerge, along with rollercoaster twists and the script turns out to be so many other things you weren't expecting," he says. "Things keep getting stranger and stranger and it slams you into another world. The more I read, the more I felt that playing Chuck, who has much more going on than we initially see, would be an extraordinary challenge."
That challenge weighed on Ruffalo as he began preparing for the shoot. "There was a problem I had to solve with the part, which was how to walk the fine line of this character," he explains. "It appears that Chuck is there to protect Teddy but, deep inside, he's also pushing him towards a reckoning. There was an interesting tightrope act involved." One of the keys, says Ruffalo, was making sure that his performance would stand up on a second viewing of the film, even after all the story's carefully built skeleton of secrets has been exposed. "I think on second viewing, there are little clues to what's really going on, without raising any red flags," says Ruffalo. "It's all in how I'm listening and responding to certain things, how I'm looking at Leo."
Working with a DiCaprio was a wish fulfilled for Ruffalo. "I've been a fan of his for such a long time," he notes, "and have watched him grow into this great leading man. I didn't know what to expect, but what I found is that he is one of the hardest working, most dedicated of actors. He works non-stop, constantly running lines and talking about the characters. It's never enough for him and, at the same time, he's very generous and giving to the other actors. I found him really impressive."
Ruffalo was further inspired by Scorsese's enthusiasm. "This film was like a playground for Scorsese's virtuoso filmmaking," muses Ruffalo. "It's full of fantasy sequences, flashbacks, period elegance, altered states, film noir and the supernatural, as well as a great character drama. He gets to do everything he's always loved about film." He continues: "One of the wonderful things about working with Marty is that he truly does love actors, and he loves to create a work environment with a big playing space where you can take things in many different directions. It was a very collaborative process. We all sat down and talked about the characters. We also talked about mythology, history and, most of all, about films, using the classics for character insight and a sense of the noir style. There's a lot going on in every frame on every level, and I think that makes for a very satisfying movie experience."
Also joining in the experience was Academy Award® winner Ben Kingsley, who takes on the role of the brilliant Dr. Cawley, who psychoanalyzes Teddy and Chuck's every move even as he engages them to find his dangerous, missing patient. Scorsese had long hoped to work with Kingsley and was thrilled the role suited him so well. "Ben was a natural for me because of his focus, concentration and compassion. That is what's so important about the character of Dr. Cawley – his level of dedication and his ability to find something human in his violent patients," says the director.
Kingsley was pulled in by the story and especially to his character's underlying, secret mission. "This story is like an archeological dig where you keep finding layers under layers," he says. "I like that and I like Dr. Cawley because there is some extraordinary stuff buried inside this character that comes to the fore. He has an interesting perspective on his profession at a period when there was a battle raging between the old therapies and the new drugs and surgical approaches like lobotomies."
In taking on the role, Kingsley brought his own vision of what Dr. Cawley would look like to the set. "It comes from my Shakespeare days that I love to grasp the whole picture," he says. "So I chose his green suit and his pipe, as well as his shoes, which are wonderful Oxford brogues that link him to the earth. I think of him as a man with his feet on the ground, but his head in the heights of science."
He especially enjoyed the interplay with the rest of the extraordinary cast. "Leo is at the Hamlet stage of his life and this role gives him a tremendous opportunity to show his depth. Mark Ruffalo just radiates affection and loyalty; Michelle Williams has a stirring, beautiful vulnerability; Emily Mortimer is exquisite, like a bird beating its wings against a window; Patricia Clarkson has such stillness and intelligence and Max von Sydow, with his towering authority, is magnificent," he summarizes. "Marty has placed them all like a painter, putting one color next to another for great effect. What a thrilling project to be involved with."
Taking on the key role of Teddy's wife Dolores is Academy Award® nominee Michelle Williams (Brokeback Mountain). Williams did not hesitate to jump into the unusual character. "It's a really challenging role, which always appeals to me," she says. She admits the part got under her skin more than she anticipated. "Playing Dolores was a lot to go through," she continues. "It's like being in a nightmare you can't wake up from and it keeps changing and getting darker and darker as you go with the current."
To get deeper into the psychology and truth behind Dolores, Williams did a lot of reading on abnormal psychiatry, watched documentaries and talked to several doctors. "I also talked a lot to Marty," she explains, "because one of the most important things is to build that trust in order to go to these places together."
The period also intrigued Williams. "It was a time in the 1950s when people felt they didn't know what was going to come next. Dolores was caught up in paranoia about war, about being spied on, about not being safe," she notes. "I had to find compassion for what she was going through."
On camera, what Williams went through was often a drenching affair, flooded with dream-induced deluges. "I spent the two months making this move soaking wet," she laughs. "There were even water rigs in my hair and dress! But it's all part of Marty's storytelling, and it was so exciting to be part of that."
Says DiCaprio of Williams: "Michelle rooted the entire film emotionally with a really engaging, intense performance that goes to the heart of who this couple is."
Dolores isn't the only woman who haunts Teddy Daniels during his journey to Ashecliffe hospital. There is also Rachel Solando, the perilously disturbed murderess whose inexplicable escape brings him to the island in the first place. Rachel appears in two incarnations, played both by Academy Award® nominee Patricia Clarkson (Pieces of April) and rising star Emily Mortimer (Match Point.)
Says Scorsese of Clarkson: "Her scene with Leo in the cave is one of my favorites in the picture. She is like the Oracle of Delphi. It's this ritualistic encounter almost like an old myth. Yet, Patricia plays this character straightforwardly. There are no tricks in there. She just has got such range as an actor."
Clarkson was deeply intrigued by her character's role in the grand structure of the story. "She's another twist and turn within the film who operates on several levels," she notes. "When you hit my character, you think she might be the one who will provide the truth, some solace, the endpoint of the journey, but then you find out that there are many more twists to come. That's what's so beautiful about the writing in both the novel and the screenplay."
Another high point for Clarkson was working with DiCaprio. "He makes a total transformation in this character, yet it's very subtle, fine and beautiful. I loved working with him because he gives 2,000% on every take," she says.
For Emily Mortimer, her role too was irresistible. "Rachel is a fantastic, daunting role because you never see her sane in the movie," she comments. "It was also exciting to enter this daring, Gothic, 1950s world Marty conjured up, to journey back into the style of the movies made back then. What I love most about the movie is that it poses a question we all ask ourselves sometimes: Am I mad or is the world around me mad? It jars your sense of what's real and what isn't, and Marty worked that perfectly."
Scorsese was equally enamored of Mortimer's performance. "The way she plays Rachel is very moving. I found myself believing her and her reversal in the role makes it really chilling."
Perhaps the greatest challenge for Mortimer was simply acknowledging that she was part of such an illustrious ensemble. "I was so proud to be a part of this cast, but it was also difficult because here I was having to go mad in front of people like Leonardo DiCaprio, Sir Ben Kingsley and Mark Ruffalo, but they were all extremely encouraging and supportive. Leo is an especially generous actor. He made me feel so at ease," she says. "Our characters have an interesting dynamic because there is this constant contrast between what you see on the screen and what's really going on in the crevices of their minds."
DiCaprio also enjoyed that dynamic. "Emily delivered unbelievably and her character really pushes Teddy's buttons," he says.
Another high-impact supporting role is that of Shutter Island inmate George Noyce. A mysterious face from Teddy's past, Noyce is played by Jackie Earle Haley (Little Children), another actor Scorsese had wanted to seek out. "I thought he was remarkable in Little Children and he was quite interesting to work with," comments the director. "He handled the dialogue with Teddy in fascinating ways. He shakes Teddy up and it's one of the highlights of the picture."
Says Haley, who endured intensive makeup to portray the battered Noyce: "It's such a cool, pivotal scene that George has with Teddy and I can't tell you what a thrill it was to work so close to Leo while Marty was giving directions. It was a dream come true. In between takes, Marty would come up and tweak and shift and change us and continually make it better."
Rounding out the highly accomplished group of actors in the film's ensemble is the legendary Max von Sydow (The Diving Bell and the Butterfly), who plays Dr. Naehring, one of Ashecliffe's more ominous and threatening figures. Notes Scorsese: "Max von Sydow is a giant of cinema. I think I first saw him in Bergman's The Seventh Seal and his range and experience over the last 50 years has been a part of film history itself. The depth of his control is fascinating to watch. He had the intelligence and confidence to handle the nature of this man who is an ex-Nazi. He also represents the other side of the psychiatric profession. Dr. Naehring is not a villain, but someone who really believes in what he's doing."
Behind Shutter Island: The Strange, True History of Mental Institutions
Shutter Island takes place in a shocking, macabre world that has been largely unseen on the movie screen: that of the 1950s psychiatric institution, in an era when treatment for those at the farthest and most violent reaches of madness was about to undergo a major revolution. As the dark days of "warehouse-style" asylums gave way to a new era of powerful brain surgeries and neurological drugs, it was a time when some patients were lost in a Kafkaesque system while others were part of cutting-edge experiments that forged many of our contemporary theories about criminal insanity. In the midst of Shutter Island's tangled mystery, Martin Scorsese provides a transporting glimpse into this darkly compelling world that was long hidden from view.
Asylums for the insane date all the way back to the Middle Ages but, even before then, societies agonized over what to do with those too mad to function safely in the outside world. Some have even posited that the term "ship of fools" referred to roaming vessels that carried the insane offshore as an early form of institution.
European asylums of the 16th and 17th Centuries were the progenitors of asylums in the U.S. They were essentially prisons, not treatment centers, bleak hellholes in which the patients were chained and abused like animals, beaten into submission and "stored away" in gruesome conditions, often until death. Perhaps the most infamous example was the large, intensely grim asylum at London's Bethlehem Hospital, a name which was soon shortened to Bedlam Hospital, and in turn gave rise to the word bedlam, meaning "house of confusion." The hospital opened its doors to visitors, allowing them, for the price of a penny, to watch, poke and instigate the chained prisoners into bizarre reactions. With the inhabitants viewed by society as willing tools of the Devil, there was little compassion for their plight. (Intriguingly, by contrast, medieval asylums in Persia were relatively enlightened, initiating the use of soothing baths, music therapy and early forms of talk therapy to try to return patients to everyday life.) Bedlam would also come to be a 1946 Val Lewton film, with its poster proclaiming: "Sensational secrets of infamous mad-house EXPOSED!"
It was in 1792 that an asylum in Paris first experimented with cutting patients' chains and turning the facility from a windowless dungeon into a sun-lit retreat. They were encouraged when a few patients actually recovered, which was previously thought impossible. Thus began the slow-dawning era of "New Treatment," with a greater emphasis on seeking cures, although sometimes by extreme and brutal means. Unfortunately, what emerged initially was a ghastly legacy of experimental treatments ranging from spinning patients at high speed in special chairs to "calm their nerves" to literally torturing them to "bring them to their senses," a process that only further sealed the reputation of asylums as horror-filled realms from which few returned to normal society.
Over the next century and a half, Western asylums remained places surrounded by fear and revulsion. The first asylum in the fledgling United States was started by Benjamin Rush in 1769 at Williamsburg, Virginia and remained the only such facility in America for the next 50 years. In those years, most of the mentally ill in America wound up in poorhouses or prisons, but in 1827 an "Act Concerning Lunatics" forbid the confinement of insane persons in jail and a number of institutions were built around the country. Though there were some progressive exceptions, most notably the Quaker asylums in Philadelphia, Boston and New York, these were still largely unwelcoming places by today's standards, where common treatments included placing the patients in straitjackets in order to teach them restraint over their behavior, and even bloodletting and purging.
There also emerged a new category of the mentally ill, those whose madness inspired terrible crimes. In 1859, New York opened the first State Lunatic Asylum for Criminal Convicts.
By the end of World War I, in the wake of Freud's revolutionary theories and with thousands of war veterans suffering from post-battle psychological trauma, treatment facilities began to improve. Treatments themselves, however, often remained shockingly harsh. For example, Dr. Henry A. Cotton, who headed the New Jersey State Lunatic Asylum, pioneered a series of surgeries in the 1920s that involved the removal of teeth, tonsils, intestines and sexual organs believed to be the sites of madness-inducting infections. In the 1930s, Dr. Egas Moniz, a Portuguese neurologist, began experimenting with a new form of what became known as the prefrontal lobotomy, a radical surgery that severed nerve fibers in the part of the brain associated with emotions. The treatment did indeed calm those suffering from schizophrenia and intractable psychosis, albeit at tremendous cost to the patient's personality. Moniz was eventually awarded the Nobel Prize for his discovery of the technique.
By the 1940s, the lobotomy had ushered in a new age of psychiatry, one which was honing in on the physiology of the brain, and methods to alter it. An astonishing 40,000 Americans, some of whom were suffering from short-term depression, mental retardation or even a mere rebellious streak, underwent the life-altering procedure. Other extreme methodologies also came into favor, including insulin-induced comas and electro-convulsive therapy, aka "shock therapy." Thankfully, by the end of the decade, the advent of powerful new neuroleptic drugs, including anti-depressants and anti-psychotics, promised a more humane, if still controversial, path to controlling runaway minds.
After World War II, for the first time, special facilities arose to address those suffering from combat-related mental trauma, and this, too, precipitated more sophisticated and subtle treatments. Meanwhile, under the newly descended Iron Curtain, Eastern European mental institutions established an even more sinister reputation as places of brutal punishment for dissenters and political prisoners, where mind-control experiments pushed many who started out quite sane, if politically defiant, beyond the brink.
It is in this era, at the height of 1950s psychiatric experimentalism and just before the reforms of the 1960s that would close many state mental hospitals, that Shutter Island is set.
To assure that the film would authentically depict psychiatric ideas and treatments of the period, Scorsese recruited a special consultant: Dr. James Gilligan, who had directed Massachusetts' prison mental hospital for the criminally insane (the Bridgewater State Hospital) in the 1970s. The federal courts had ordered the state to allow members of the Harvard Medical School faculty, led by Dr. Gilligan, to provide the treatment programs at Bridgewater in an effort to improve the quality of mental health care there, and he has been a leader in the struggle to reform mental and penal institutions ever since, throughout America and around the world.
"We were very fortunate to have Dr. Gilligan as our technical advisor," says Scorsese. "His book on violence is a classic and he was there in the psychiatric hospitals of the '60s when things were changing. Not only is he an authority on the subject, but he also understands how to tell a story and how works of art over time have reflected man's nature."
Gilligan accepted his assignment at Bridgewater in the days following the outcry over Fred Wiseman's documentary film Titicut Follies, a politically explosive exposé of how despicable conditions there were, and took charge of the place during the period that marked its transformation into a more humane institution providing real hope for patients. He recalls the atrocities he witnessed firsthand: "Cells resembled medieval dungeons. Patients were literally chained to the walls, left in their own excrement. Animals in zoos were cared for more humanely," he says. "Bridgewater went through many of the same changes, experiments and conflicts that are part of this movie."
Having played a significant role in changing the practice of mental health care in the state of Massachusetts, Gilligan was especially excited by the themes of Shutter Island, and by Scorsese's determination to bring authenticity to the film's fictional hospital for the insane. "Marty made it clear that, within the fictional world of the story, he wanted the hospital to be depicted realistically," he says. "We worked together to make sure the story reflected a true war that was going on in the mid-20th century within the psychiatric community: a war between those clinicians who wanted to treat these patients with new forms of psychotherapy, education and medicine, and those who regarded the violent mentally ill as incurable and advocated controlling their behavior by inflicting irreversible brain damage, including indiscriminate use of shock treatment and crude forms of brain surgery, such as lobotomies."
Gilligan notes that it is the film's convoluted structure as much as its setting that takes the audience on an irresistible psychological journey. "Films are a powerful artistic medium for depicting unconscious mental states, dreams and hallucinations," he says. "The story of Shutter Island may not literally reflect how psychiatrists would today go about treating those who are psychotic, violent, suicidal and deeply traumatized, but what it does do is brilliantly express metaphorically what is going on in the minds and psyches of the characters."
The doctor, who currently teaches at New York University, was on hand for rehearsals, working with DiCaprio, Ruffalo, Kingsley and all the main cast, as well as with the extras who portray mental patients. "My job was to explain to the actors how mental patients feel, how they interact with others, what they look like, how they hold themselves, their emotional affect and facial expressions, and also the extent of their physical and mental deterioration. Everyone was terribly interested, and each actor did research on his or her own," Dr. Gilligan says.
He adds: "I was especially impressed with the extent to which Leonardo DiCaprio pursued his research. He really dug into the archives and found some 1940s teaching films for psychiatric professionals, remarkable artifacts that influenced his performance."
The entire cast was keen to glean from Gilligan's insights. "He was really cool and I remember right away asking him a lot of questions about his experience in working at places like Shutter Island," says Jackie Earle Haley. "I didn't want to take things too far with my character, but he said, 'Dude, you wouldn't believe the things I've seen and I'm seeing very accurate stuff here.' It gets back to that saying that truth is often stranger than fiction."
Brad Fischer says that having Gilligan as part of the team also helped to ratchet up the film's suspense. "It's all part of setting the mood, the atmosphere, the tension of wanting to know what's really going on at this place that houses the worst of the criminally insane. The audience feels that compulsion to understand what is happening, just as Teddy does, and to figure out who is telling the truth."
Inside Shutter Island: The Design
As soon as U.S. Marshals Teddy Daniels and Chuck Aule arrive on Shutter Island, they are thrust into a strikingly Gothic atmosphere that mirrors the terror and anxiety they feel within. With calamitous weather, howling winds and driving rain ratcheting up the urgency of their investigation, they are confronted with a disorienting realm of imposing brick buildings, elongated corridors, claustrophobic cells and craggy, water-logged surroundings.
To fuse this starkly impressionistic world out of chillingly real locations, Martin Scorsese needed extraordinarily detailed design work from his artistic crew. The director turned to many of his loyal, longtime collaborators to tackle this creative task, among them the award-winning quartet of director of photography Robert Richardson, production designer Dante Ferretti, costume designer Sandy Powell and editor Thelma Schoonmaker.
The task of evoking the film's panoply of visual moods, from mystery and confusion to fury and panic, both physical and psychological, fell to director of photography Richardson, a regular Scorsese collaborator who has won Oscars® for his work on The Aviator and for Oliver Stone's JFK. Richardson used the camera creatively, sinuously, expressionistically to forge the sensation of moving through a spiraling fog of unanswered questions and lingering uncertainty. He and Scorsese garnered inspiration from a whole library's worth of classic films, not only from the previously mentioned features, but also from the camera movement and lighting of Roman Polanski's groundbreaking studies in abject horror, Repulsion, Cul-de-sac and Rosemary's Baby.
Scorsese explains: "The idea was to come up with a way of reflecting a state of mind in the lighting, the tone of the picture and the island itself. The look of any film is important but if you're doing something that deals with street life, say in the case of The Departed, there is a simpler approach to visuals, whereas with Shutter Island, a state of mind had to be conveyed in every frame. We had to create a place that was more than just a setting, and there was a constant discussion about that between myself, Bob Richardson and also Dante Ferretti," he says. "There is a visual sense of not understanding what's going on around you, who's really in charge, who's in control."
"Bob Richardson is one of a kind," adds Bradley Fischer. "From the first shots I saw, the variations in the lighting and the mood were so transporting that I immediately thought, 'Wow, you can tell Bob Richardson is shooting this movie.' He's one of many brilliant people who showed up for Marty."
Richardson's work provided an additional thread of inspiration to the cast. Says DiCaprio: "The look is almost like an M.C. Escher painting, where things are just a little off and you're never quite sure what you're really seeing. There's an omnipresent feeling of being locked into an inescapable environment."
After long conversations about film references and the structure of the film and characters, Scorsese set out on a scout with Ferretti and Richardson to find a stand-in for Shutter Island itself. They were looking not just for the right logistics, but the right feel. Several East Coast locations were considered but, ultimately, the filmmakers were drawn to the rustic, rocky shores of Peddocks Island, less than 100 miles off of Boston and which was settled by American Indians prior to the arrival of European settlers and has been used by farmers since the mid-1600s.
Equally key was the search to find a real hospital that could stand in for the imposing, unsettling complex of buildings that is Ashecliffe Hospital for the Criminally Insane, a quest that would take the filmmakers on an intriguing ride into the history of mental asylums. It turns out that our preconceived picture of what a psychiatric hospital looks like, complete with Gothic brick architecture, wing-like spires and sprawling lawns, come largely from the ambitious designs of a 19th Century East Coast doctor named Thomas Story Kirkbride, who helped to forge a series of American mental hospitals according to what became known as "The Kirkbride Plan."
Kirkbride's idea was to design Cathedral-like sanctuaries for the mentally ill that would give them a peaceful, elegant, morally ordered world to live up to. Unfortunately, in the end, many of these facilities would be under-funded and overpopulated, their vast halls turned eerie with deterioration and neglect.
Several Kirkbride Plan hospitals were built in Massachusetts but, by now, all have been converted into condos or fallen into total disrepair. However, the filmmakers found one abandoned asylum that could fit the bill: Medfield State Hospital in Medfield, Massachusetts, which had been closed since the 1960s, but never refurbished. Although the hospital is not one of Kirkbride's personal designs, it features a similar collection of two-story, red brick buildings on sprawling grounds, a classic asylum look that could be used as a raw shell for Ferretti's creations.
Occupying the buildings, however, would take an intensive process. Using Kirkbride's blueprints as his guide, Ferretti recreated a chilling embodiment of a 1950s psychiatric institute. Long before the start of filming at Medfield, Ferretti presented Scorsese and Richardson with an entire miniature, three-dimensional model of the Ashecliffe compound, enabling them to map out precise blocking of scenes, positioning actors for every camera move. The real thing, however, was even more evocative.
"My job was very clear," says the two-time Academy Award®-winning production designer, who garnered Oscars® for Scorsese's The Aviator and, more recently, for Sweeney Todd. "Marty wanted American Gothic and so American Gothic is what we created on the grounds of Medfield."
He continues: "I designed several Gothic-looking entrances and additions to the buildings that were already standing. Then, we built a long, rectangular wall around the buildings and the grounds not only to create a compound, but also to give a sense that we were in a confined, almost prison-like space, even to suggest that we were on an island within an island. We also created a lush-looking lawn within the compound, with flowerbeds and rock gardens that the patients carefully tend. We also reworked and redesigned all the interiors, including the orderlies' quarters and rest areas, the hospital corridors, the cafeteria, Dr. Cawley's office and the patients' quarters. I'd say we built 60% of what you see at Medfield from scratch. We even built Ashecliffe's graveyard, which is key to the plot."
To stand in for Ashecliffe's imposing executive mansion, off-limits to most staff and patients, the production moved to the intensely Gothic grounds of the Turner Hill Golf Club in Ipswich, Mass. Here, inside the mansion's baronial, wood-lined sitting room dominated by an oversized fireplace, Scorsese staged the hostile encounter between Teddy and Chuck on the one side, and Dr. Cawley and Dr. Naehring on the other. In addition, Rachel Solando's cell, from which the barefoot woman mystically vanishes, was constructed from scratch in a Medfield warehouse.
Later, Ferretti would metamorphose an abandoned textile mill in Taunton, Massachusetts into a section of the Dachau concentration camp, where Teddy Daniels, as a young soldier, has a seminal confrontation with humanity's destructive power, replete with barbed wire, fenced-in compounds and a rundown railroad transport carriage.
For the cast, these sets were a kind of vehicle, transporting them into another world beyond everyday reality. Says Patricia Clarkson: "The set for my scene in the cave was extraordinary from the second you walked in. It was cavernous, ominous, frightening and it even seemed to have a smell to it, although it didn't. It was incredibly real and alive and that set the tone."
Adds Jackie Earle Haley: "The sets were a trip and incredibly motivating. When I went into my cell and they shut the door it was very dark and isolated. It didn't feel at all like a movie set. The walls were all in place and you'd pound on something and be surprised that it wasn't really brick. I think that really added to our state of mind as actors."
Later, Oscar®-winning visual effects supervisor Rob Legato (Titanic, Apollo 13, The Aviator) and visual effects producer/post production supervisor Ron Ames (The Departed) would create further magic by scattering dramatic clouds and skyscapes into sunnier shots and intensifying the film's shades of grey with digital nuances. "They helped to create the very special look of the cliffs, the water, the cave, the sky, and this also became part of the creation of a state of mind," says Scorsese. "It was a major challenge all very, very well-thought-out shot by shot."
Another previous Scorsese collaborator, costume designer Sandy Powell, added to the details and depth of Shutter Island's all-enveloping world. Twice an Academy Award® winner, for The Aviator and John Madden's Shakespeare in Love, Powell's body of work has spanned many eras and lifestyles, but she had never entered the unusual realm of a 1950s mental institute before. She began her work by talking with Scorsese about his view of the characters.
"He gave me ideas, insights and guidelines that were indispensable," she recalls. "For instance, he said about Teddy, Leo's character, 'He's not particularly well paid. He's an ordinary kind of guy.' Immediately, I then knew the direction I wanted to go in. Shutter Island is all about what's going on inside the characters, so my challenge was to make what the actors wear believable for that journey."
The compressed, fast-paced time frame of the story was also a challenge. "It takes place over four days, so there's not much scope to change the characters' clothes progressively," she explains. "Most of the characters wear one or two costumes, yet those costumes go through a lot. We had to make 44 versions of the orderly outfit Teddy puts on because it is drenched and rumpled in the hurricane and he goes through different adventures in it; he goes into the sea, walks along cliffs, and sleeps in a cave. He passes through various stages of dirtiness, if you will, and that was a process."
Also key to Powell's work in Shutter Island is color, which in itself is so linked to psychology. "Color is the first thing I think about and it's usually an instinctive feeling," she explains. "For example, with Dolores, I just had this feeling she should be wearing yellow and her dress plays throughout the film, so I had to get it absolutely right. On the other hand, Ben Kingsley chose the color of his costume. He told me he felt that his character should be in green. So, together we came up with the right shade, a deep, dark, almost olive that suits the doctor's intensity."
In search of authenticity, Powell sought out vintage pieces but mostly created her own. "Suiting fabrics in the '40s and '50s were actually much heavier than they are today," she notes. "So for Leo and Mark's suits we had to find contemporary fabrics that matched the vintage ones as best they could and build them from scratch. For Max von Sydow's character, Dr. Naehring, I had a very strong idea that I wanted him in dark black with a strong stripe and I couldn't find the proper weight, so we wove our own fabric. I did use some original clothing for Michelle Williams' character."
Weaving the film's equally vital aural fabric is music supervisor Robbie Robertson, who has known Scorsese since the director filmed Robertson's seminal rock ensemble, The Band, in The Last Waltz. Recalls Scorsese: "Instead of writing a conventional score, I said to Robbie, 'What if we took some modern composers of the 20th century and some popular songs and moved elements of those around to create a wall of sound?', and he liked that idea. We pulled together pieces by Krzysztof Penderecki, Max Richter, Ingram Marshall, Marcel Duchamp, Morton Feldman, Giacinto Scelsi, Nam June Paik, John Adams, Brian Eno and Robert Erickson and used them in different ways throughout. There's also some popular songs from the early '50s, including Johnny Ray's 'Cry,' Kay Starr's 'Wheel of Fortune' and Lonnie Johnson's 'Tomorrow Night.' What Robbie did with the music was to create a kind of tapestry of what Teddy, Chuck, Dr. Cawley and all of them are feeling as the days and story unfold."
The Storms of Shutter Island: About the Weather
Weather is central to the atmosphere of many a Gothic horror thriller, but in Shutter Island it becomes not only an expression of the film's psychological volatility, but another unpredictable and dangerous character, turning on a dime from a silvery haze to a killer Class 5 hurricane pelting the island with ferocious rain and wind. The task of forging subtle, moment-by-moment changes in the weather fell to special effects coordinator R. Bruce Steinheimer, who helped weave together such elements as bone-soaking, sideways rain and gale-force gusts that uproot trees. Steinheimer previously collaborated with Scorsese on Gangs of New York and The Aviator, so he dove into the task knowing there would be a demand for absolute authenticity. He and special effects supervisor Rick Thompson searched for technical solutions to producing a palpable sense of natural forces at work.
"For the rain, we ended up using four overhead rain-bars, two of which were 100 feet long and held up by huge cranes, to produce rain that covered an area measuring 140 by 60 feet," explains Thompson. "We also used what we call Spiders, square rain-bars that put down rain in a pattern of 80 by 80 feet, but the real challenge was that, since Marty's camera positions and his camera moves are so inventive, we had to be equally creative in positioning the rain-bars and the cranes."
To feed the rain-bars, Steinheimer and Thompson used water trucks with a 40,000-gallon capacity and high-pressure pumps. In addition, several large fire hoses, producing 60 to 80 pounds of water pressure, were used to bring the rain and mist to a fever pitch late in the film, but it wasn't rain alone that made the hurricane. There also had to be the sense of powerful bursts of wind throughout many of the film's most suspenseful sequences. "For that, we had four gasoline-powered fans capable of creating breezes up to 80 miles per hour," Thompson recalls. "For scenes in which dialogue was important we alternately used electrically powered fans that were quieter and produced winds of 75 miles per hour. We also attached tubing around the fans so we could produce sideway drafts, sending out sheets of rain in a horizontal pattern. We not only drenched the actors but most of the crew members as well."
Cast and crew became inured to drying off only to get drenched all over again. They also were ready to jump into action when the real weather suddenly cooperated with the filmmakers' ironic hope for inclement days. "We worked inside when it was sunny and outside when it was cloudy," remarks Fischer.
Recalls DiCaprio: "If there wasn't a crane dropping water on you then it was guys with fire hoses or a giant fan blowing air into your face.
But the result was that it ended up feeling very real to us. It added to the sense that these characters are confined to this island, that there's really no way out, and to the increasingly emotional impact to which the story builds."