Casting Notes: John C. Reilly In Lynne Ramsay's New Film; Daniel Brühl And Paz Vega In Castro's Daughter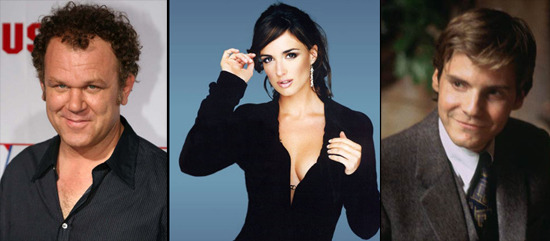 Imagine being director Lynne Ramsay watching Peter Jackson's terrible version of The Lovely Bones. Ramsay made two excellent films, Ratcatcher and Morvern Callar, the latter way back in 2002, then was attached for quite some time to film The Lovely Bones. That obviously didn't happen, but for the past year she's been working instead on an adaptation of We Need to Talk About Kevin, Lionel Shriver's novel about a troubled husband and wife dealing with the fact that their son perpetrated a murderous school shooting.
Tilda Swinton joined the cast last year, and now it is confirmed that John C. Reilly is on board to play her estranged husband. Movieline reports that the film is fast-tracked now, and will shoot in the spring. Can't wait to see what Ramsay delivers.
After the break, a new film for Paz Vega and Daniel Brühl, and, er, some stuff about Demi Moore and Miley Cyrus.
Inglourious basterd Daniel Brühl has been cast alongside Paz Vega in Castro's Daughter, directed by Crash co-writer Bobby Moresco. (That's the Haggis Crash, not the Cronenberg.) Moresco co-wrote the script with Nilo Cruz. Vega will be the title character, aka Castro's exiled daughter Alina Fernandez. [Variety]
The film's website gives a bit more history on Fernandez:
...the result of a love affair Castro had prior to taking power in Cuba, and grew up hidden in the shadows of her father and the Revolution. At the age of ten, she finally learned that the man who paid special attention to her, and who she had seen on television giving speeches for hours on end, was her father. Eventually, Fernandez began speaking out against Castro and the Revolution–and became a dissident forbidden to leave Cuba. In 1993, after several failed attempts, her international escape made headlines around the world when she fled the island on an airplane disguised as a Spanish tourist.
Finally, one other, non-headline-worthy note: Demi Moore and Miley Cyrus are evidently looking to star in a remake of the French comedy hit L.O.L.: Laughing Out Loud. Lisa Azuelos, who directed the original, may write and direct.
Film is about "a 15-year-old girl who, dumped by her more sexually experienced boyfriend, sets her sights on his best friend. At the same time, her 40-year-old divorcee mother is struggling to move on with her life. The fraught relationship between mother and daughter provides the film with its narrative backbone, along with the younger generation's obsession with instant messaging." Yes, I know. Contain your excitement. [Variety]