Sarah Polley Will Direct Seth Rogen And Michelle Williams In Take This Waltz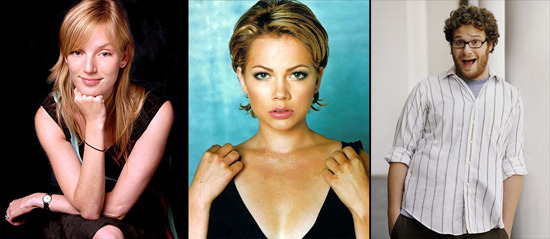 I'm a big fan of Sarah Polley. In addition to her work developing and promoting film in Canada, she's long demonstrated an ability to choose smart, interesting roles, whether in small dramas or off-center genre stuff. On the occasion where she jumps into a bigger studio film, she adds considerable heft to it; witness the Dawn of the Dead remake, which features a fantastic opening that centers all around Polley.
With Away From Her, the actress proved she could direct. Now Polley has another feature brewing based on her script Take This Waltz, which made the 2009 Black List of best unproduced screenplays. She's just grabbed Michelle Williams and Seth Rogen for the leads, which should make for an interesting combination.
Deadline Hollywood reports that, in addition to Williams and Rogen, there will be one more big name added to the cast to round it out. Production is expected to start this July in Toronto. Polley and Williams are both doing well with other films at Sundance right now (Splice and Blue Valentine, respectively) so while this deal may or may not have happened as a result of the festival, it's at least well-timed.
When Take This Waltz landed on the Black List, the logline was reported as: "A young woman struggles with her infidelities and the budding realization that she may be addicted to the honeymoon period of her relationships." The Playlist further reports that Williams will play Margot, "a 28 year old woman who's been married to her husband Leo for five years. She meets a man named Seth on a business trip, who turns out to live across the street from the couple, and the two begin an awkward flirtation, which soon threatens to blossom into something more."
Given that Rogen is said to be the male lead we'll assume he's playing Seth, though it's possible Polley has god him for Leo. We'll know more on that front soon.