Jake Scott's Sundance Guest Blog #2: Runaways, Killer Inside Me, Border Town, Video Interview With Joseph Gordon Levitt And Spencer Susser
Editor's Note: Last week we were approached by a filmmaker who wanted to guest blog his Sundance experience on /Film. You might not know 42-year-old director Jake Scott yet, but you will. You definitely know his father Ridley, the filmmaker behind such films as Alien, Gladiator, and Blade Runner (Jake worked in the editing room during the school holidays). Chances are, you've probably never seen Jake's directorial debut was a 1999 British historical action comedy titled Plunkett & Macleane. He's directed iconic music videos for REM's Everybody Hurts, Radiohead's Fake Plastic Trees, The Cranberries' When You're Gone, as well as videos for Soundgarden, The Smashing Pumpkins, Live, Blind Melon, Tori Amos, Lily Allen, The Strokes, The Verve, and U2. Jake's second feature film, Welcome to the Rileys premiered in Sundance's US Dramatic competition. The story follows a damaged man on a business trip to New Orleans who is seeking salvation by caring for a wayward young woman. The movie stars James Gandolfini, Kristen Stewart, and Melissa Leo.
You can read Jake's first blog post here. His second blog post, which you can read below, is full of tons of photos and an exclusive one-minute video interview Scot conducted with Joseph Gordon-Levitt and Hesher director Spencer Susser.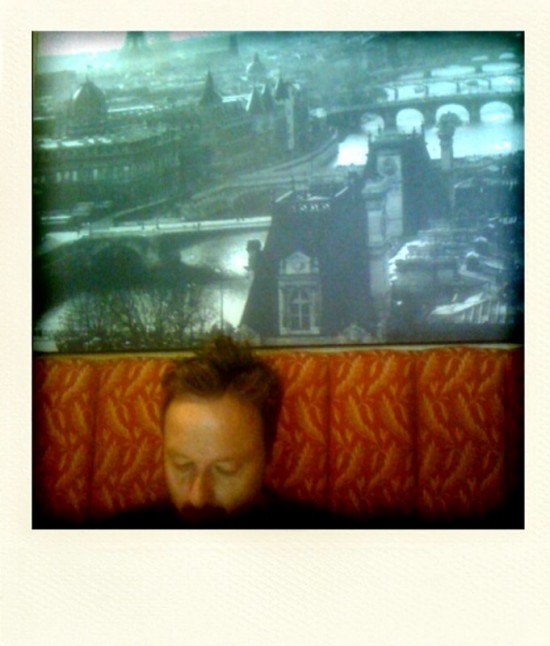 SUNDANCE CALLING
27 JAN 2010
10:00 HRS
Oi Oi
Big weekend. People seem to really like Welcome to the Riley's. Phew. Hung out with Kristen Stewart & Melissa Leo all day, did press, then Runaways premier. Sat next to Kristen & Dakota Fanning, the two leads. Kristen plays Joan Jett & Dakota plays Cherie Currie. Pretty great.
Then the high light of the weekend, the Banksy documentary. He's here but of course mysterious. Check out this piece he did on a wall off Main St.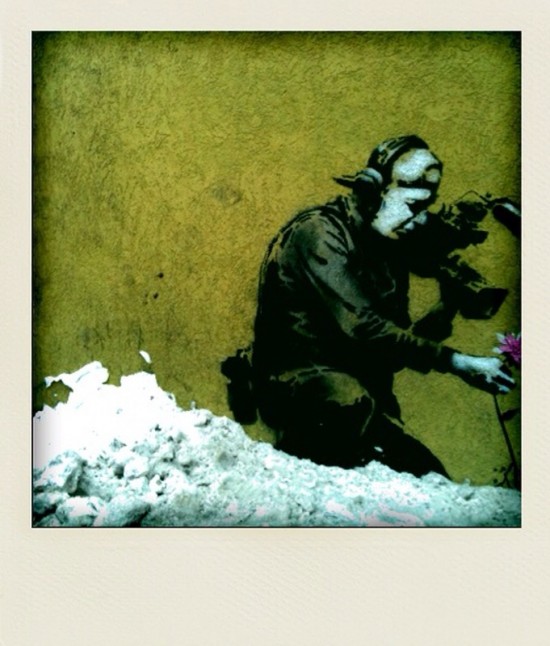 Saw Winterbottom's Killer Inside Me this morning. Really violent. Wow. Showing Riley's in Salt Lake tonight. A real audience. Gulp.
What a nutty few days. Things get so hectic around here that your head starts to get light and you find yourself mumbling unintelligible mumbo jumbo. Or maybe it's the altitude?
Great stuff going on though, here's what I've encountered.....
There's a basement sanctuary on Main St called NEW FRONTIERS. It's a kind of art cave full of incredible art installations & performances. When things get too crazy you can take refuge in this inspiring den of creativity. It's also a place to hear people come and discuss the new frontiers of cinema & the transmedia/social network new world and beyond. Check it out on the Sundance Phone app & but here are some things I liked....
BORDER TOWN by Tracey Snelling
A sort of David Lynchian model village in which this exquisitely crafted Mexican/American miniature border town is inhabited by cinematic projections in it's windows and doorways. Absolutely fantastic. I spent hours crawling around it, trying to imagine what the Lilliputian inhabitants might be like. I want to go there. Here are some shots from my iPhone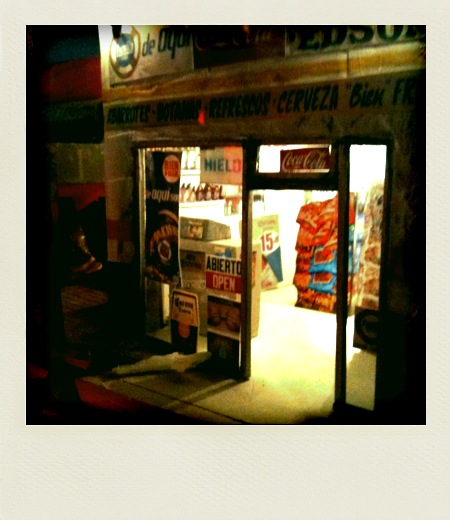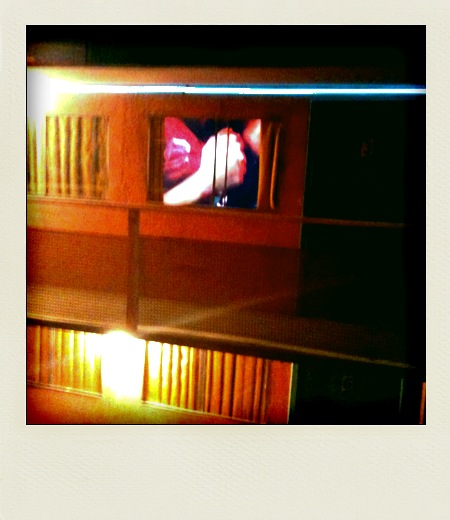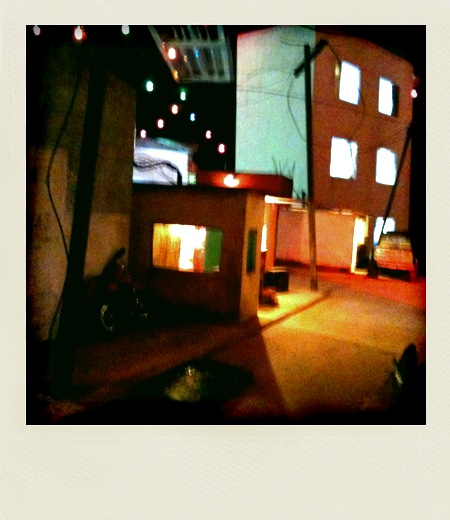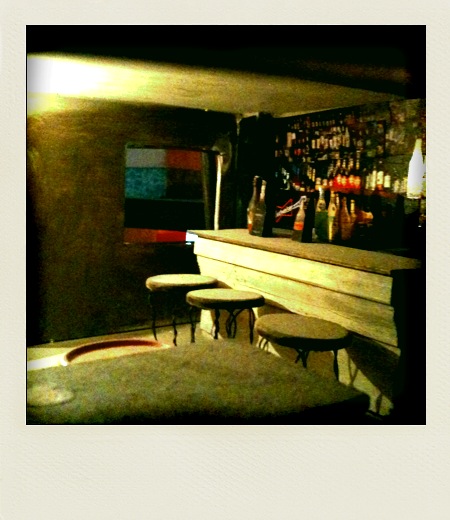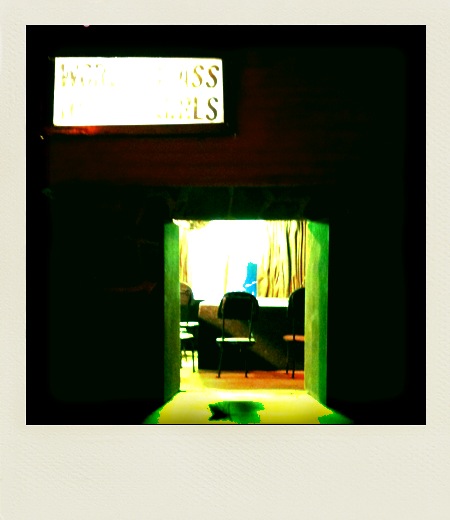 hitRECord.org by Joseph Gordon Levitt (actor HESHER, 500 DAYS OF SUMMER)
This really impressed me.
So I bump into my old mate Spencer Susser who's in the US Drama Competition too. His movie HESHER is a frighteningly confident & bold debut & getting lots of BUZZ here in Sundance. Anyway he says "do you want to see something really cool?" I say "yes" he say "walk this way" and brings me into the lair of geniuses behind an orange curtain. I can't help being reminded of the Wizard of Oz as we step into a tech room full of dreadlock punk cyber nomads all working away like bees. At the center of it all is Joe, like a youthful Willy Wonka conducting his team.
Let him tell you about it himself....
[flv:http://media2.slashfilm.com/slashfilm/trailers/IMG_0205.flv 480 640]
The other cool film here is a documentary called CLIMATE REFUGEES directed by Michael Nash & Produced by my mate Justin Hogan. It's a sobering investigation of the human consequence of global warming, our planet's most pressing issue. You can't help feeling that the recent Haitian tragedy is somehow another terrifying example of this.
Probably the most important film at the festival. Here's the man that produced it....
As for us, we've now had 5 great screenings to packed houses. People really love movies here! Here's WELCOME TO THE RILEY'S writer Ken Hixon speaking at the Q&A.....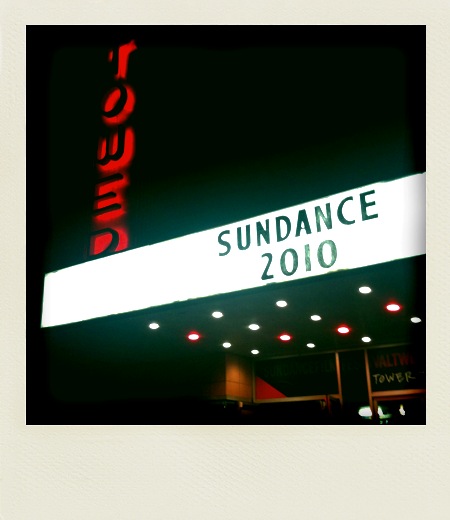 Great party hosted by Animal Collective last night.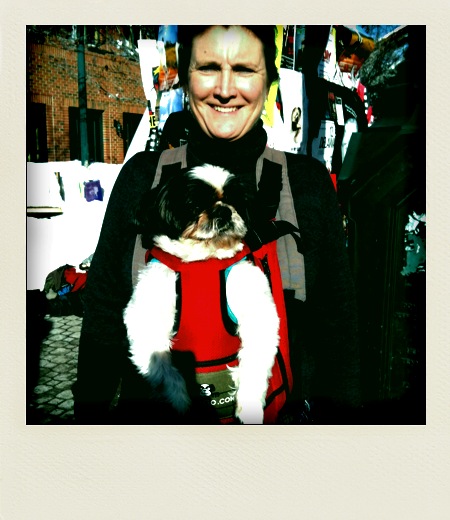 Oh, and here's a picture of the illustrious Ertel, my right hand woman. She is the way forward!
I'm off to see a movie. Or 6.
Back soon.
Irie