Weekend Weirdness Interview: Director Scott Sanders On Black Dynamite, Fried Chicken Conspiracies, And Porn Stars In Hollywood Films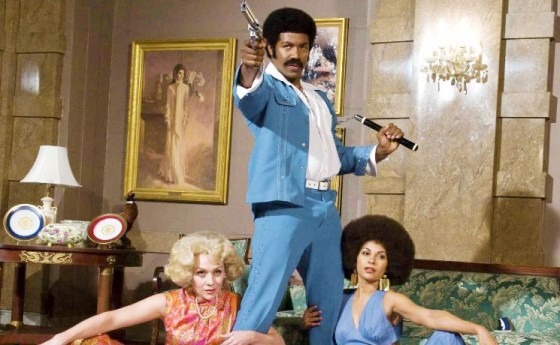 It's a crazy, mixed up world and we are thankful for movies, excluding The Tooth Fairy starring The Rock, that offer proof. /Film's Weekend Weirdness examines such flicks, whether in the form of a new trailer for a provocative indie, a mini review, or an interview.
It's rare when the marketing campaign for an indie movie has a celebratory feel, clearly organized by a team as psyched on the feature as they hope the recipient will be. Soon after learning of Black Dynamite last year, several packages arrived at my home/office in correlation with its theatrical release. They contained quality tees—one read "Fight Smack In The Orphanage" in bold-ass white-on-black CAPS—along with a high concept soundtrack and a media kit ribboned and accented with a syringe pen. For months thereafter, director and co-writer Scott Sanders seemed to personally and tirelessly push Dynamite to every white sucka on Internet Geek Street. It was admirable, considering that his second feature film was indeed a pretty fun, meticulously designed hat tip to the Afro-Fu era of Dolemite.
The film is also a stable showcase for Sanders's pal Michael Jai White (Spawn, The Dark Knight) to launch a renewed case for chiseled action stardom, and a welcome invite for underseen talents like Tommy Davidson and Arsenio Hall to get retarded. Oh, and if you ever wondered about the true origin of chicken and waffles? That's in there too. During an absurd week that saw oversensitive Twitterers erupt over the existence of soul food, what better film and DVD to welcome Black History Month? Slashfilm's Weekend Weirdness asked Sanders a few questions about Dynamite's future as a CIA agent-cum-VietNam veteran-cum-inner city exterminator of "jive ass" dummies. (Note: NSFW movie stills after the jump.)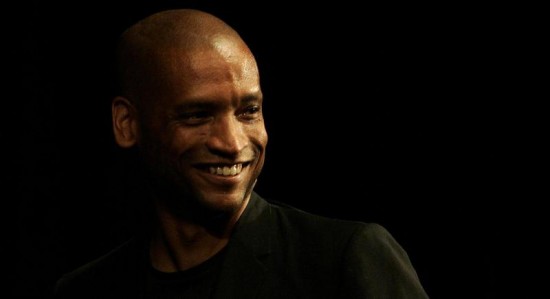 Hunter Stephenson: Hi Scott. Black Dynamite had a relatively high profile online before its release, but a lot of our readers were unable to see it. What are your thoughts on its theatrical distribution and what are the hopes with the DVD?
Scott Sanders: If we had to do it over again, I think we would have opened in fewer theaters, and started off with a campaign similar to Paranormal Activity, with midnight shows in selected cities. Ironically, the movie is kind of ending that way all over the country, with sold out midnight shows in Washington D.C., Columbia, South Carolina and Detroit. We are all encouraged about its release on DVD on February 16th. It's got a lot of extras, there's a Blu-Ray and a lot of interest so I've got my fingers crossed.
Black Dynamite entered pop culture—with characteristic ease—at an interesting time. Black Dynamite nunchuks Dick Nixon inside the White House—obviously a scene that now resonates in the context of Obama's presidency. Your family is also involved in politics, no? On another level, I feel the film filled an odd void in movie culture—it was closer to what many expected from Grindhouse. Michael envisioned the character in '06, but how was the timing right in retrospect?
Scott Sanders: In 2006, we really didn't know about Grindhouse, and Obama hadn't started running for president yet. Sometimes, I guess you are just handed external circumstances that makes your movie more interesting. My family is involved in politics in North Carolina, and I grew up in Washington D.C., so that's always something that has interested me. I wish there was more of a master plan, but really the movie was always about doing a blaxploitation movie set in the 1970s, and kind of exaggerating the things that made us laugh about them—while preserving all the things that made them kind of bad ass.
Many critics have described the film's plot involving a government-distributed malt liquor that negatively affects black virility as "ludicrous." But the roots of the movie's conspiracy originate in the plots of '70s genre films starring black actors...which were inspired by true life governmental conspiracies involving alcohol and later crack distribution in impoverished communities. These "silly plots" often mirrored scarier truths, no?
Scott Sanders: Some of the conspiracies are real and some of them are ridiculous. The Tuskegee syphilis experiment was a real conspiracy. The rumor that Church's Fried Chicken is owned by the KKK and has chicken that makes black men sterile is a fake conspiracy. The fake ones and the real ones generally have the same theme, which is emasculating black men. We thought we'd take it to the next level with shrinkage...but to be honest it's not too far off from that Church's-KKK rumor.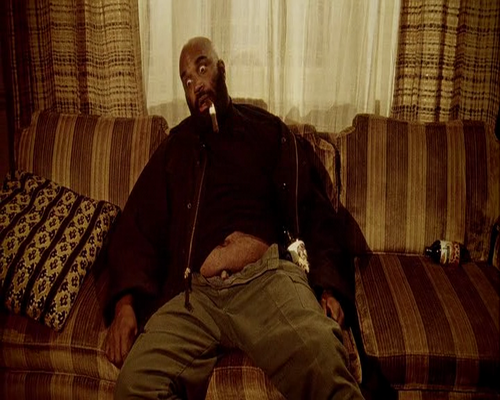 Where did you find a "tiny black dick" prop like the one featured in BD in nauseating close-ups?
Scott Sanders: Our assistant makeup artist came up with it. It's a "pacifier" from an erotic store painted brown. I only saw it that one time; I didn't really track its goings-and-comings...excuse the pun.
You've mentioned that what exactly blaxploitation heroes do for money or a day job is rarely explained. Does the murkiness make blaxploitation characters more symbolic or powerful?
Scott Sanders: Black Dynamite does have a day job: it's being a BAD-ASS! But yeah, even though the murkiness is kind of goofy...he's whoever you want him to be; it's still kind of powerful.
Whose idea was it to cast Charlotte Stokely as one of Black Dynamite's bedmates? Last year also saw [Steven] Soderbergh cast another contemporary porn star in a feature film. What do you make of this potential trend in Hollywood, on a cultural level?
Scott Sanders: Charlotte Stokely (above, far right) is one of five porn stars in the movie. Casting them was my idea. They were all a lot of fun—plus doing nudity wasn't a big deal for them, obviously. I would cast porn stars again. Charlotte has a really cool retro look. She could be a compelling actress if given the chance. There really is no downside to casting a porn star. And I think it will happen more often.
What are the chances of a sequel to the film? And can you give /Film a hint to where it might go? Would you venture into another country?
Scott Sanders: If the DVD sells well there will be a sequel. I think it's time for Black Dynamite to go international, like Fred Williamson used to do.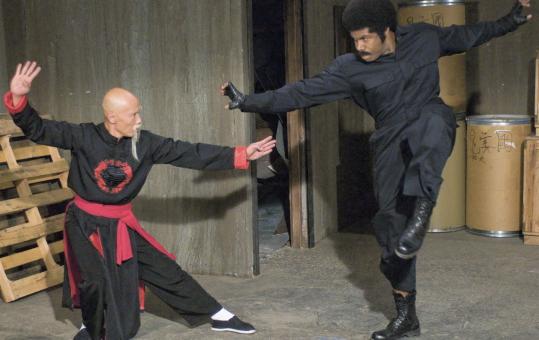 Even when Black Dynamite is at its funniest, a refreshing gravity is present in the martial arts and action scenes. Have any recent action films worked for you?
Scott Sanders: Does District 9 count? Loved that movie. Liked Avatar. Really liked Inglourious Basterds. So...maybe I should do a Nazi Alien movie in 3D?
Hunter Stephenson can be reached on Twitter. If you'd like to send him a screener, or an NYC screening invitation, email him at h.attila/gmail. For previous installments of Weekend Weirdness, here.