George Lucas Reportedly Producing Mystery CGI Musical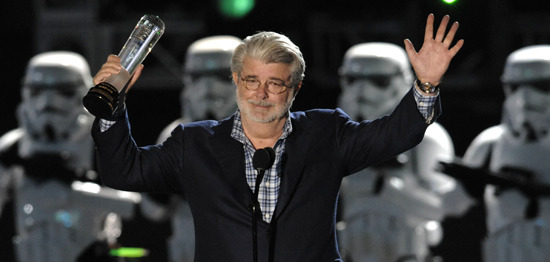 LucasFilm is refusing to comment on this one so far, but THR reports that an "untitled, top-secret CGI-animated" film with a musical bent is in the works over at Skywalker Ranch, with George Lucas producing. The plot is secret, but one element currently known (or thought to be known) is faeries. Hopefully that's more the 'Oberon and Titania with murderous little Puck' version of faerie, rather than the 'sparkly little girls with wings" type.
The musical will reportedly "feature music from a variety of sources," which...doesn't really tell us anything. So many comments come to mind about a Lucas-produced musical, but I'll save them until we know more.
David Berenbaum (Elf, The Spiderwick Chronicles) is writing, but we don't know if Lucas is behind the story. Kevin Munroe will direct. He's finishing up the Dylan Dog adaptation Dead of Night right now, and made a few fans before that when he directed the 2007 Teenage Mutant Ninja Turtles CGI revamp. Lucas is currently finishing up Red Tails, the film he produced about the Tuskegee Airmen in World War II. Anthony Hemingway directed that one from a John Ridley screenplay based on a story by Lucas.