Weekend Weirdness: Fubar 2: Terry And Dean Head North, Daddy Longlegs, Party Down Season 2, "The Fallon Effect," Selleck Waterfall Sandwich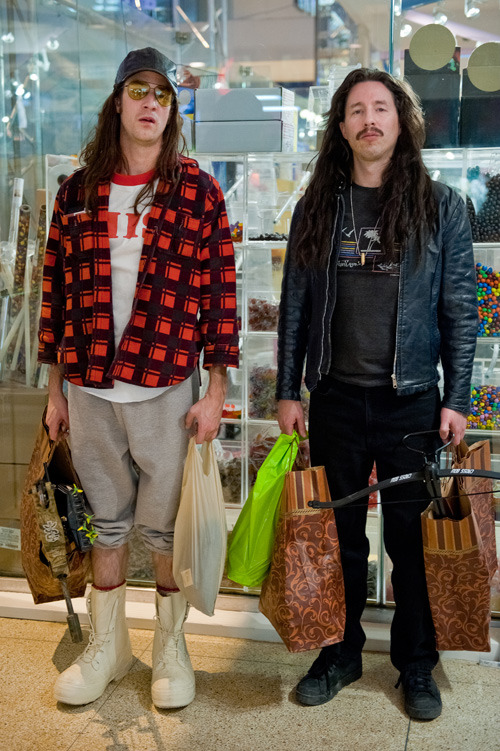 It's a crazy, mixed up world and we are thankful for movies, excluding The Tooth Fairy starring The Rock, that offer proof. /Film's Weekend Weirdness examines such flicks, whether in the form of a new trailer for a provocative indie, a mini review or..."what do you mean Merlin wasn't real?!" Attention hosers: it's the return of FUBAR! And much more after the jump in this double-deep installment...
FUBAR 2 sees the most famous hosers of the aughts aim high!
Several days ago in NYC a tatted beer delivery man alerted me that a long-rumored sequel to the 2002 cult faux-doc on hosers, FUBAR, had completed production and was due for release end of '10. If you are not familiar with this slang—"hosers"—it's a beloved term for Canadians who shotgun beers daily, making their goofy accents downright hilarious. (Further enlightenment on the term can be found at UD and by renting the definitive if overrated SCTV hoser comedy Strange Brew.) The original FUBAR followed two remarkably unremarkable, diehard members of this accidental plebe subculture named Terry (mullet, crop top, leather cap) and Dean (mullet, cancer immune 'stache) as they philosophized on sports, rock music, wizards, and sluts. Here's a highlight clip...
This week, publicists at Alliance Films contacted me and confirmed that the sequel has completed production after a December start, and the full title is FUBAR II: Terry and Dean Head North—a new subtitle in place of the previous one, The Wrath of Tron. The official synopsis as follows...
Headbanger relics Dean (Paul Spence) and Terry (Dave Lawrence) are back in the '86 Cutlass Supreme, flat of beer in the trunk, heading to Fort McMurray, Alberta in search of sweet cash from working on the pipelines. The story starts in Calgary where the boys are tired of trying to give'r while barely scraping by, when their old buddy and party leader, Tron (Andrew Sparacino) hooks them up with jobs in Fort McMurray. Before long they are rolling in dough and good times. Flush with money and confidence, Terry starts dating Trish (Terra Hazelton), a local waitress, and things get serious in a hurry. Meanwhile, Dean is playing up the part of the cancer survivor, and upon hearing about the glories of workers' compensation, purposely bungs up his leg in an attempt to qualify. When Terry moves in with Trish, Dean does his best to save his buddy from swapping the banger life for domestic captivity.
Returning Canadian director Michael Dowse (2004's It's All Gone Pete Tong) told the Canuck press last year that it's "a Christmas film." In addition, the sequel now has a production blog up and "the Deaner" has barfed and stumbled his way onto Twitter. The publicists also sent along three pics...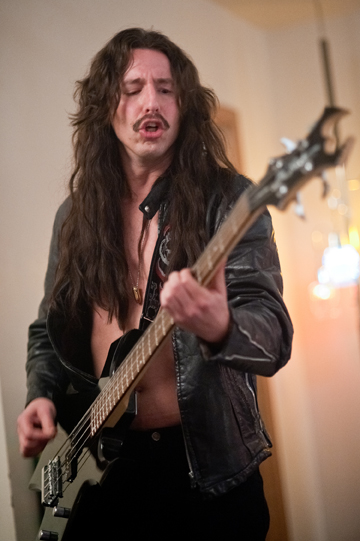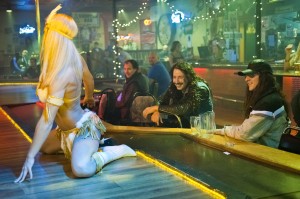 Like the zeitgeist trajectory of ironic mullet humor, the first film experienced a huge spike in stateside popularity, followed by inevitable backlash that it wasn't as funny as many claimed or fit to lick Christopher Guest's bottom. But the timing again seems right, and I doubt Dowse—who is directing Jay Baruchel in the Slap Shot-aspiring hockey comedy Goon—and crew would arrange another improv-heavy session simply for a payday. Update: A publicist now says both of the sequels subtitles are tentative and suggests referring to it simply as FUBAR 2 until a decision is made.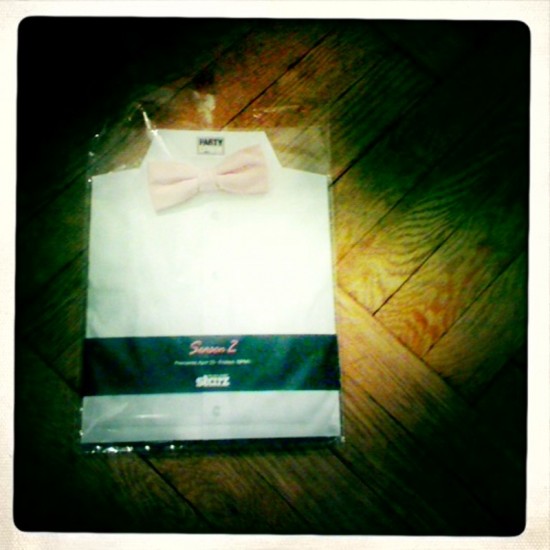 The second season of Party Down: Fun yet months away
The second season of Party Down, which gets my vote for best 2009 comedy series after Eastbound & Down, doesn't air until April on Starz. So, try to imagine my surprise when it arrived at my door outfitted in a crisp white dress shirt and a please-strangle-me pink bow-tie—just like those worn by the down-and-out caterer characters brought to depressing life by Adam Scott and Martin Starr. I'm not allowed to say anything about the season just yet, but Scott did in his recent /Film interview. Alright, I'll say this: the fifth episode is the best one ever and deserves an award for a guest star from a certain Academy.
Daddy Longlegs: Irresponsible dads everywhere may have a new leader (Trailer and Mini-Review)
My interest in Daddy Longlegs was initially sparked when I first read about the NYC-based divorced dad character study in The Fader and went into indie-gem-anticipation mode when several trusted peers attending last month's Sundance gave it an endorsement, including Michael Tully at Hammer to Nail.
Written and directed by Ben and Joshua Safdie, the film is said to be based on the brothers' autobiographical experiences spending limited visits with their father while growing up in NYC; knowing this aspect before I saw the film bolstered an early personal appreciation for their many acute, moppy-haired memories of childhood on screen. A few scenes set in middle school in particular, involving fart spray on the playground and low-fives in the hallway, blew the dust off my own days around that age. The Safdies' honest, low budget sneakers-on-the-street style and spare but stark use of adult nudity could be indebted to  '90s-era Larry Clark and '70s-era James Toback; the pace and tone of the film could also be seen as an urban compliment to Kelly Reichardt's Wendy and Lucy from last year. Nice company, all.
But it's the performance of actor Ronald Bronstein, an upcoming indie director in his own right, as the divorced dad that has stayed with viewers most so far. An underground comics enthusiast who thinks outside the figurative box while scoring with the female variety, Bronstein's character charmingly and sympathetically struggles to find stable work as a movie projectionist. But when this leads to his depressing and telling struggles to supervise his sons during a brief annual visit to his city apartment, I not only lost respect for the character—intentional, no doubt—I lost a chunk of interest in the film. If you like challenging indies, peep the trailer above and then give it a shot. More importantly, keep an eye out for the Safdie bros. and Bronstein in the future.
Weekend Weirdness: Links on the Brink
I've known up-and-coming filmmaker Shawn Wines since university at Miami, and was both elated and frightened to see that his hatred of Jimmy Fallon has not cooled since—as exemplified by the above video he directed and starred in on Funny or Die.
The conspiracy theory that Stanley Kubrick helped fake the Apollo moon landing and moon walk is well known in geek circles; the conspiracy theory that includes The Shining in this historic web and posits that the horror masterpiece is filled with metaphorical evidence and saddened overshares is...schizo slash awesome?
More than a week ago, I decided that the latest winner of the Weed-Induced-Tumblr-Award goes to Selleck Waterfall Sandwich, a gallery of JPEGs and GIFs that combines my Instant Netflix obsession with Magnum P.I., the munchies and misty screensaver flora. A sample below.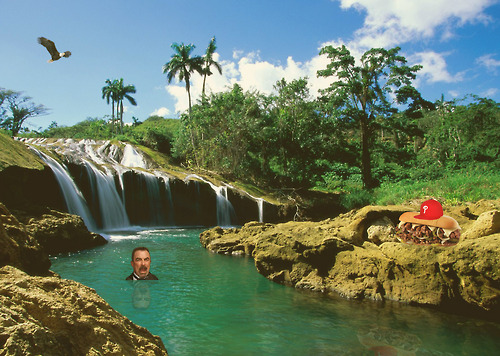 Hunter Stephenson can be reached on Twitter. If you'd like to send him a screener, or an NYC screening invitation, email him at h.attila/gmail. For previous installments of Weekend Weirdness, here.