Sundance Video Review: Cyrus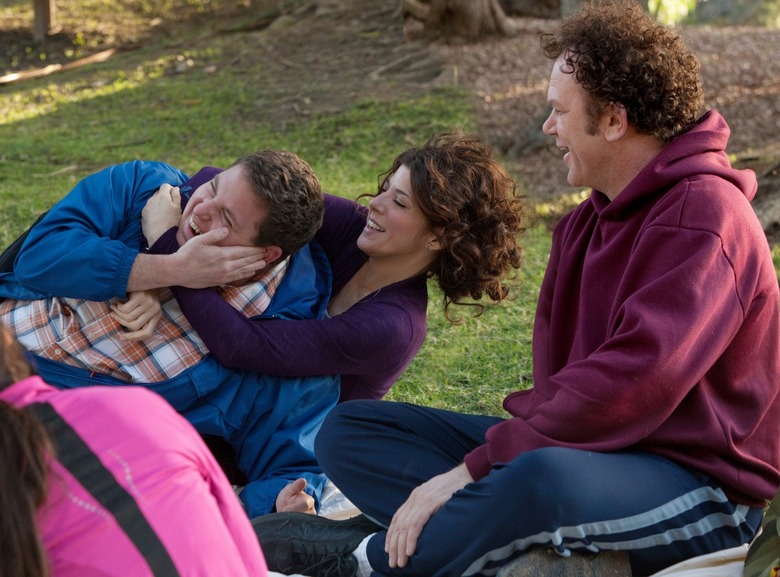 Last night I attended the premiere of what I'm calling The Duplass Brothers' experiment, better known as Cyrus. The film is a comedy about a recently divorced depressed guy who meets the woman of his dreams, who he learns lives with her 21 year old son. The film stars John C. Reilly, Marisa Tomei, Jonah Hill, and Catherine Keener.
The Duplass Brothers helped spark an indie film movement called mumblecore, which wikipedia defines as "primarily characterized by ultra-low budget production (often employing digital video cameras), focus on personal relationships between twenty-somethings, improvised scripts, and non-professional actors." The Duplass Brothers have impressed Hollywood with their low-budget efforts, and this is their first studio film, with big mainstream actors. Hence why I termed it The Duplass Brothers' experiment.
But does it work?  Cyrus is one of my favorite films of the festival thus far, and I'd venture to say John C Reilly's funniest performance since Boogie Nights. It's probably the most laughs I've heard in a Sundance movie in a couple years. We sat a few rows in front of Danny McBride and Jody Hill (director of Observe & Report), and I could hear both of them laughing throughout.  After the jump you can watch a video blog review which includes me (Peter Sciretta), David Chen and FirstShowing's Brandon Tenney.
Part 1
Part 2
Since there is no release date yet on this Fox Searchlight film, I urge all of you who have not yet seen a Duplass Brothers film, to go rent or buy The Puffy Chair.