Spontaneous Sundance Interviews: Star Wars VFX Artist, Director Zeina Durra, Crazy Sign Guy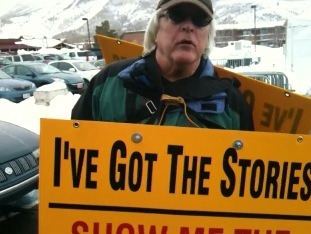 I love meeting interesting new people. Thus, Sundance is rife with opportunities to make fascinating new acquaintances and friends. Most of these chance meetings take place on the buses that shuttle viewers from one theater to another.
After the break, hear my interviews with Brina Pope (a visual effects artist from Star wars: The Phantom Menace), director Zeina Durra (whose film film The Imperialists Are Still Alive is premiering at Sundance), and some dude holding a sign outside the press tent.
Here's my impromptu discussion with Brian Pope, where he talks about working with George Lucas.
Director Zeina Durra spoke with me about her movie and what it's like to have a film premiere at the festival:
I spoke briefly with a dude holding a sign outside the press tent. Here is the result: