Casting Notes: Sam Jackson And Josh Duhamel In Sympathy For The Devil; Bradley Cooper Or Jason Segel For Bad Teacher?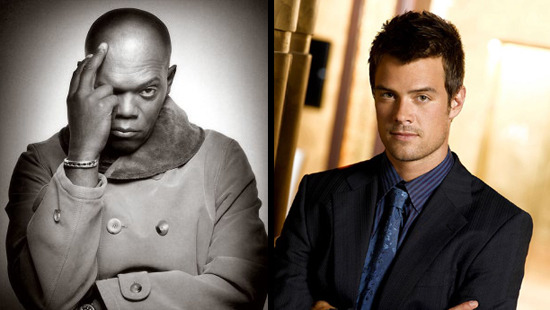 When I think "from the director of Remember the Titans" I don't think "supernatural action." But Boaz Yakin is developing Sympathy for the Devil, which just attached Josh Duhamel and Samuel L. Jackson to play partnered cops in Louisiana who are entangled in "a cosmic confrontation between Heaven and Hell."
The synopsis, and news on Jake Kasdan's new comedy Bad Teacher, after the break.
This is the official line on Sympathy for the Devil, via Latino Review:
Caught in the no-man's land between Saturday night sin and Sunday morning redemption, Louisiana lawman Harlan Stark (Josh Duhamel) finds that his intervention into a spectacular crime –the bold attempt to assassinate a charismatic preacher –soon escalates into a cosmic confrontation between Heaven and Hell, where angels are warriors as dangerous as demons. Harlan and his loyal partner Jesse (Samuel L. Jackson) stand at the fulcrum between vengeful good and devious evil, with neither side showing anything like mercy. Harlan must find the courage to break the cycle, and reject fanatical revenge –yet he too finds himself transformed.
Also, there's news from JustJared (who aren't really a news scoop site, so take this for what it's worth) that Bradley Cooper and Jason Segel are the two guys in the running for the male lead in Bad Teacher, the comedy starring Cameron Diaz as, um, a bad...teacher. After being dumped, the crass educator decides to go after the golden boy of her school staff — that's the role rumored for Cooper or Segal. I'd love to see Segel take it, if it's between those two.
What gives me hope here is that this is Jake Kasdan's new movie. The script is by the Eisenberg and Stupnitsky team behind Year One and Ghostbusters 3. So that's a little shaky, but Kasdan has done great stuff with Zero Effect and The TV Set. So, fingers crossed for Segel and a good outcome thanks to Kasdan.