What's Up With Fox's New Planet Of The Apes Movie?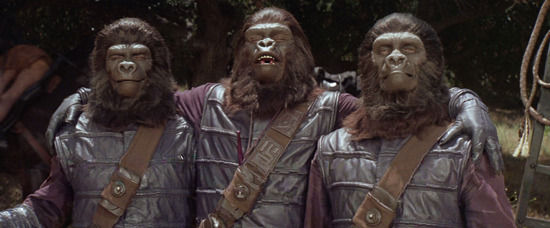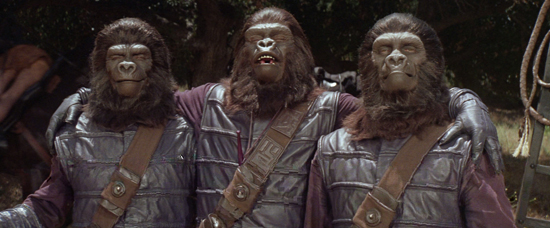 Despite the fact that I don't think anyone is much of a fan of the Tim Burton Planet of the Apes remake, Fox has slowly been developing another film in the same vein. Dubbed Caesar, the film was written by Scott Frank, and was only sort of a Planet of the Apes movie. The film would tell the story of Caesar, an ape which becomes super-intelligent and leads a simian uprising, allowing the tale to be essentially a very early prologue to the late world of Planet of the Apes. (Though Frank said explicitly that it was not a remake of Conquest of the Planet of the Apes.)
But two weeks ago, Devin at CHUD reported that the movie was essentially dead after Scott Frank walked away from it. Now there's a contrary report which says that, while Frank has indeed left the project, it remains very much alive.
CHUD was first to report details about the film, and then the fact that Frank had moved on. But Claude Brodesser-Akner at Vulture, who was on the money with a couple of big, early Spider-Man stories, says that Peter Chernin is now producing the film at Fox. He's tapped Jamie Moss to rewrite Frank's script from a structural standpoint, with Rick Jaffa and Amanda Silver brought in to polish dialogue.
Vulture's take is that Frank (who was also primed to direct) and producer Scott Rudin left the project when Fox wanted to take the film in a direction they didn't like. Chernin has power at Fox thanks to the deal that saw him move from News Corp chairman to Fox producer, but the report is that "the studio wants to make the Caesar project, post haste," so Chernin doesn't even have to push for it.
What we don't know now is what Chernin is trying to do with Caesar. He's a long-time fan of the Apes series, and tried to mount a film in 1992. CHUD reported that Frank's script was a pretty classic, hard sci-fi look at the origins of the Apes storyline. If Fox brass is super-keen to make this film now, I somehow doubt that the new version will remain so focused.