Casting Notes: Andy Serkis Replaces David Tennant In Burke & Hare, Plus News For Marcia Gay Harden And Eric Balfour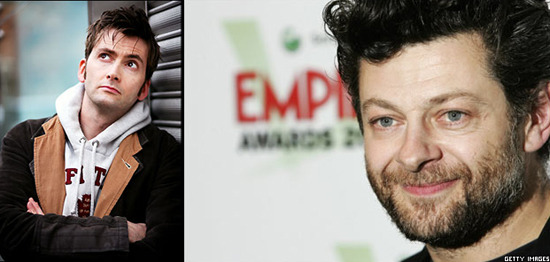 UPDATE: The Simon Pegg tweet from which the Andy Serkis info was 'sourced' has been deleted. Was this a case of announcing too soon and/or without authorization, or is something else in the works? Mark this one as 'uncertain' for now. Original article follows.
Sad news if you were looking forward to seeign Dr. Who's David Tennant work opposite Simon Pegg in Burke & Hare, the upcoming horror comedy from John Landis. Tennant has been forced to drop out, leaving a core cast of Pegg, Bill Nighy and John Cleese. But all is not bleak, as Tennant has been replaced by Andy Serkis.
The news comes direct from Simon Pegg, who said "David Tennant had to drop out of B&H but by sheer glorious serendipity a legend of Middle Earth and Skull Island has come aboard. Welcome AS." Good enough for me. I'd love to see Tenant do more feature work, but I'll take Serkis in a pinch. As we've reported before, Burke and Hare were itinerant Irish immigrant murderers who sold corpses of their victims to a medical college in Scotland. Very much looking forward to seeing Landis return with this one. [Pegg's Twitter, via CHUD]
After the break, news on two projects that couldn't be more different.
Marcia Gay Harden, Aidan Quinn and Leonor Watling have joined If I Were You, with Harden and Watling playing "two women who become unlikely friends to fix their troubled lives." Joan Carr-Wiggin (A Previous Engagement) wrote and is directing. [THR]
Finally, Eric Balfour, Kate Mara and Laz Alonso have signed on for the 'supernatural thriller' Skyline, which is to be directed by The Brothers Strause, aka the guys who directed Aliens Versus Predator: Requiem. So, uh, there's that. The film is described like so: "When an otherwordly force swallows much of the human population off the face of the Earth, a band of survivors must fight for their lives as the world unravels around them." [Production Weekly]