First Look: The Congress, The Animated Sci-Fi Adaptation From Waltz With Bashir Director Ari Folman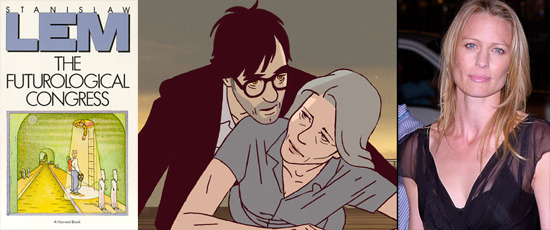 Just over a year ago it was announced that Ari Folman, director of the exceptional Waltz With Bashir, would next oversee an adaptation of Stanislaw Lem's story The Futurological Congress. The short story, which is only partially being used for the film, is about Ijon Tichy, a man "who is propelled into a world where hallucinogenic drugs have replaced reality." Now we've got the first still from the film, which stars Robin Wright and is called simply The Congress. A few more details after the break. 
The still (which you can embiggen by clicking below) is interesting when taken in context with Folman's comments about the film. In December '08, the film was said to be a live-action/animated hybrid, with the animation becoming more dominant over time. At the time, Folman told THR "Think of your favorite young actress. She'll appear that way at the beginning, and then as the film goes on, she'll be drawn like she's 50."
Then, a shortly afterward, Folman's comments to Under the Radar suggested that he was changing Lem's story considerably by making the primary character female and tweaking further plot elements. "We're gonna take some of the stuff we did in Bashir but we're gonna adopt it to wild fiction animation, with a real actress that is gonna be drawn and play herself, basically. It's gonna be her story."
Additional searching after finding this still [via Screen Daily] led to a thread on the Awards Daily forums, where the following synopsis is posted. (I don't know how official this write-up is, though the thread does say the 'present day' will be live action, while the 'future' is animated, which jibes with Folman's comments.)
The movie it's [sic] about the world of an actress (Robin Wright). She's in decline because the studios just sampled her and they kept using her image. She walks into the future, which is a world that is totally controlled by the manufacture of psychiatric pharmacology products.
Folman is a fantastic artist to adapt Lem's work. Think of how Waltz With Bashir negotiated the tricky waters of memory and perception, and then apply that visual and narrative sensibility to a druggy, paranoid tale a la Philip K Dick's A Scanner Darkly. I'd completely forgotten about this since originally covering it over a year ago, but now it is high on my list.
According to Screen Daily, The Congress will be presented at Cartoon Movie, the upcoming animated sales conference in Lyon France. Based on the conference's website, it seems like the film will show in incomplete form. Cartoon Movie takes place March 3-5.