MacGruber Red-Band Trailer And New Images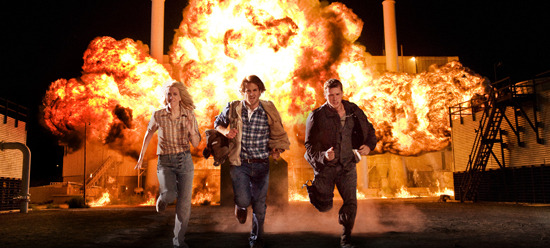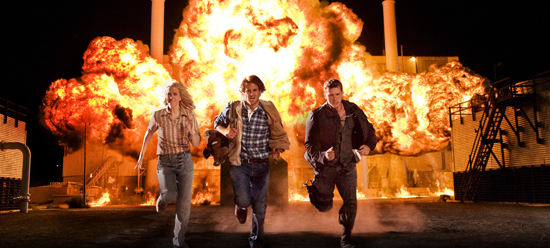 There have been rumors (sourced from where, exactly, I couldn't tell you) that MacGruber is a crazy, envelope-pushing action movie. The feature-length adaptation of Will Forte's Saturday Night Live sketches has a great cast (Forte, Kristen Wiig, Val Kilmer, Powers Boothe, Maya Rudolph) and now has a pretty effective red-band trailer to show off most of the players.
It takes a minute for this trailer to kick into gear, but when it hits the date rape joke I start to believe that Forte, co-writer John Solomon and director Jorma Taccone might have been given some leeway to be jerks. (A good thing in comedy.) While some of the jokes that follow are cut close to the SNL mold (and the post-Anchorman mold) I can deal with that. The "I'm like a three wire guy" gag works for me. The film looks great, too. And liberal use of 'I Want You So Hard (Boy's Bad News)' by the Eagles of Death Metal doesn't hurt.
Click the image below to jump to the official MacGruber site for the age-gated trailer. (Sorry about the lack of embed at the moment.) Below that is the official synopsis and a few images.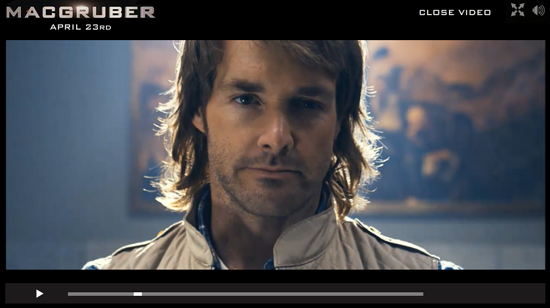 Only one American hero has earned the rank of Green Beret, Navy SEAL and Army Ranger.  Just one operative has been awarded 16 purple hearts, 3 Congressional Medals of Honor and 7 presidential medals of bravery.  And only one guy is man enough to still sport a mullet.  In 2010, Will Forte brings Saturday Night Live's clueless soldier of fortune to the big screen in the action comedy MacGruber.In the 10 years since his fiancée was killed, special op MacGruber has sworn off a life of fighting crime with his bare hands.  But when he learns that his country needs him to find a nuclear warhead that's been stolen by his sworn enemy, Dieter Von Cunth (Val Kilmer), MacGruber figures he's the only one tough enough for the job.Assembling an elite team of experts—Lt. Dixon Piper (Ryan Phillippe) and Vicki St. Elmo (Kristen Wiig)—MacGruber will navigate an army of assassins to hunt down Cunth and bring him to justice.  His methods may be unorthodox.  His crime scenes may get messy.  But if you want the world saved right, you call in MacGruber.