VOTD: Martin Scorsese Tribute Montage And Golden Globes Award Acceptance Speech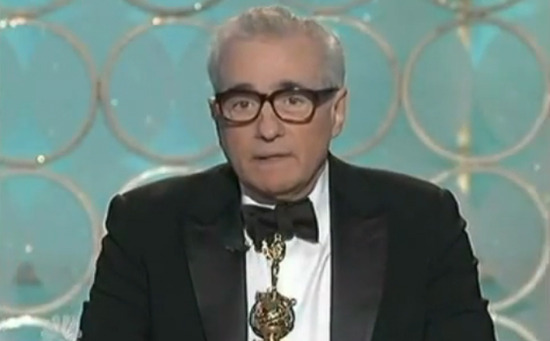 In our coverage of last night's Golden Gobes award ceremony, Peter highlighted the fantastic montage of scenes from films by Martin Scorsese that was assembled to commemorate his reception of the Cecil B. DeMille award. Now we've got video of the montage, and of the director's acceptance speech, after the break.
Leave it to Scorsese to put his win in proper context with the award's namesake. He describes his relationship to DeMille with supreme class, reinforcing the understanding that Scorsese is one of our great cinematic treasures. He's a man who truly understands the history of film and the place any given filmmaker has within it.
It's not surprising that Scorsese would devote a large chunk of his acceptance speech to thanking the Hollywood Foreign Press Association for donating quite a lot of money to film preservation efforts. Film preservation has long been a primary concern for Scorsese, and justifiably so. DVD can make it seem like any given film will never be in danger of disappearing, but without the efforts of high-profile filmmakers like Scorsese, who champion the need to preserve films that don't have massive commercial appeal, some of the films that are essential parts of our past would fall into disrepair and destruction. So many already have.
Here's the heart of Scorsese's speech:
As far as I'm concerned, making films and preserving them are the same thing. In this room, none of us who make films and watch them would be here without the people who came here before us. Whether it's DeMille, Hitchcock, the Senegalese filmmaker [Ousmane] Sembène, Kurosawa or John Ford, de Sica, Bergman, Satiajit Ray, we're all walking in their footsteps every day, all of us...[DeMille] made these pictures for us, the audience, so we could live in their wonders. He was from the beginning, when films were born. He helped create the narrative style and language that we use today, shaped film as an art form, as a business, and as a mythical landscape. He led the way for all of us. When we look at his films, or Hitchcock or Kubrick, we all remember that motion pictures are part of a continuum, a living, ongoing history. And for me to be a part of all that, well...I thank you, and I thank you so much.