Conan O'Brien Puts Tonight Show For Sale On Craigslist, Beats Jay Leno In Thursday Ratings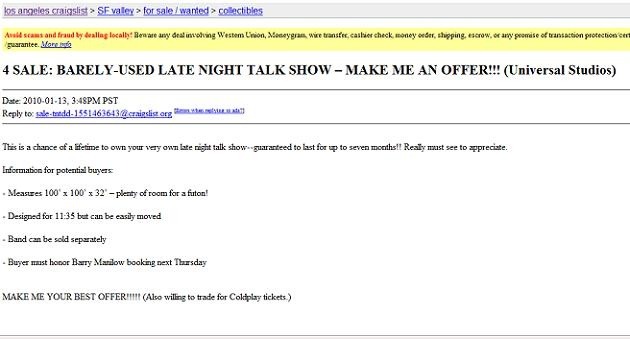 So the late night wars continue and on Thursday night Conan O'Brien dedicated a segment to putting The Tonight Show for sale on Craigslist. The ad is actually online, and can be found under the for sale/wanted > collectibles category in Los Angeles. Titled "4 SALE: BARELY-USED LATE NIGHT TALK SHOW," Conan's looking for the best offer, but is also "willing to trade for Coldplay tickets." You can watch the segment embedded after the jump.
Meanwhile, the Jay Leno Show, which has consistently drawn higher average ratings than the Tonight Show with Conan O'Brien, lost to O'Brien last night as fans are rallying behind Coco. According to The Hollywood Reporter:
Based on preliminary metered-market estimates, on Thursday night O'Brien drew a 1.9 in the adult demo — nearly double his usual average. That's 27% higher number at 11:35 p.m. than Jay Leno, who drew a 1.5 using the same type of measurement, earned at 10 p.m. NBC research is unsure, but this might be the first time O'Brien has ever beat Leno in their current slots. NBC Universal sports chairman Dick Ebersol may have picked the wrong day to bash O'Brien's show as "an astounding failure."
Watch the clip from last night's show, after the jump.