Piranha 3D Pushed Back At Least Four Months, Might Not Even Be 3D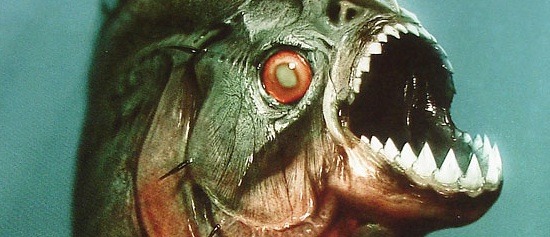 Update: Shock Till You Drop have now edited their post to give a locked-in release date of August 27th – or at least that's what TWC are contacting everybody to claim now. Any reference to the film not being in 3D has been removed but on the other hand, there's no confirmation either. It will share August 27th with Ice Cube comedy Lottery Ticket and, as far as I can see, nothing else.
Maybe it was just me, or perhaps the cinema I saw it at, but is there something distinctly wrong with the 3D in the trailer for Alexandre Aja's upcoming Piranha picture? It seemed that people's faces were swimming around a little (if you pardon the expression) and 3D space seemed a little... wavy? It was very disappointing to me, because I'm a proud fan of the original, of 3D and of director Alexandre Aja.
There's a possibility that problems with the 3D might be behind The Weinstein's decision to kick the film's release date back until "sometime in August at the earliest". They've told The LA Times that their motivation is simply to avoid competition with Kick-Ass in mid-April and stated that there's no financial motivation to the move, despite the whupping that the failure of Nine has delivered to their cashflow situation. Meanwhile, Shock Till You Drop have the rumour that when the film does come along, it won't even be in 3D. If they're right, it sounds to me like something has gone very wrong with either the 3D process employed so far or with the Weinstein checkbook.
I don't suppose they're waiting for sunnier days to launch a series of Piranha 3D or 2D reshoots are they? In every sense, this one is a wait and see.