Oliver Stone's Son Sean To Make Feature Debut With Rosemary Kennedy Thriller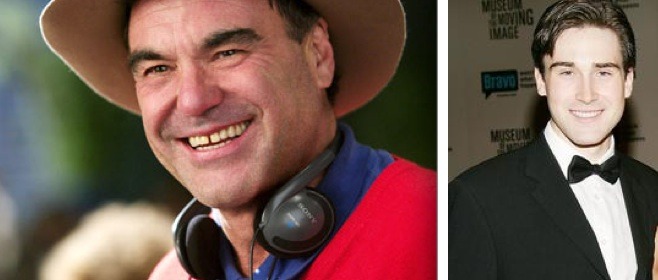 Sean Stone's first IMDB credits as director are video featurettes documenting the making of his father's ill-fated epic Alexander. Subsequently, he directed the science fiction short Singularity, again collaborating with the old man- at least in the sense that it's a loose remake of a film Stone Sr. had made in his youth. The film won an emerging cinematographer award for DP Eduardo Mayen and you can see Mayen's reel of his favourite shots from the film after the break.
Sean is about to embark on his first feature directing gig... and dad's coming along again, as an actor in the cast. The film is Shadowland, already compared to The Blair Witch Project, which I assume means it will be a fake documentary, and set around the mental asylum where Rosemary Kennedy was lobotomized back in the 40s. Yes, Rosemary Kennedy. The apple doesn't fall far.
According to the NY Post's Page Six, Sean will be acting in the film as well as directing. There are other casting decisions that tie his picture in with his dad's ouevre too:
Sean, who appeared in his dad's JFK, stars in Shadowland," in which Oliver also appears as his father. Monique van Vooren, who had a part in Oliver's first film, Sugar Cookies (1973), also has a part in Sean's project.
And if the aformentioned IMDB is not mistaken, this will be Ms. van Vooren's first feature film since she made a tiny cameo in Wall Street. Where I best know her from is Paul Morrisey's Flesh For Frankenstein.
I'm thinking there's no need at all for another shaky-cam horror picture but perhaps the decision to go for a mock-doc, if indeed that is the case, will draw upon Sean's experience making DVD supplements.
Here's the Singularity reel. It certainly shows a taste for stylisation and the canted and tilted cameras Oliver has been indulging in a great deal for a good while now.