John Carter Of Mars To Be Pixar's First Live Action Film, Bryan Cranston Joins Cast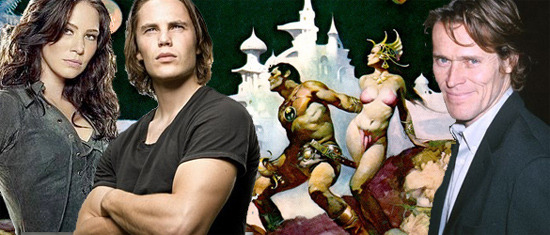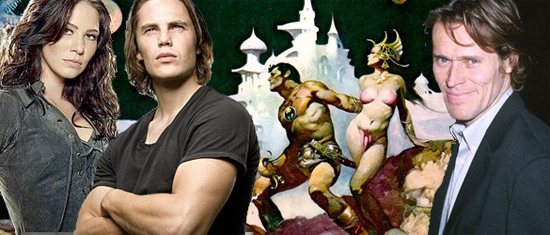 Update: Disney has finally gotten back tyo us and say that the film will not be released as a "Pixar" branded film, but instead a "Walt Disney Picture". So basically, the trades messed up.
When it was announced that Finding Nemo and WALL-E helmer Andrew Stanton would be directing a big screen live-action adaptation of Edgar Rice Burroughs' John Carter of Mars, there was a lot of speculation that the film would be Pixar's first live-action production. Pixar co-founder and president Ed Catmull quickly quashed the rumors, telling the attendees of the SIGGRAPH computer graphics conference that Pixar would not be entering the special effects business.
"We've got two projects coming where there's a live action element. But our view is not that we're trying to diversify; it's more that we've got a creative vision to try something different, and we want to support that vision," Catmull said. "Whether or not it goes beyond that we don't know, but we don't want to turn Pixar into a live action studio. In fact, the intent is that the special effects will not be done at Pixar... We are not trying to become a special effects company."
But the newest casting announcement in the Hollywood trade-papers suggests otherwise: John Carter of Mars will be the first live-action feature from Pixar.
If this is in fact true, and not just a trade fuck up (I've sent out an e-mail to Disney to confirm, but have yet to hear back), then it means that Disney is hoping to parlay the Pixar name brand into their live action features. And what Catmull says above might as well be true. Pixar might not work on the visual effects for their live action films. If you ask me, the magic of Pixar is not in the computer animated creations — it's in the development process housed in the Emeryville-based studio which results in some of the greatest written screenplays of the past decade.
But what about the casting news? Bryan Cranston (Breaking Bad, Malcolm in the Middle) joins Taylor Kitsch (Wolverine, Friday Night Lights), Lynn Collins (X-Men Origins: Wolverine, True Blood),  Willem Dafoe, Samantha Morton (In America, Control), Dominic West (300, Chicago), Polly Walker (Patriot Games), Thomas Haden Church, Mark Strong, and James Purefoy,
Based on A Princess of Mars, which was first published in 1917, the movie will follow Civil War vet John Carter (Kitsch), who is transplanted to Mars, where he discovers a lush, wildly diverse planet whose main inhabitants are 12-foot tall green barbarians. Finding himself a prisoner of these creatures, he escapes, only to encounter Dejah Thoris (Collins), Princess of Helium, who is in desperate need of a savior and Tars Tarkas (Dafoe), a brutal and mirthless green Martian warrior, who possesses the unusual characteristic to feel love and empathy.
Church plays Tal Hajus, described by the trade as "an ambitious and vicious Thark warrior who is biding his time to be a ruler." Strong plays Matai Shang, a godlike leader of the Holy Therns, called in the novel The Gods of Mars "that ancient cult which for countless ages has been credited with holding the secret of life and death in their impregnable fastnesses upon the hither slopes of the Mountains of Otz." And Purefoy will be Kantos Kan, the captain of a Helium warship. Morton will play Sola, the daughter of Tars Tarkas, who must hide her softer side from her warmongering race. West plays Sab Than, prince of the Zodangans who believes he is entitled to rule Mars. Walker plays Sarkoja, a merciless, tyrannical Thark."
The film is expected to be the first of a possible trilogy. Stanton wrote the screenplay with Mark Andrews, and Michael Chabon also did a draft. John Carter begins shooting next week in Utah. Disney is aiming for a 2012 release.