This Week In DVD & Blu-Ray: The Hurt Locker, In The Loop, Moon, The Brothers Bloom, Halloween II, And More
This Week in DVD & Blu-ray is a column that compiles all the latest info regarding new DVD and Blu-ray releases, sales, and exclusive deals from stores including Target, Best Buy and Fry's.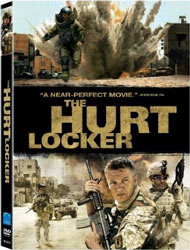 THE HURT LOCKER
There's a compelling character moment toward the end of The Hurt Locker that takes place in a supermarket, which is startlingly effective in its contrast to prior events. Much of that, I suppose, is due to it being one of the few scenes in the film where somebody's limbs aren't as risk of being blown off their torso. This film isn't attempting to offer any political insights into the Iraq War, or even realistically examine what it is that soldiers stationed out in Iraq go through every day (if that's what you're after, I recommend checking out The Wire-creator David Simon's most recent televised opus, Generation Kill). This film, like District 9, is an action film. It's less an intricately structured narrative than it is a series of loosely-fitted action set pieces, directed with such precise pacing and weight that the intensity of them literally left me with a migraine upon my initial viewing. Given the predictability of movies nowadays, I found this forgoing of traditional plotting to be a refreshing change of pace. People don't see war-based action movies to be lectured; they see them because the subject matter lends itself to terrifyingly believable life-or-death scenarios. The Hurt Locker knows that this is the case, and embraces it. It is easily one of the most thrilling movie-going experiences I've ever had, and a definite highlight of '09.
Available on Blu-ray? Yes.
Notable Extras: DVD & Blu-ray – An audio commentary by director Kathryn Bigelow and writer Mark Boal, and a "Hurt Locker: Behind the Scenes" featurette.
EXCLUSIVE DEAL:
What? Exclusive SteelBook packaging and mini photo book, available on Blu-ray only.
Where? Best Buy.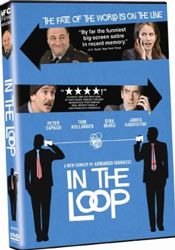 IN THE LOOP
Not even the politically apathetic (*ahem*, me) will be able to reject the pure awesome force of In the Loop's mastery of the expletive. This political satire, saddled with a mockumentary style will make lovers of UK's The Office feel right at home, provides an almost endless barrage of brilliant, rapid-fire quotables. Many of these come frothing from the mouth of one Malcolm Tucker, a character who's bound to make his mark in history as one of cinema's most ridiculously, riotously hateful people ever conceived. Here's a preview: "Within your 'purview'? Where do you think you are, some fucking regency costume drama? This is a government department, not some fucking Jane fucking Austen novel! Allow me to pop a jaunty little bonnet on your purview and ram it up your s***ter with a lubricated horse c**k!" The line plays even better than it reads in the actual film. It's gotta be the Scottish accent. The movie is much more than just a hilarious compilation of one-liners though, and it proves that with its unrelentingly incisive depiction of the government officials that directly influence what happens in the world. That depiction being, they're a bunch of twats; nothing more than a bunch of silly, manipulative men & women playing silly, manipulative games, awkwardly stumbling through a system so broken and misguided that it would probably make you want to cry yourself to sleep if you weren't too busy bursting into fits of uncontrollable laughter.
Available on Blu-ray? Yes.
Notable Extras: DVD & Blu-ray – Deleted scenes.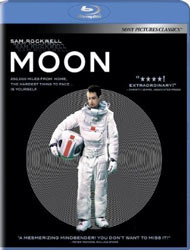 MOON
With a budget of only $5 million, Moon is an astonishing debut from director Duncan Jones, and one that deserves to be seen by all sci-fi fans jonesing (har har) for something a little more introspective and old school. As impressive as it is visually, the film is less about cool spaceships and robots than it is reflecting on and examining the human condition (getting any more specific than that would almost certainly lead to spoilers), and it does this by providing Sam Rockwell with a conceptually fascinating and tonally meditative platform for him to play with and hook you emotionally. Having said that, I must profess that, for me, the film stops just shy of greatness. The entirety of the film provides terrific build-up throughout, but just as it reached a point where I was fully immersed and couldn't wait to see what direction the story was going to take, it took the simplest route available to it and promptly ended. Given the almost limitless creative potential provided by the film's set-up, I so would've loved to see the narrative expanded further. Perhaps (and I'm only speculating here) budgetary limitations restricted them from doing just that. Whatever the case may be, the final result is a film still well worth seeing.
Available on Blu-ray? Yes.
Notable Extras: DVD & Blu-ray – A commentary with writer/director Duncan Jones and crew, a second commentary with writer/director Duncan Jones and producer Stuart Fenegen, Duncan Jones' short film "Whistle", and 4 featurettes ("The Making of MOON", "Creating the Visual Effects", "Science Center Q&A with Director Duncan Jones", "Filmmaker's Q&A at the Sundance Film Festival").
THE BROTHERS BLOOM
As the lesser third of the /Filmcast hosts, I feel as though (or I'd like to kid myself into thinking that) I've developed enough of a relationship with writer/director Rian Johnson that I went into The Brothers Bloom with a bit of a bias. That much should be admitted before I join my colleagues in saying I rather enjoyed the film, even if not quite to the same extent as David Chen, who rated it his top pick of '09 and has been championing the film for quite some time now. A brief paragraph isn't nearly enough to summarize my thoughts on Bloom, so I'll stick to the bullet points: it's stylish as all hell, is loaded with sharp dialogue, has great performances, and exudes filmic love in every frame. It also has a killer opening that essentially acts as its own self-contained short film and manages to perfectly introduce the two con men as youngsters, as well as set in place the central themes of the movie. Those are the things that I love about The Brothers Bloom, and each item truthfully deserves its own paragraph to illustrate just why those elements are so great. My problems with the film, meanwhile, can't be summarized in such succinct terms, so I'll just stick with my least nitpicky one: after about an hour, the constant twists and turns of the narrative eventually grow tiresome and never result in anything particularly satisfying. One might argue that the con itself becomes irrelevant in the midst of the relationships at the core of the film, both between the brothers and the romance between Brody and Weisz, but so much attention is paid to expanding on and playing off of those twists and turns that I really wish the film would've given me more of a reason to care about them. Even with that disconnect though, the film is still one of the more interesting, ambitious efforts of '09, and is deserving of far more love than it has received thus far. If you haven't already, be sure to check it out.
Available on Blu-ray? Yes.
Notable Extras: DVD & Blu-ray – Commentary with director Rian Johnson and producer Ram Bergman, featurettes ("From Sketch to Celluloid", "In Bloom – Behind the Scenes"), and deleted scenes.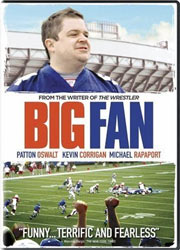 BIG FAN
Big Fan is a small, sad and ultimately depressing movie, and I say that while at the same time wholly recommending it. As an unsettling drama examining how irrational and even evangelical fandom can become in defining your life, it shines a light on something that's rarely depicted as anything other than silly and comedic in most movies and TV shows. If you've heard anything about the film, you're probably aware that it's from the writer of The Wrestler and stars stand-up comic Patton Oswalt, and are also familiar with the basic premise: a hardcore New York Giants fan is beaten up by his favorite player, and struggles to deal with the aftermath. That's a compelling set-up as is, but the most fascinating aspect of it relates to how Oswalt's character responds to the situation. Instead of being conflicted about his love for the team or the player, his biggest frustration is that his being unjustly beaten senseless has caused problems for that team and player that are affecting the outcomes of the current season's games. It's a truly bizarre scenario that provokes some very interesting questions, and somehow Oswalt manages to be completely sympathetic in the midst of it all.
Available on Blu-ray? No.
Notable Extras: Director & cast interviews, and outtakes.

HALLOWEEN II
(DVD available as Theatrical Edition and Unrated Director's Cut)
A little over two years ago, I experienced interminable boredom as I suffered through Rob Zombie's unnecessary, tension-free reinvisioning of a horror classic. According to critics, his sequel is even worse. This time, I think I'll take their word for it.
Available on Blu-ray? Yes.
Notable Extras: Theatrical Edition DVD – Deleted and alternate scenes, audition footage, Uncle Seymour Coffins' Stand-Up Routines, a Michael – Interior feature, Captain Clegg and the Night Creatures Music Videos, and a blooper reel. Unrated Director's Cut & Blu-ray – Includes everything on the DVD, as well as a commentary with writer/director Rob Zombie.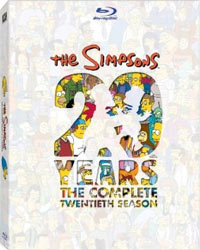 THE SIMPSONS (SEASON 20)
FOX: Never one to pass up a cash grab. In their latest money-grubbing endeavor, they leap-frog past the next seven season boxsets to make way for one that can be released on Blu-ray, this being the first season to start airing episodes in HD. That would be all well and good were it not for one particular annoyance: the extras. The problem being: there are none. Out of all the endless frustration I've had to endure with the show's repeated disastrous packaging blunders, the one thing that kept me sane through it all was the comfort of always having a rewarding assortment of commentaries, deleted scenes, featurettes and other wonderful little bonuses included on every set. For this release though, I suppose I can find comfort elsewhere, such as my total lack of interest in the show's twentieth season.
Available on Blu-ray? Yes.
Notable Extras: None.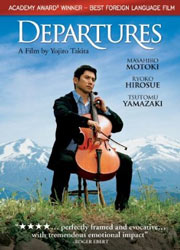 DEPARTURES
I refuse to see this film on the grounds that my liking it would interfere with the unremitting spite I feel toward it beating out The Class and Waltz with Bashir for Best Foreign Film during the '08 Academy Awards. Yeah, sure, it has an 81% on Rotten Tomatoes, and is being warmly received by just about everyone, but why let all of that get in the way of an unfounded vendetta?
Available on Blu-ray? No.
Notable Extras: Director's Interview.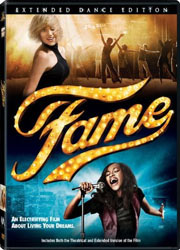 FAME
I have an ongoing theory that this film doesn't actually exist. I've seen the posters, and I've found "proof" that it was released in theaters, and I'm sure a trailer of it exists somewhere, but none of that mitigates my underlying suspicion that all of these things are merely components of an elaborate ruse. Take a moment to think about it: have any of you actually seen the movie? And if you think you have... did you really? Do you actually remember watching it? Are you sure you didn't just imagine the whole thing? C'mon. Be honest. Deep down, we all know that this movie isn't real. Can we all please bring an end to this façade and stop pretending that it is?
Available on Blu-ray? Yes.
Notable Extras: DVD & Blu-ray – The theatrical cut as well as an extended cut, deleted scenes, a Fame Music Video, featurettes ("Fame National Talent Search Finalist", "The Dances of Fame"), and character profiles.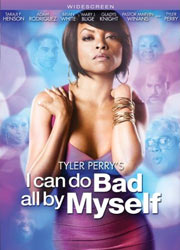 TYLER PERRY'S I CAN DO BAD ALL BY MYSELF
This is the first film that Tyler Perry has written/directed that's registered a "Fresh" rating on Rotten Tomatoes. This sounds more impressive sans context, before you realize that only 37 people reviewed the film. The bittersweet reality, it seems, is that Tyler Perry may be improving as a filmmaker, but the only people who would potentially care about that have already stopped watching his films.
Available on Blu-ray? Yes.
Notable Extras: DVD & Blu-ray – Featurettes ("A Soulful Ensemble", "The Power of Music", "Tyler's Block Party").
Other noteworthy DVD (and Blu-ray) releases this week...
Post Grad [DVD / Blu-ray] – Amreeka – The Burning Plain [DVD / Blu-ray] – Ghost in the Shell 2.0 – The Whitest Kids 'U Know (Season 2) – Downloading Nancy – The House on Sorority Row
Other noteworthy Blu-ray-specific releases this week...
8 1/2 (Criterion Collection) – Last Action Hero – Cliffhanger

NOTE: Some deals may be in-store only.

$16.99 – LOST (Season 1 – 4)

$19.99 – LOST (Season 1 – 5)
$34.99 – Blu-ray sale: LOST (Season 1 – 5)
$4.99 – Fracture, The Black Dahlia, Heat, Miami Vice, In Good Company, Blade, Ace Ventura: Pet Detective, and more...

$19.98 – LOST (Season 1 – 5)
$34.98 – Blu-ray sale: LOST (Season 1 – 5)