New Photos: Alice In Wonderland And Cop Out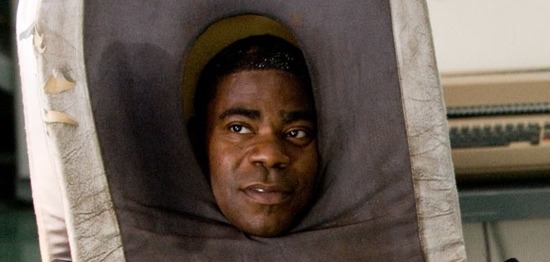 Disney has released the first official photo of Johnny Depp as The Mad Hatter from Tim Burton's Alice in Wonderland, and Warner Bros has released a high resolution version of the Entertainment Weekly preview photo for Kevin Smith's Cop Out the we previously featured on the site in low res. Both photos can be viewed after the jump.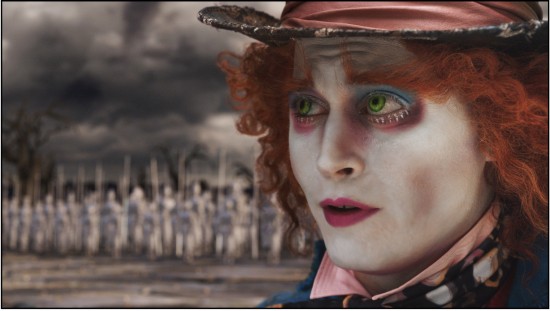 From Walt Disney Pictures and visionary director Tim Burton comes an epic 3D fantasy adventure ALICE IN WONDERLAND, a magical and imaginative twist on some of the most beloved stories of all time. JOHNNY DEPP stars as the Mad Hatter and MIA WASIKOWSKA as 19-year-old Alice, who returns to the whimsical world she first encountered as a young girl, reuniting with her childhood friends: the White Rabbit, Tweedledee and Tweedledum, the Dormouse, the Caterpillar, the Cheshire Cat, and of course, the Mad Hatter. Alice embarks on a fantastical journey to find her true destiny and end the Red Queen's reign of terror. The all-star cast also includes ANNE HATHAWAY, HELENA BONHAM CARTER and CRISPIN GLOVER. The screenplay is by Linda Woolverton.
Capturing the wonder of Lewis Carroll's beloved "Alice's Adventures in Wonderland" (1865) and "Through the Looking-Glass" (1871) with stunning, avant-garde visuals and the most charismatic characters in literary history, ALICE IN WONDERLAND comes to the big screen in Disney Digital 3D™ on March 5, 2010 (U.S. theaters).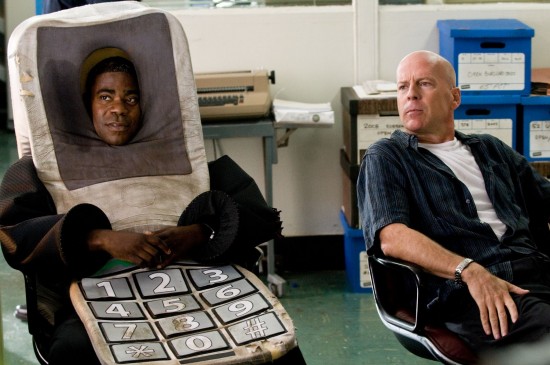 Directed by Kevin Smith ("Zack and Miri Make a Porno"), "Cop Out" features two longtime NYPD partners on the trail of a stolen, rare, mint-condition baseball card who find themselves up against a merciless, memorabilia-obsessed gangster. Jimmy (Bruce Willis) is the veteran detective whose missing collectible is his only hope to pay for his daughter's upcoming wedding, and Paul (Tracy Morgan) is his "partner-against-crime" whose preoccupation with his wife's alleged infidelity makes it hard for him to keep his eye on the ball.
Kevin Smith directs "Cop Out" from a screenplay by Robb Cullen & Mark Cullen (TV's "Las Vegas"). The film stars Bruce Willis (the "Die Hard" films), Tracy Morgan (TV's "30 Rock"), Adam Brody ("Mr. & Mrs. Smith"), Kevin Pollak ("Tropic Thunder"), Guillermo Diaz (TV's "Weeds") and Seann William Scott ("Role Models").
The film is produced by Marc Platt ("Rachel Getting Married"), Polly Johnsen (upcoming "Cats and Dogs: Revenge of Kitty Galore") and Michael Tadross ("I Am Legend," "Hitch"). Adam Siegel ("Wanted"), Robb Cullen and Mark Cullen serve as executive producers.
The behind-the-scenes team includes director of photography David A. Klein ("Zack and Miri Make a Porno," "Chasing Amy"); production designer Michael Shaw ("August Rush," "Boys Don't Cry"); costume designer Juliet Polcsa ("The Sopranos," "Jersey Girl"); and Academy Award®-nominated composer Harold Faltermeyer (the "Beverly Hills Cop" movies). As he frequently does, Smith serves as his own editor on the film.
Warner Bros. Pictures presents, A Marc Platt Production, "Cop Out," to be distributed worldwide by Warner Bros. Pictures, a Warner Bros. Entertainment Company. The film is scheduled for release on February 26, 2010.