Kick-Ass To Premiere At 2010 SXSW Film Festival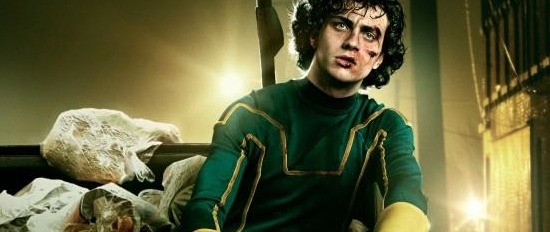 South by Southwest (SXSW) Film Conference and Festival announced this morning that it will host the official premiere of Matthew Vaughn's big screen adaptation of Mark Millar's comic Kick-Ass. Of course, a rough cut of the film secretly sneak previewed in December as part of Butt-num-a-thon. I was there and can tell you — believe the hype, this film is awesome. Kick-Ass will be the opening night film at the 2010 SXSW Film Festival in mid-March. The first wave of films were also announced, and include Aaron Katz's Cold Weather, Sebastian Gutierrez's Elektra Luxx, Hubble 3D (IMAX), Wes Orshoski and Greg Olliver's documentary Lemmy, and James Franco's documentary Saturday Night. You can read more about all the films mentioned above, in the press release after the jump.
SXSW FILM FESTIVAL TO KICK-ASS IN 2010
Austin, Texas — January 6, 2010 – Earlier today, the South by Southwest (SXSW) Film Conference and Festival announced it will host the world premiere of Lionsgate and Marv Films' Kick-Ass for its 2010 Opening Night. A twisted, funny, high-octane adventure, based on the comic written by Mark Millar and John S. Romita, Jr., Kick-Ass was directed by Matthew Vaughn (Layer Cake, Stardust) from a screenplay by Jane Goldman & Vaughn. The South by Southwest Film Conference and Festival runs March 12 – 20, 2010 in Austin, Texas.
Kick-Ass tells the story of average teenager Dave Lizewski (Aaron Johnson), a comic-book fanboy who decides to take his obsession as inspiration to become a real-life superhero. His life is forever changed as he inspires a subculture of copy cats, is hunted by assorted violent and unpleasant characters, and meets up with a pair of crazed vigilantes, including an 11-year-old sword-wielding dynamo, Hit Girl (Chloë Grace Moretz) and her father, Big Daddy (Nicolas Cage), and forges a friendship with another fledgling superhero, Red Mist (Christopher Mintz-Plasse). But thanks to the scheming of a local mob boss Frank D'Amico (Mark Strong), that new alliance will be put to the test.
Opening in theaters nationwide on April 16, 2010, the film also stars Clark Duke, Evan Peters, Lyndsy Fonseca, Michael Rispoli, Garrett M. Brown, Xander Berkley and Omari Hardwick. The producers are Matthew Vaughn, Brad Pitt, Kris Thykier, Adam Bohling, David Reid, and Tarquin Pack. The executive producers are Pierre Lagrange, Stephen Marks, Mark Millar, John S. Romita, Jr. and Jeremy Kleiner. Jane Goodman serves as co-producer.
"Kick-Ass is a truly fun ride, with non-stop action, clever humor, and even heart, which is exactly what our audience has come to love and expect from SXSW every year," said Film Conference and Festival Producer Janet Pierson, "We feel fortunate to have found such a tailor-made good time to kick off our 2010 event!"
Also announced were five narrative and documentary feature premieres, whose diverse perspectives exemplify the unique range of the SXSW program. The complete festival lineup will be announced in early February 2010. The 2010 SXSW Film Festival will include:
Cold Weather – SXSW Alum Aaron Katz directs this feature about a former forensic science major and avid reader of detective fiction, who, after making a mess of his life in Chicago, returns to his hometown of Portland, Oregon. There, he, his sister Gail, and new friend Carlos become embroiled in something unexpected.
Elektra Luxx – Following the successful world premiere of Women In Trouble at SXSW 2009, writer/director Sebastian Gutierrez returns with the world premiere of its hotly anticipated sequel. The film follows a hectic day in the life of former adult film superstar Elektra Luxx as she tries to survive in the straight world. The film stars Carla Gugino in the title role, and Joseph Gordon-Levitt, Timothy Olyphant, Emmanuelle Chriqui and Malin Akerman.
Hubble 3D – SXSW will present the first public screening of Hubble 3D at the Bob Bullock IMAX® Theater. Through the power of IMAX® 3D, Hubble 3D will enable movie-goers to journey through distant galaxies to explore the grandeur and mysteries of our celestial surroundings, and accompany space-walking astronauts as they attempt the most difficult and important tasks in NASA's history. The film is directed and produced by Toni Myers.
Lemmy – A documentary from Co-Directors Greg Olliver and Wes Orshoski, the film delves into the personal and public lives of heavy metal icon and Motörhead frontman Lemmy Kilmister. Nearly three years in the making, and featuring appearances by such friends/peers as Metallica, Dave Grohl, Billy Bob Thornton and pro wrestler Triple H, the film follows Kilmister from his Hollywood bedroom to the hockey arenas of Scandinavia and Russia.
SATURDAY NIGHT – Directed by actor James Franco, the documentary looks at what it takes to create an episode of the legendary comedy show, Saturday Night Live. Follow behind the scenes as the actors, writers and producers go through one frenetic week of trials and tribulations as each volley to get sketches on air.
South by Southwest Film Conference & Festival
The SXSW Film Conference and Festival is a uniquely creative environment featuring the dynamic convergence of talent, smart audiences and industry heavyweights. A hotbed of discovery and interactivity, the event offers lucrative networking opportunities and immersion into the art and business of the rapidly evolving world of independent film.
Over the first five days, the Film Conference buzzes as world-class speakers, creative minds, and notable mentors tackle the latest filmmaking trends amidst the unmatched social atmosphere of the SXSW experience. Simultaneously, the internationally acclaimed, nine-day Festival celebrates raw innovation and emerging talent, with a truly diverse program ranging from provocative documentaries to subversive Hollywood comedies. For more information, visit www.sxsw.com/film.
2010 Festival Sponsors
SXSW Film Conference and Festival is sponsored by Miller Lite, Chevrolet, ZonePerfect Nutrition Bars, AOL, IFC, Monster Energy, Pepsi, SoBe and The Austin Chronicle.