This Week In DVD & Blu-Ray: Cloudy With A Chance Of Meatballs, The Final Destination, And More
We may receive a commission on purchases made from links.
This Week in DVD & Blu-ray is a column that compiles all the latest info regarding new DVD and Blu-ray releases, sales, and exclusive deals from stores including Target, Best Buy and Fry's.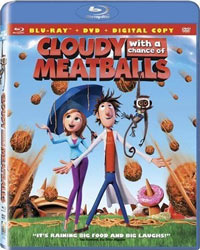 CLOUDY WITH A CHANCE OF MEATBALLS(DVD available as single-disc and 2-Disc Super-Sized Edition)
Cloudy with a Chance of Meatballs is one of the best movies of 2009. And in response to all the double-takes that I suspect I'm getting right now, I say: No, seriously. Let's forgo the whole "fun for the whole family" spiel for a moment, because that could just as easily refer to any kid's film that succeeds in not making the parents want to gouge their eyes out. This movie though, is something else. This movie is something special. While Pixar has the market cornered on heartfelt, story-driven entertainment, Cloudy with a Chance of Meatballs dominates with its gags, delivering 90 minutes of non-stop, brilliantly funny lunacy. It's a film destined to become a favorite amongst geeks, with most of its humor seemingly being geared specifically toward that crowd (which makes sense, given that the film is written & directed by two of the creators of Clone High, a hilarious but short-lived animated TV series with similarly geeky sensibilities). Some viewers may even be taken aback by just how outright weird it can often be, but it's those very additions that make the film so oddly wonderful. From the minute the title blasts onto the screen in all its glitzy, retro glory, the movie is like one big sugar high. Before you even have a chance to be worn down by its whimsical, hyperactive nature, it expands into a cunning yet playful parody of the disaster movie genre in all of its forms, delivering a number of genuinely thrilling action sequences in the process. You're not likely to confuse the film as anything other than insubstantial fluff entertainment, but who cares? It's easily some of the most fun I've had watching a movie in a long while, and is deserving of all the praise it can get.
Available on Blu-ray? Yes.Notable Extras: Single-disc DVD – Director's commentary. 2-disc DVD – Includes everything on the single-disc DVD, as well as extended scenes, early development scenes, a making of featurette, another featurette on the voice talent, a "Raining Sunshine" music video with an additional behind the scenes feature and sing-along function, and Flint's Food Fight Game. Blu-ray – Includes everything on both DVDs, as well as a digital copy of the film.
BEST DVD PRICE*
Target
Best Buy
Fry's
$15.99
$15.99
$15.77
Amazon – $15.99
*Does not include 2-Disc Edition, which costs $20.77 at Fry's, and $22.99 at each of the other listed stores (including Amazon).
BEST BLU-RAY PRICE
Target
Best Buy
Fry's
$24.99
$24.99
$24.77
Amazon – $24.99
EXCLUSIVE DEAL:What? Includes book.Where? Target.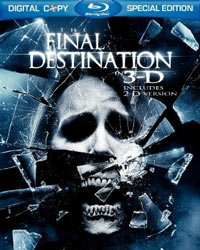 THE FINAL DESTINATION
How do you screw this up? This is a series that would've been perfect for 3D. The formula has already been successfully executed three times. Final Destination 2 was practically a 3D movie as it is, just without the actual 3D to complete the effect. It had everything you could possibly imagine flying toward and/or around the screen: cars, logs, fences, poles, ladders, giant plates of glass, and so on. Imagine my excitement then, when I found out the same writing/directing team behind the second film would be coming back for its fourth (and possibly final) installment, and this time, it really would be 3D. Little did I know at the time that this entry in the series would be completely devoid of literally everything that I've come to love about it. It's as though they thought the mere act of having everything be in 3D would instantly result in entertainment value, somehow forgetting that the appeal of the series extends beyond simply watching people die. No, what makes the Final Destination series so compelling is the creativity of the deaths. In the previous films, 'death' was this ominous force whose presence was felt in every scene, tension mounting as any number of minor details were altered in a situation, effectively aligning events to result in some truly shocking and unforgettable death sequences. The thrill came from trying to figure out how it would happen, how the characters might be able to avoid it, and the eventual acceptance that, one way or another, death is going to get you. In The Final Destination, 'death' is more like a floundering drunkard, knocking shit over constantly (how many times does fluid spill onto to the ground in this movie?) and just overall getting really damn lazy in the way he disposes of people. His heart just isn't in it anymore, I guess. It's also astonishing to me that they managed to take a franchise that's frequently criticized for its paper-thin characters and nonexistent plot and somehow make the characters even more paper-thin and the plot even more nonexistent. At least in the earlier movies the actors had enough screen presence that I didn't mind spending a couple of hours with them (or if they were assholes, enjoy watching them die). Here, the actors are entirely devoid of charm or personality, and watching them meet their end resulted only in yawns. What a disastrously disappointing way to finish the series.
Available on Blu-ray? Yes.Notable Extras: DVD – 2D and 3D versions of the film, along with 2 pairs of 3-D glasses, and additional scenes. Blu-ray – Includes everything on the DVD, as well as alternate endings, a Body Count: The Deaths of The Final Destination featurette, Pre-Visualization/Storyboard Segments, and a digital copy of the film.
BEST DVD PRICE
Target
Best Buy
Fry's
$16.99
$16.99
$15.77
Amazon – $17.99
BEST BLU-RAY PRICE
Target
Best Buy
Fry's
$19.99
$19.99
$19.77
Amazon – $19.99
EXCLUSIVE DEAL:What? Exclusive deluxe edition DVD ($22.99) with comic book.Where? Target.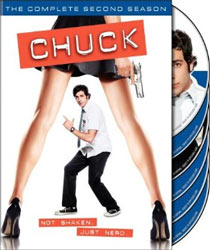 CHUCK (SEASON 2)
I vividly recall the indifference I felt toward Chuck being echoed by just about everyone during the earlier episodes of its first season. Something must have changed in the period of time between that and series' subsequent seasonal outing, because now all I hear are earnest accounts of how much darned fun it is. In short: word of mouth has convinced me to give this action/comedy spy-fi series another chance. The problem now is finding the time to do so.
Available on Blu-ray? Yes.Notable Extras: DVD & Blu-ray – Featurettes ("Truth, Spies and Regular Guys: Exploring the Mythology of Chuck", "Dude in Distress: Explore Some of This Season's Best Action Sequences", "Chuck Versus the Webisodes: Web-Originated Minifeaturettes", "Chuck: A Real-Life Captain Awesome's Tips for Being Awesome"), "John Casey Presents: So You Want to Be a Deadly Spy?"), Declassified Scenes, and a gag reel.
BEST DVD PRICE
Target
Best Buy
Fry's
$36.99
$36.99
$36.77
Amazon – $36.99
BEST BLU-RAY PRICE
Target
Best Buy
Fry's
$44.99
$45.99
$44.77
Amazon – $44.99
EXCLUSIVE DEAL:What? DVD comes with exclusive comic book.Where? Best Buy.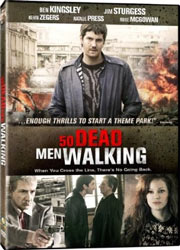 50 DEAD MEN WALKING
The badass title alone is enough to pique my interest. And a cast including Jim Sturgess, Ben Kingsley and Rose McGowan is enough to get me clicking the 'Add' button on Netflix. (And what's this I see? Looks like the film is currently listed as 'coming soon' for Netflix's ever-growing Watch Instantly selection. Be sure to keep a look out.) Based on the autobiography of the same name, the film follows Martin McGartland, a young street hustler recruited by the British police to become an undercover informant within the Irish Republican Army. It has received largely positive reviews. The manipulatively-edited trailer can be found here.
Available on Blu-ray? Yes.Notable Extras: DVD & Blu-ray – Audio commentary, behind-the-scenes featurette, cast and crew interviews, and deleted scenes.
BEST DVD PRICE
Target
Best Buy
Fry's
$21.49
$24.99
$19.99
Amazon – $12.49
BEST BLU-RAY PRICE
Target
Best Buy
Fry's
N/A
$24.99
$19.99
Amazon – $12.99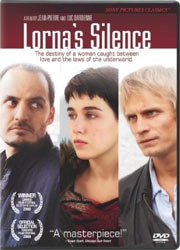 LORNA'S SILENCE
Looking to get your weekly dose of naturalistic, character-driven foreign cinema? If Rotten Tomatoes is to be believed, Lorna's Silence, the latest film from the critically-acclaimed Dardenne brothers (Rosetta, The Son, L'Enfant), should fill that void nicely. Like most films that don't fit conveniently into that typical Hollywood high concept mold, selling the premise in one sentence is a challenge, so instead here are some of the factors that come into play: an Italian mobster, a junkie, a sham marriage and a diabolical plan to kill a man. Check out the trailer for a sampling of the emotional turmoil on display.
Available on Blu-ray? No.Notable Extras: None.
BEST DVD PRICE
Target
Best Buy
Fry's
$23.19
$19.99
$19.99
Amazon – $22.49
Other noteworthy DVD (and Blu-ray) releases this week...Big Love (Season 3) – Trucker – 10 Things I Hate About You (10th Anniversary Edition) [DVD / Blu-ray] – Super Friends (Season 1, Vol. 1)Other noteworthy Blu-ray-specific releases this week...Battlestar Galactica (Season 1) – Dogtown and Z-Boys – The Green Berets – Riding Giants

NOTE: Some deals may be in-store only.

$13.99 – 24 (Season 7), The Simpsons (Season 12), How I Met Your Mother (Season 3), Family Guy (Vol. 7)$26.99 – Blu-ray sale: Dollhouse (Season 1), Sons of Anarchy (Season 1), Burn Notice (Season 2), Bones (Season 4)
Buy 2, get a $5 Best Buy Gift Card instantly...
$9.99 – Taken, Quantum of Solace, Coraline, State of Play, Observe and Report, I Love You Man, Step Brothers, Pineapple Express, Australia, Valkyrie, The Day the Earth Stood Still (2008), and many more...