Sean Penn Once Again Part Of Three Stooges Cast; Film Still Gestating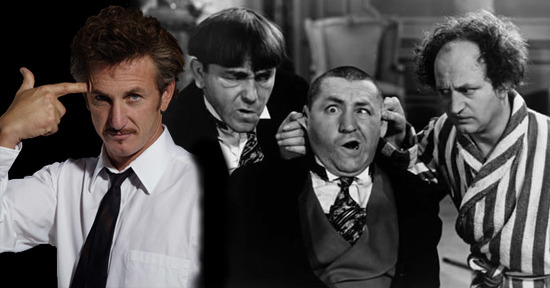 The Farrelly Brothers have been developing their new take on The Three Stooges for a long time, and last year seemed to finally have an impressive cast locked down. Before things went haywire, the lineup was Jim Carrey as Curly, Sean Penn as Larry and Benicio del Toro as Moe. Then Penn's marital trouble put his career on hold; he bowed out of both Stooges and Cartel to focus on shoring up his life at home. Paul Giamatti was rumored as his replacement, and Jim Carrey's name was eventually taken out of the cast.
Now reports say that Penn is back in the cast, but that the Farrellys will do another film first.
The Boston Herald (via The Playlist) reports that Penn is back in the roster for the film. "We got him back," Bobby Farrelly is quoted in the Herald. "He always said he wanted to do it after, you know, taking care of his family." Since the family sadly seems to have fallen apart the actor is going back to work.
But the delay meant that the Farrellys lined up something else in the interim. They'll do Hall Pass with Owen Wilson first. That has Wilson as "a ho-hum husband whose wife, looking to spice up their sex life, gives him a 'pass' to play the field for a week." The film shoots here in Atlanta next month, so we might be able to get some more info on Three Stooges then.
The most intriguing part of the Herald report is that "Bobby claims otherwise" with respect to Carrey ever having been locked into the cast. Regardless, he's not currently part of it, so there's a Stooge slot open for now. I'm surprised that the movie is still kicking, frankly, but I do like the idea of Penn doing a broad, crazy comedy. He was always the key member of the cast in my eyes, and with him back in the fold I'm more optimistic than I would be otherwise.