Producers Guild Of America Nominations: Up Gets A Nod, As Do Avatar, Star Trek, And District 9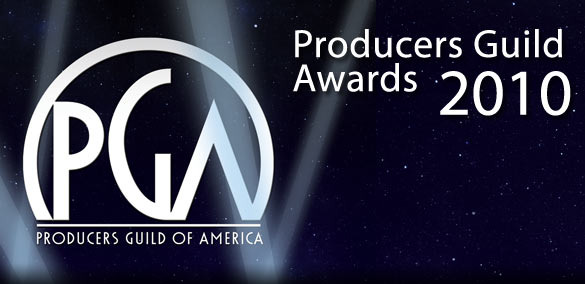 One of the last two serious barometers for the potential Oscar race is the nomination list for the Best Picture award, aka the Darryl F. Zanuck Producer of the Year Award in Theatrical Motion Pictures, bestowed by the Producers Guild of America. Ten films are nominated this year, and the shortlist is actually a bit surprising. Three big sci-fi films made the cut, and Up landed in both the primary theatrical nomination list, and the animated list.  If this is truly an indicator of many of the likely Best Picture Oscar nominees, it'll be an interesting ceremony.
The list of ten films includes Avatar, which is not a shock, but also Star Trek and, in a pleasant surprise, District 9. What happens when you make a massively successful tentpole-style movie for no money at all? It gets a Producers Guild nomination.And Star Trek's presence is interesting, as some had placed it as a left-field possibility for an Oscar nomination in the past couple months. Now that doesn't seem like such a wild choice. Will all three sci-fi pictures end up on the Oscar list? Probably not, but two of them will.The core of this list is packed with consensus award films: Up in the Air, Precious and The Hurt Locker. Also making the list is Inglorious Basterds and, in another interesting surprise, An Education. The routine Invictus gets a nod, seemingly thanks to inertia, and Up rounds out the pack. Nine is a notable omission, in the sense that big Harvey Weinstein favorites aren't usually snubbed. But he's got Basterds to balance it. What a great year it has been for Quentin Tarantino's movie.The list of five animated films is also interesting, primarily because 9 managed to land a spot. The other four slots are held by Coraline, Fantastic Mr. Fox, The Princess and the Frog and Up. 9's presence on the list is seriously weird, as it wasn't an audience or critical favorite by any means. I'm not sure what the angle is there, since there are other more worthy films. Cloudy With a Chance of Meatballs fans commence griping now.
There's one more big set of awards yet to go this week: the People's Choice Awards. No, wait, that's wrong. While those are being released, the important nominations will come from the Director's Guild of America, which will shortlist five directors on January 7.
Here's the straight-up list of nominations:
Darryl F. Zanuck Producer of the Year Award in Theatrical Motion PicturesAvatar
District 9
An Education
The Hurt Locker
Inglourious Basterds
Invictus
Precious
Star Trek
Up
Up in the Air
PGA Producer of the Year Award in Animated Theatrical Motion PicturesCoraline
Fantastic Mr. Fox
9
The Princess and the Frog
Up
PGA Producer of the Year Award in Documentary Theatrical Motion PicturesBurma VJ
The Cove
Sergio
Soundtrack for a Revolution