From Paris With Love Movie Trailer #2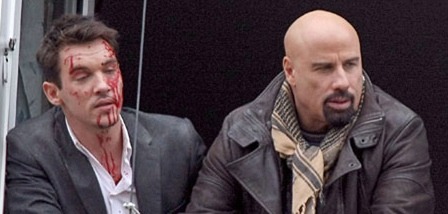 Following up on the earlier news about Pierre Morel (District B13, Taken) directing Dune, we now have the second trailer for his next feature, From Paris with Love. The film stars John Travolta and Jonathan Rhys Meyers, and concerns a young embassy worker who teams up with an unruly FBI agent to stop a terrorist attack in Paris. It's pretty obvious who's who. Luc Besson is also credited with the film's story, not unlike many other films he produces. Instead of Besson's regular screenwriting bud Robert Mark Kamen, Paris's script was written by Adi Hasak.
Unfortunately, this latest trailer isn't doing much to convince me that it will be anything redeeming for Travolta. He seems to have walked straight off the set of The Taking of Pelham 123 — and I don't mean that in a good way.
View the trailer below, or in glorious Quicktime over at Apple:
At least the action looks fun, and that's really what I'm signing up for with this picture. Morel honed his talent for clean and well-staged action with Taken, and I'm hoping we'll see some improvement this time around. I'm still waiting to for him to impress me as much as he did with the fantastic pair of action sequences at the beginning of District B13.