Blockbuster Releases Official iPhone App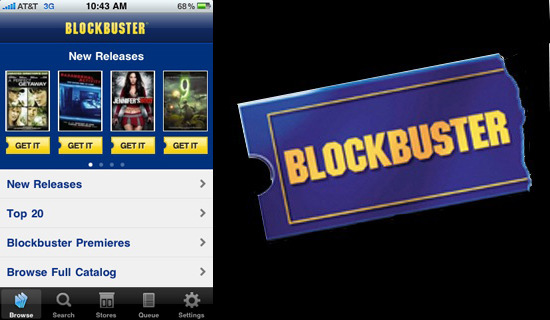 For Netflix users, there are a few very good third-party app solutions available to access the service via the iPhone. (PocketFlicks and iPhlix come to mind.) Now Blockbuster has released an official app for the iPhone and iTouch, which offers solid access to the company's rental options.
With this app you can quickly see new releases, browse the entire catalog, add films to your delivery queue and check to see what's in stock at local stores. The design is clean, and if you use Blockbuster as a regular rental service the app might come in very handy.
MovieMarketingMadness makes an interesting point about this app, however. By allowing customers to see if a film is in stock at nearby stores, the company may be keeping those customers out of the store. Without the app a potential renter might go looking for a specific film, find it unavailable and rent something else instead. By checking the app, that same person can tell there's no reason to head to the store in the first place, and make other plans.
[via Gordon and the Whale]