Toy Story/Toy Story 2 Blu-Ray Trailer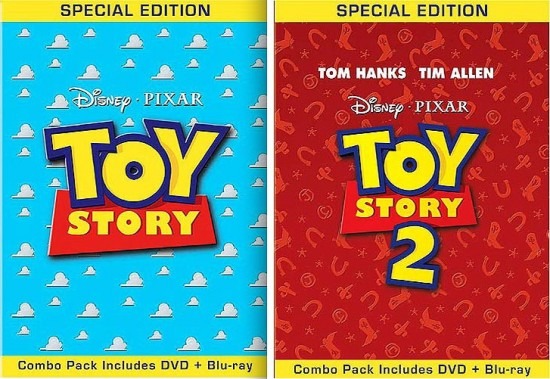 We may receive a commission on purchases made from links.
As you probably know by now, Disney is set to finally release Pixar's Toy Story and Toy Story 2 on Blu-ray on March 23rd 2010. Disney has since released a trailer promoting the release, which can be watched after the jump. And for those who want to pre-order, Amazon is offering both Toy Story and Toy Story 2 for $24.99 each, 38% off the suggested retail price. Also after the jump, I've included the previously released information about the special features included on the discs.
Toy Story:
Buzz Lightyear Mission Logs: Blast Off
Paths to Pixar: Artists
Studio Stories:
John's Car
Baby AJ
Studio Stories: Scooter Races
Buzz Takes Manhattan
Black Friday: The 'Toy Story' You Never Saw
Toy Story 2:
Buzz Lightyear Mission Logs: International Space Station
Paths to Pixar: Technical Artists
Studio Stories:
'Toy Story 2? Sleep Deprivation Lab
Pinocchio
The Movie Vanishes
Pixar's Zoetrope
Celebrating Our Friend Joe Ranft
BD Live-Portal
via: Pixartalk