First Look: Channing Tatum In The Eagle Of The Ninth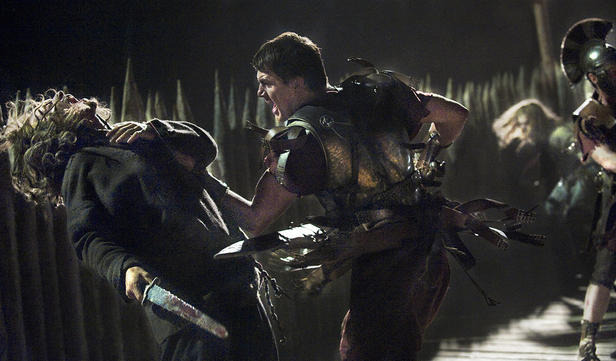 We'll soon see dueling films about the Roman Ninth Legion, a semi-legendary force that disappeared or, more likely, was wiped out in or around the year AD 117. Neil Marshall (Decent, Doomsday) has one film, called Centurion, which focuses on the force as it attempts to destroy the Picts. The other picture is The Eagle of the Ninth, based on the Rosemary Sutcliff novel of the same name. That one reunites The Last King of Scotland writer Jeremy Brock and director Kevin Macdonald. It stars Channing Tatum as Marcus Flavius Aquila, a young officer trying to discover the truth about his father's disappearance. The first pics are out now.
Yahoo has the first images, which also briefly show Donald Sutherland and some of the other cast. In addition to Sutherland and Tatum, Mark Strong plays a primary role, and Jamie Bell, Denis O'Hare and Paul Ritter are in the mix as well. There's one photo of a ripped Jamie Bell which makes me chuckle, as I still think of him as he appeared in movies like Dear Wendy. Actually, all the photos make me giggle a bit, as Tatum looks out of place — he looks so modern. But Macdonald is quite a good filmmaker so I'll reserve some hope for the flick.
Here's the official synopsis from Focus Features:
In 140 AD, twenty years after the unexplained disappearance of the entire Ninth Legion in the mountains of Scotland, young centurion Marcus Aquila (Tatum) arrives from Rome to solve the mystery and restore the reputation of his father, the commander of the Ninth. Accompanied only by his British slave Esca (Bell), Marcus sets out across Hadrian's Wall into the uncharted highlands of Caledonia – to confront its savage tribes, make peace with his father's memory, and retrieve the lost legion's golden emblem, the Eagle of the Ninth.