The Most Pirated Movies Of 2009 And Avatar: The Making Of The Bootleg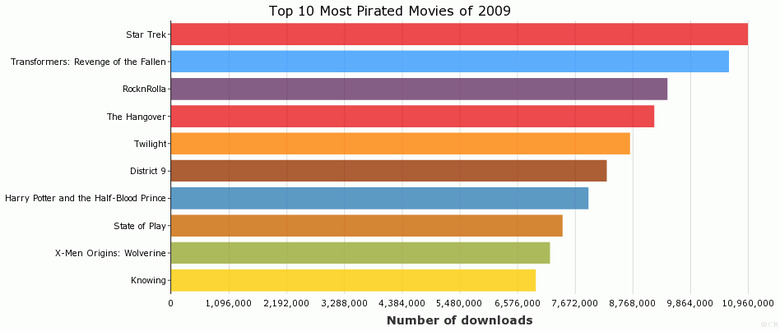 The above graph is from ChartsBin, showing the top 10 most pirated movies of 2009. The list, which was collected by Torrent Freak from several sources, is pretty odd. It's not surprising that big Hollywood blockbusters like Star Trek and Transformers: Revenge of the Fallen topped the list, but who would have thought that a film like Guy Ritchie's Rocknrolla would end up at #3?
Also surprising is that X-Men Origins: Wolverine ended up at at the bottom of the list, at #9, even though a workprint of the film infamously hit the internet a month before the theatrical release. Alex Proyas' Knowing places #10, which is probably a good example of a movie that people had an interest in seeing (especially after some of the WTF buzz) but weren't willing to pay for.
How do films end up on the internet? Free Love Forum has posted a faux behind the scenes documentary of the revolutionary new bootleg of the revolutionary new movie — James Cameron's Avatar. Watch the video, embedded after the jump.