Lucasfilm Tests Out HD Capable DSLR Cameras For Red Tails, Possibly Star Wars TV Series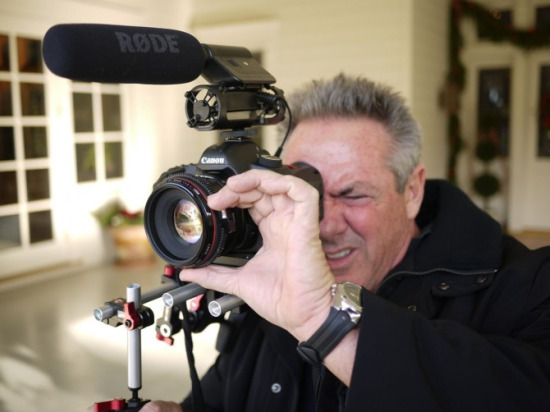 Somehow, I'm not surprised that Lucasfilms is the first major Hollywood production company (that we've heard of) to look into consumer-level DSLR digital cameras that can shoot HD video. For better or worse, George Lucas has always been a pioneer in digital filmmaking. Learning how to use these small DSLRs (at least, compared to large professional-grade HD cameras) could help them immensely with future projects.
We know that Lucasfilm is interested in these cameras because they invited filmmaker and DSLR blogger Philip Bloom over to the Skywalker Ranch to demonstrate what, exactly, they're capable of. Bloom wrote up his experience on his blog, and also compiled a mesmerizing bit of HD footage filmed around the ranch. They also revealed to Bloom that they're interested in using the cameras for cockpit footage in their upcoming Tuskagee airmen feature, Red Tails — and possibly even in the upcoming live-action Star Wars TV series.
His full quote on how they're using these cameras, as well as his Skywalker Ranch footage in glorious 1080p, after the break.
Talking of flying, that is a big reason why I was there. Lucasfilm had just finished principle photography on Red Tails, a WWII film about an African American fighter squadron. They filmed this in Prague and needed to film pick ups early next year. Much of this was going to be intimate in cockpit stuff and flying shots. They shot the movie on the Sony F35 but this is a beast and utterly impractical for the cockpit stuff. Hence the Canon DSLRs. They were also looking at new ways to shoot the much anticipated Star Wars live action TV series. So they wanted to see how well the 7D and 5DmkII stood up with this in mind. Not necessarily shooting on these cameras but you never know, with a few mods and tweaks and the ability to connect that Nanoflash up to the 5dmkII or 7D...
Basically, these DSLRs offer a much more convenient form factor than pro-grade HD cameras, and will be particularly useful for getting HD footage in small places. We could potentially see Lucasfilm use the same in-cockpit technique for the Star Wars series, among a variety of other uses.
Read Bloom's entire post on his blog. To get a sense of the quality these cameras can produce, check out Bloom's Skywalker Ranch footage below (be sure to click the HD button!):