Awards: SAG Nominations Highlight Precious, Inglourious Basterds, The Hurt Locker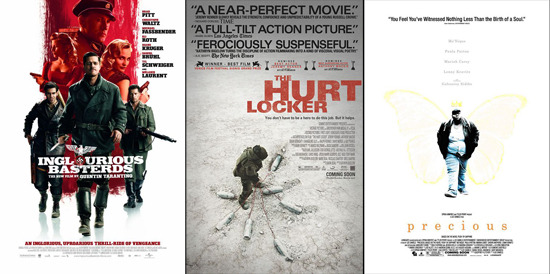 It's the week for big awards nominations and critic association lists, and we've already had some major examples of both, wherein the great array of films from 2009 is increasingly being boiled down to a few likely awards contenders. It's a weird culling-out process.
Today the Screen Actors Guild (SAG) announced its own list of nominations for 2009, and I was hopeful for a more diverse array of choices. This is the organization where actors vote on their direct peers, after all, so there was reason to hope the list wouldn't quite be in lock-step with the big critic organizations and the Golden Globes. With the exception of a few left-field choices (like Diane Kruger's Supporting Actress nom for Inglourious Basterds) that's not the case.
The films with the most nods here are, as expected, Inglourious Basterds (Supporting Male and Female, and Ensemble Cast), Precious, (Lead and Supporting Actress, Ensemble Cast) and The Hurt Locker (Best Actor, Ensemble Cast). It's great to see Jeremy Renner getting a nod, when he's been left off so many other lists.
Some of the omissions perturb me. Where is Charlotte Gainsbourg's amazingly raw and courageous work in Antichrist? Matt Damon's clever and skillful characterization from The Informant!? Hal Holbrook's deep anger from That Evening Sun? Where's Bright Star? These are some of the examples of work I would have expected (and did hope) to see highlighted.
It's easy to look at the accumulating pile of nominations and be suspicious that each one increasingly prefigures what will be on the next. That leads to some weariness and backlash against films and/or performances that are deserving of awards, so it's a complex equation. I don't by any means want to see The Hurt Locker not receive accolades, for example. I'd just like to see a few unexpected choices share the wealth.
Here's the full list:
Outstanding Performance by a Male Actor in a Leading Role:
Jeff Bridges, Crazy Heart
George Clooney, Up In The Air
Colin Firth, A Single Man
Morgan Freeman, Invictus
Jeremy Renner, The Hurt Locker
Outstanding Performance by a Female Actor in a Leading Role:
Sandra Bullock, The Blind Side
Helen Mirren, The Last Station
Carey Mulligan, An Education
Gabourey Sidibe, Precious: Based On The Novel 'Push' By Sapphire
Meryl Streep, Julie & Julia
Outstanding Performance by a Male Actor in a Supporting Role:
Matt Damon, Invictus
Woody Harrelson, The Messenger
Christopher Plummer, The Last Station
Stanley Tucci, The Lovely Bones
Christoph Waltz, Inglourious Basterds
Outstanding Performance by a Female Actor in a Supporting Role:
Penélope Cruz, Nine
Vera Farmiga, Up In The Air
Anna Kendrick, Up In The Air
Diane Kruger, Inglourious Basterds
Mo'nique, Precious: Based On The Novel 'Push' By Sapphire
Outstanding Performance by a Cast in a Motion Picture:An Education  (Dominic Cooper, Alfred Molina, Carey Mulligan, Rosamund Pike, Peter Sarsgaard, Emma Thompson, Olivia Williams)The Hurt Locker (Christian Camargo, Brian Geraghty, Evangeline Lilly, Anthony Mackie, Jeremy Renner)Inglourious Basterds (Daniel Bruhl, August Diehl, Julie Dreyfus, Michael Fassbender, Sylvester Groth, Jacky Ido, Diane Kruger, Mélanie Laurent, Denis Menochet, Mike Myers, Brad Pitt , Eli Roth, Til Schweiger, Rod Taylor, Christoph Waltz, Martin Wuttke)Nine (Marion Cotillard, Penélope Cruz, Daniel Day-Lewis, Judi Dench, Fergie, Kate Hudson, Nicole Kidman, Sophia Loren)Precious: Based On The Novel "Push" By Sapphire (Mariah Carey, Lenny Kravitz, Mo'nique, Paula Patton, Sherri Shepherd, Gabourey Sidibe)Outstanding Performance by a Stunt Ensemble in a Motion PicturePublic EnemiesStar Trek
Transformers: Revenge of the Fallen