Casting Notes: Rene Russo Is Thor's Mom; Tina Fey And Steve Carell Reunite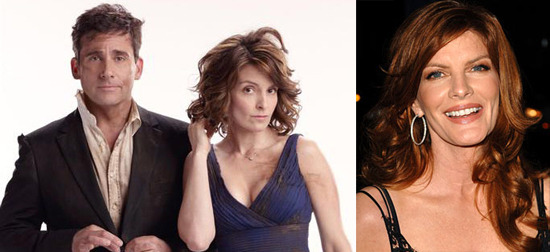 We haven't seen Rene Russo in a feature film since Yours, Mine and Ours in 2005, and (as someone noted, but I don't recall whom) we haven't seen her do a decent movie since The Thomas Crown Affair, in 1999. But Russo's turn in Wolfgang Peterson's In the Line of Fire will never fade, so I'm happy to see her coming back to the screen as a Norse queen.
Russo has been cast in Thor, where she'll play Frigga, the wife of Odin and mother to Thor and Loki. Sounds like a rather small part — with all the characters we already know about there can't be much room for Thor's mom. But if anyone can manage a sprawling cast on film it is the Shakespeare-worshipping Thor director Kenneth Branagh. [Variety]
After the break, details on the possible reunion of Steve Carell and Tina Fey.
Steve Carell and Tina Fey are already starring together in the rather dire-looking Date Night. (It pains me to describe the movie that way, but that trailer caused me pain.) Now there's word that Warner Bros. has put a new film into development called Mail-Order Groom, and has attached Carell and Fey as the leads.
Pajiba reported the news first, saying the film is meant to be kind of a frankenstein combination of 30 Rock and Borat. How's that work? The site describes the film as following "a lonely American woman (Fey) who orders an Eastern European soldier as a mail order husband. OK, I can see that, and would even be excited to see it, if Carell can make his fake Borat accent stick.
Fey's husband Jeff Richmond came up with the story, and the script is currently being rewritten by Glenn Ficarra and John Requathe. This might not happen at all, however; if Date Night lands with a thud, don't figure that Warner Bros. is going to