First Behind The Scenes Look At Dinner For Shmucks With Paul Rudd And Steve Carell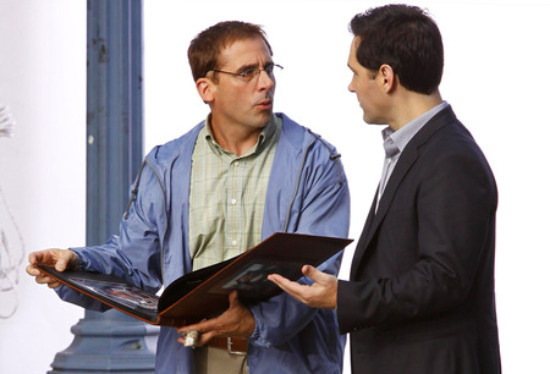 For some reason, we haven't heard much about the upcoming Dinner for Shmucks starring Steve Carell and Paul Rudd, so this bit of news comes as a pleasant surprise. The film is a remake of the French comedy Le dîner de cons (which has a not-so-nice title when translated), and will be directed by Jay Roach (Austin Powers, Meet the Parents). The last we reported on Shmucks was in 2007, with Sacha Baron Cohen attached to star. Obviously, those plans fell through, but I honestly think it's for the better. Finally, we're going to get a chance to see Rudd and Carell together again after The 40 Year Old Virgin and Anchorman. The cast also features Zach Galifianakis and Ron Livingston.
MTV has a short clip featuring the pair chatting about the film, check it out after the break — along with a look at the film's plot.
According to Wikipedia, the plot of the French original is as follows:
Pierre Brochant (Thierry Lhermitte), a famous Parisian publisher, attends a weekly 'idiots' dinner', where guests, who are prominent Parisian businessmen, must bring along an 'idiot' of whom the other invitees can make fun. At the end of the dinner, the evening's champion idiot is selected.
From the looks of it, the remake is going to follow the same basic plot. Rudd will play a wealthy businessman who invites Carell's character, a bona-fide perfect idiot, over for the dinner. What Rudd doesn't know is that Carell's character's true talent is to ruin the lives of those around him.
As for Roach, I was a fan of the first two Austin Powers movies, and consider Meet the Fockers pretty harmless, so I'd be interested to see what he could pull off working with such great actors. He also showed that he had considerable talent directing dramas with the HBO film Recount — a movie with perhaps one of the best made-for-TV scripts ever (written by Buffy vet Danny Strong).