Sundance Photo Preview: Blue Valentine, Starring Michelle Williams And Ryan Gosling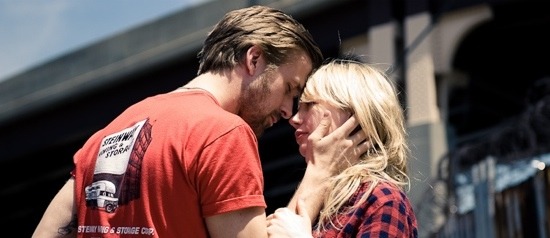 Derek Cianfrance's directorial debut Blue Valentine will premiere at the 2010 Sundance Film Festival as one of 16 films selected from 1,058 submissions for the dramatic competition. Written by Derek Cianfrance, Cami Delavigne and Joey Curtis, the screenplay won the 2006 Chrysler Film Project contest, which came with $1 million of funding. The story is about "love lost and love found told in two parallel moments in time." Described as "an intimate, shattering portrait of a disintegrating marriage", Blue Valentine is about a couple who use one night to try and save their failing marriage.
Here is more information from the official Sundance description:
On the far side of a once-passionate romance, Cindy (Michelle Williams) and Dean (Ryan Gosling) are married with a young daughter. Hoping to save their marriage, they steal away to a theme hotel. We then encounter them years earlier, when they met and fell in love—full of life and hope. Moving fluidly between these two time periods, Blue Valentine unfolds like a cinematic duet whose refrain asks, where did their love go? Framing the film as a mystery whose answer lies scattered in time (and in character), filmmaker Derek Cianfrance constructs an elegant set of dualities: past and present, youth and adulthood, vitality and entropy. The rigor of his process is visible throughout the film. Eliminating artificial devices, he has only the truth of the characters to work with. Because Gosling and Williams bring amazing intensity and emotional honesty to their roles, the experience of connecting to these two souls becomes truly moving.
The film also stars Mike Vogel (Cloverfield), John Doman and Faith Wladyka. The movie was originally set to shoot in spring of 2008, but was delayed due to the death of William's husband Heath Ledger.
Blue Valentine director Derek Cianfrance: