Sundance Photo Preview: HIGH School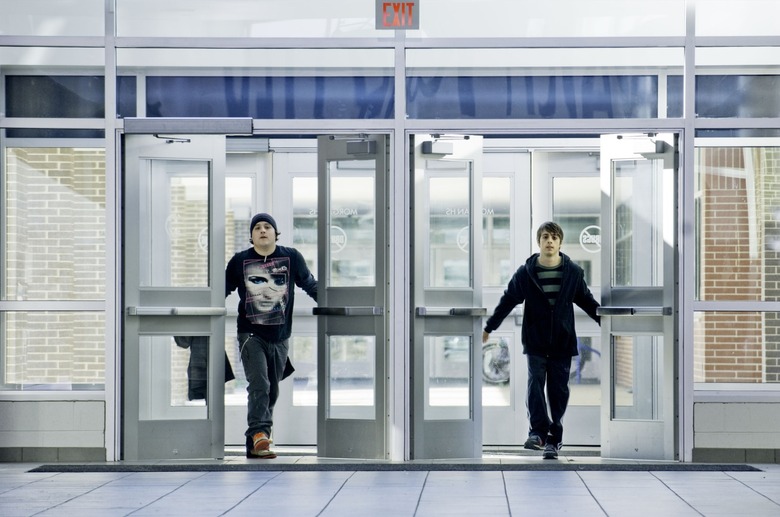 John Stalberg's feature directorial debut HIGH school will premiere at the 2010 Sundance Film Festival in the Park City at Midnight category. Many people are comparing the film to The Wackness, another pot dramedy that played Sundance a couple years back. Michael Chiklis plays a smarmy high school principal who suddenly institutes a zero-tolerance crusade, introducing mandatory drug tests for all students. Failure of which will result in immediate expulsion. Matt Bush plays a straight-arrow valedictorian named Henry Burke who normally would have nothing to worry about, except he just tried marijuana for the very first time. I'll let the Sundance description take over:
With his college scholarship hanging in the balance, Burke begrudgingly teams up with charismatic pothead Travis Breaux to do the only thing they can think of to neutralize this threat—get the entire student body stoned. In his debut feature, director/cowriter John Stalberg Jr. percolates his deliriously manic narrative with sparkling energy and deviant characters, joyously ramming his protagonists deeper and deeper into frenzied chaos. HIGH school paints its slacker wit with lush broad strokes, firmly accomplishing the conclusive stoner fantasia run hilariously amuck.
The film also stars Sean Marquette, Adrien Brody, Colin Hanks, Mykelti Williamson, Andrew Wilson, Yeardley Smith, Michael Vartan, Curtis Armstrong, Erica Phillips and Adhir Kaylan. Check out 33 photos after the jump.
.gallery {
margin: auto;
}
.gallery-item {
float: left;
margin-top: 10px;
text-align: center;
width: 50%; }
.gallery img {
border: 2px solid #cfcfcf;
}
.gallery-caption {
margin-left: 0;
}
Looks like Myspace pages were created for the School and all the Characters:
Morgan High School: http://www.myspace.com/morganhighschool
Dr. Leslie Gordon: http://www.myspace.com/principal_gordon_mhs
Brandon Ellis: http://www.myspace.com/brandon_ellis_mhs
Henry Burke: http://www.myspace.com/henry_burke_morgan_high
Travis Breaux: http://www.myspace.com/travis_breaux
Big Dave: http://www.myspace.com/big_dave_mhs
Little Dave: http://www.myspace.com/little_dave_mhs
Sebastian Saleem: http://www.myspace.com/sebastian_saleem
Sharky Ovante: http://www.myspace.com/sharky_ovante
Martin Gordon: http://www.myspace.com/martin_gordon_mhs
Psycho Ed: http://www.myspace.com/the_high_times_ed
Psycho Ed's Beats (Music Page): http://www.myspace.com/psychoedmusic
Paranoid: http://www.myspace.com/paranoid_playa_este
Hippie Dude: http://www.myspace.com/hippie_dude_playa_este